Additional information about our plans that helps you find the subscription that best fits your needs.
You can try out Flipsnack and see how it works for 14 days. However, there are some limitations to the free version, and the most important are:
The Design Studio will be limited, and you won't benefit from adding interactivity, such as video and audio, lead form, captions, and tags.
If you want to get rid of these limitations, you can purchase one of the plans we offer.
Let's start with our Standard Plans first: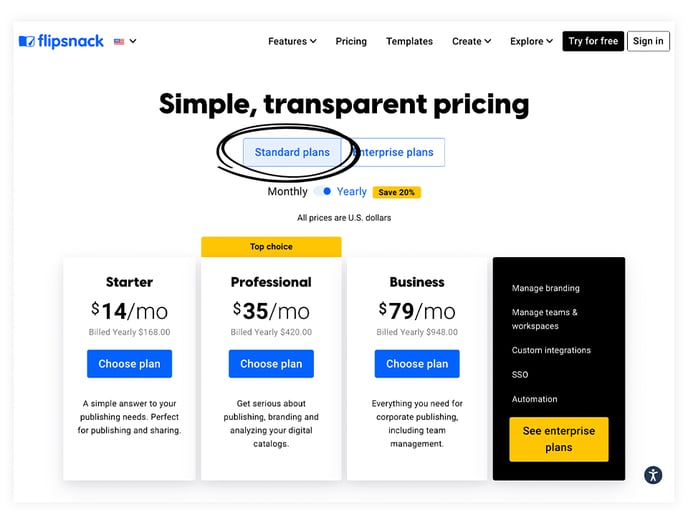 The Starter subscription allows you to create and host up to 10 publications and will remove the Flipsnack watermark from your embeds. Also, your flipbooks can have up to 100 pages. You can find more about the Starter plan on our pricing page.
Along with that you also get full access to:
The Professional subscription was built on the Flip Master, specifically thought out for mastering publishing with some cool extra features designed to meet your needs: more privacy, the option to add your own logo, all-time statistics, and schedule releases for your publications, and you will be able to download your flipbooks in HTML5 format.

Here are the main features you get with this plan:
Up to 50 flipbooks in your account;

Up to 200 pages/publication;

HTML5 download;

Brand kit & brand locked templates;

Access to the virtual bookshelf;

Link Youtube/Vimeo/self-hosted videos.
The Business membership offers everything that the Professional does, but with the Business membership, you have more users and up to 500 pages per flipbook. This membership offers you a multiple-user license, which means that you can have up to 3 team members working in the same Flipsnack account at the same time.
Here are the extra features the Business membership offers:
Important: You cannot have multiple users working on the same publication at the same time.
Let's take a look now at the Enterprise Plans: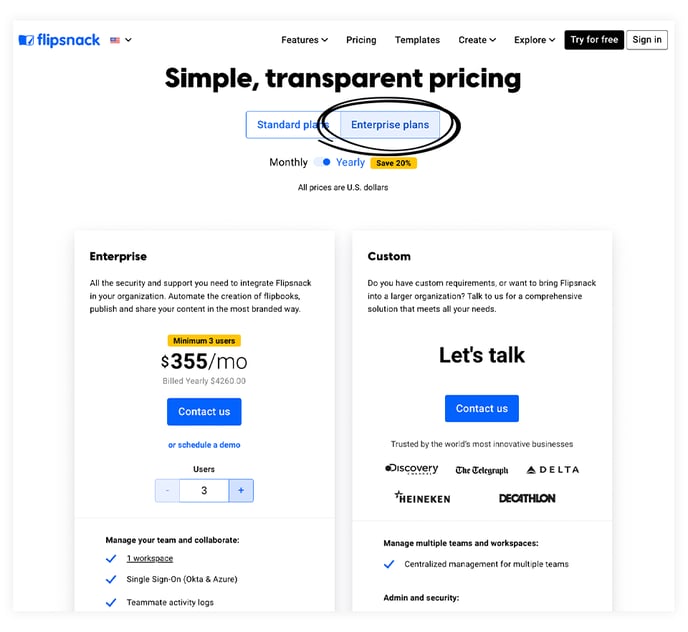 The Enterprise membership is perfect for companies or agencies that require multiple users per account and want to white-label their publications. Basically, you get 3 Business accounts all connected, as users will see and edit each other's flipbooks and will be able to collaborate as a team. if you wish to add more accounts, you can do so for an extra fee per extra account. On top of that, you also get:
If Enterprise is close to what you need but not quite there, we have good news for you! With the Organization membership you can have everything Enterprise offers plus:
Unlimited flipbooks in your account;

Unlimited users;

API access;

SSO;

Multiple teams & workspaces;

Custom integrations.
If you need any other information about our pricing plans, please contact us via live chat.
Important: Under one account you can have multiple workspaces, each with its own pricing plan. If you want to upgrade a workspace, feel free to contact someone from our live chat. They'd be happy to help.