Find out how to download your flipbooks in HTML5 format, as animated flipbooks
Flipsnack allows you to download your flipbooks in HTML5 format and host them yourself, thus not having to be Flipsnack dependent.
Important: the downloaded flipbooks are not dependent on your current premium status. However, in order to download flipbooks in HTML5 format, you need a Business or Enterprise membership.
You also need to publish your magazine first. Otherwise, you will not see this download option.
How to download your animated flipbook as an HTML5 file
In order to do this, go to My flipbooks, locate your flipbook, and click on the Download option.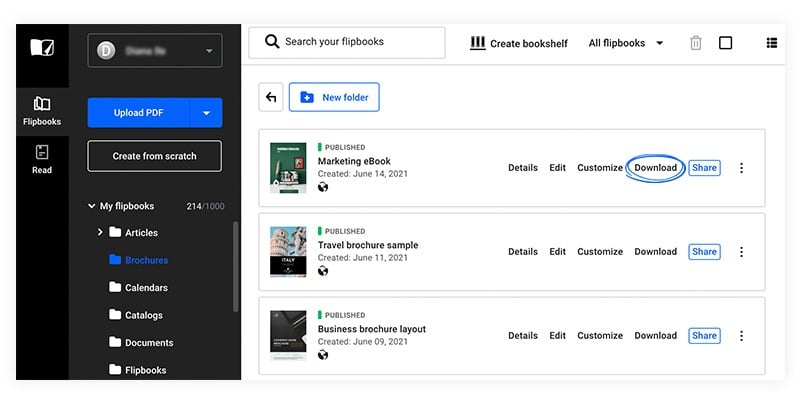 From the newly opened pop-up, select the Download HTML5 option and click on Download.
This will start downloading a ZIP file that contains your flipbook in HTML5 format on your computer for offline use. Check this article that we have for more information on what the ZIP file contains.
Tip: If you intend to send the ZIP file via Gmail, we would suggest uploading it to your Google Drive account and sharing the link with your readers so they can download it from there. Due to security issues, Gmail doesn't allow you to send as attachments certain file types, including ZIP files. You can see the full list here.
What happens after you download an HTML5 flipbook?
You can keep it on your computer for offline access and open the downloaded HTML5 flipbook on your browser.

You can embed it on your server. However, in this case, you'll need to host it on a server and have knowledge of how to manage it.
Disadvantages of downloading an HTML5 flipbook
Stats are no longer registered for anything that it's no longer on Flipsnack's platform.

You won't be able to edit something that has been downloaded and no longer exists on Flipsnack's platform.
Tip: To be able to edit your HTML5 flipbook and track statistics, we recommend that you keep your subscription active even after you've downloaded your HTML5 flipbook.
If you have any questions or suggestions, do not hesitate to contact us via live chat.