Learn more about download options: PDF, HTML5, GIF, PNG, JPEG, or MP4, and choose the most suitable option for your publications.
Access download options
To access download options for your publication, go to the main dashboard and select the preferred download option.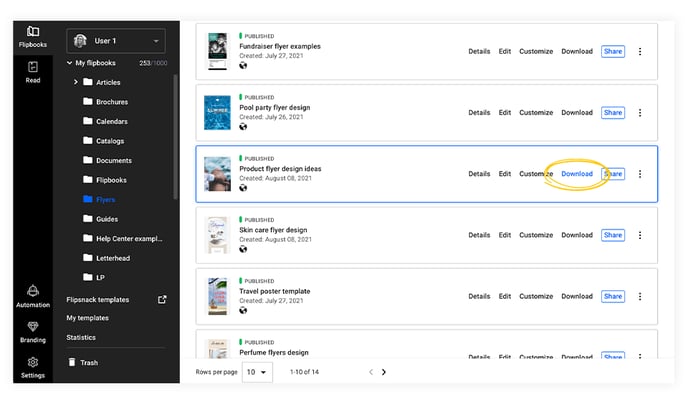 An overlay will open from where you can choose the format you will download your publication in. Each download option has a short description which helps select the right one depending on the situation.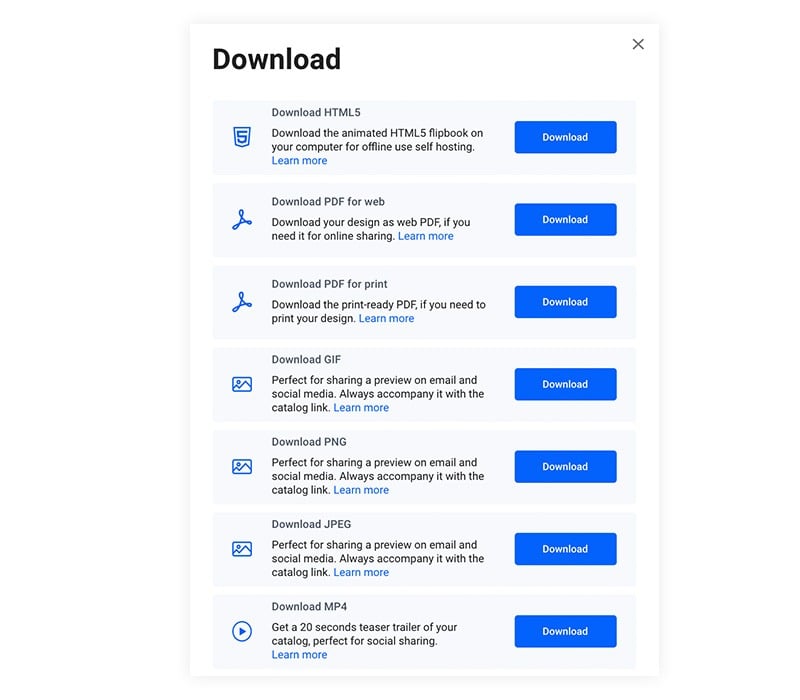 Another way to download a publication is after you publish it, all the available download options will be listed on the Details page.
Warning: As a publisher, if you want your readers to be able to download or print your publication, you need to Enable PDF download or Enable PDF print.
Note: Subscription plan requirements for downloading each file format:
Download PDF for web
Portable document format, or as you may know it, PDF, is the most commonly used file type for documents. PDFs are meant for viewing, and this file type is often used for file sharing.
Download PDF for print
Download PDF for web
The web version will have a smaller size compared to the print version in order to be optimized for web use.
Important: The PDF format does not support animations, so the file you download is a regular PDF. To keep the interactions and animations, you will have to download it in HTML5 format.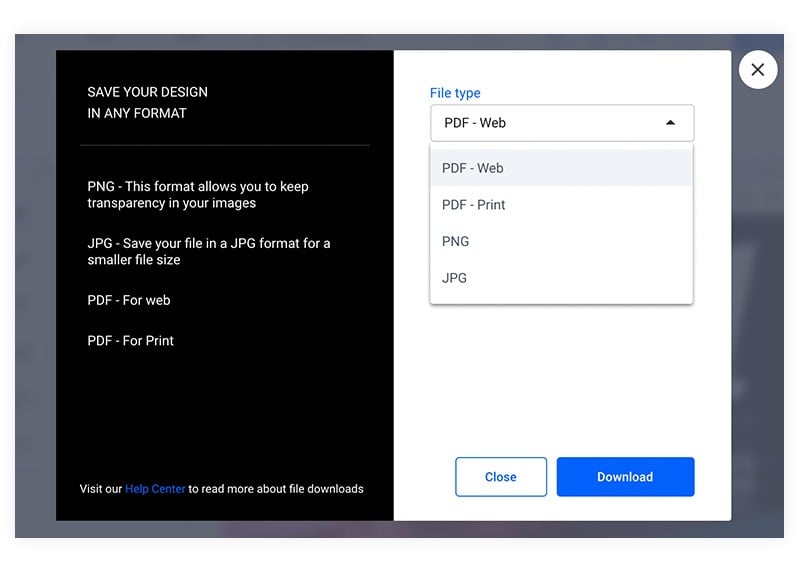 Download PDF for print
If you plan to print your flipbook, we would recommend the download PDF for print option. It's a bigger file size than the PDF for web version, so it may take a little bit longer to download, depending on your internet speed. The images in your PDF will have a higher resolution for a quality printed result.
Download HTML5
Get a fully responsive, mobile-friendly flipbook that works flawlessly on any browser or mobile device when downloading it in HTML5 format.
The HTML5 download is a format that preserves all the interactions and multimedia elements for your flipbooks, including the page flip effect, so it is a great option for offline use or for self-hosting.
Download GIF
Give your readers a sneak-peak of your work with a more appealing and fun look. The downloaded GIF is easy to share on social media or in newsletters.
If you have a longer flipbook with many pages, you won't be able to include all of them in the GIF. You'll have the option to adjust the size of the GIF and its background color and select which pages to be included in your GIF preview.
Download PNG
A slightly bigger file size than when it is downloaded in JPEG format, which handles lossless compression better. The PNG download format also includes the transparent background option so you can reuse your photos in other different projects. Each page of your flipbook is a PNG file. We recommend this download option for one-page designs. The PNG download is available at a resolution of 794 x 1123 pixels.
Download JPEG
Get a compressed version of your flipbook with the JPEG download option. If you want to have a higher-resolution file, you should download your flipbook in a PDF format. Each page of your flipbook is a separate JPEG file. We recommend this download option for one-page designs. The JPEG download is available at a resolution of 794 x 1123 pixels.
Download MP4
Downloading your flipbook in video format will surely attract people's attention. Share the video on those social media channels that will not display the interactive flipbook. You can use it to show your followers a preview of the flipbook and ask them to read the whole thing by including the link in your social post.
When you choose the MP4 download format for your flipbook, you will have a 30 seconds teaser trailer of your flipbook at a frame rate of 16 FPS and a resolution of 746 x 420.
The video will not show all the pages of your flipbook.
Check out our pricing plans and choose the right plan for your downloading needs.
If you have any questions, don't hesitate to contact us via live chat.