All the options and settings available in the "Customize" area explained, with examples
After you're done uploading or creating the content of your flipbook, the next step you have to take is to customize all the aspects of it.
From the Design Studio or the Upload page, go to Customize and discover all the options you have for personalizing your flipbook's look and functionality.
Here's where you can control the options available in your flipbook player, including activating or disabling the sharing, download, and print options available for those who will interact with your flipbooks.
Let's explore together all the customization options available!
Appearance
First of all, you have to choose how your flipbook player will look like. More specifically, where exactly certain options, buttons, and the navigation menu will be displayed in the flipbook player. By flipbook player, we understand the entire flipbook, with its background. For this, you have two player skins to choose from: Classic and Modern.
Classic offers a more simple look, in which your options are (by default) only displayed in fullscreen mode, and they appear above your flipbook: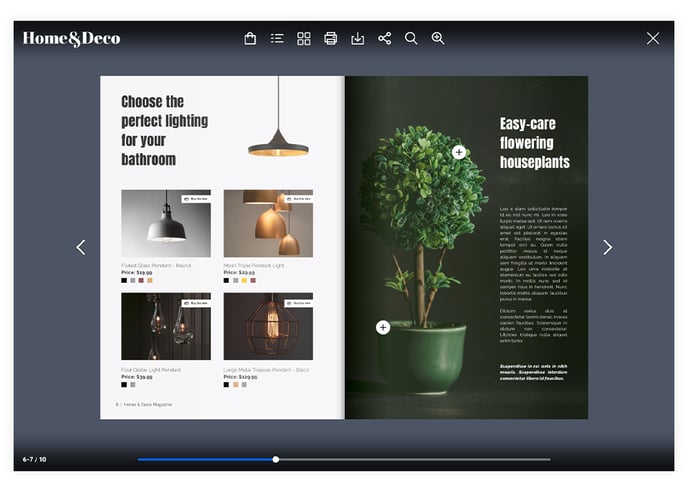 When you're using Modern skin, the controls you've selected for your flipbooks will be displayed on a bar below your flipbook. They will be visible even when the reader is not in fullscreen mode. The logo will appear in the upper left corner of the flipbook player.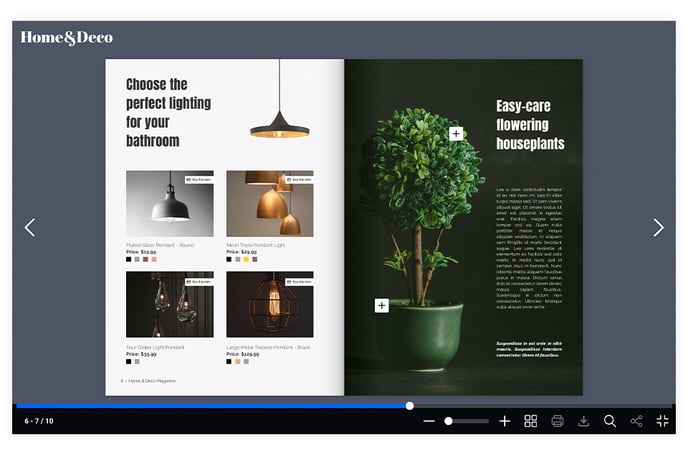 Both Classic and Modern are more than just appearance options! These player skins are based on a new technology with a fresher design that is faster and more user-friendly, fully responsive, and optimized across different devices, even for mobile, offering a better all-around reading experience.
Whether you enjoy the classic appearance or want to adopt a more modern one, the choice is yours!
Layout style
Choosing the Layout style of your flipbook is very important because it shows how pages are displayed in your publication. Let's see what options best fit your needs.
Single page view - Displays one page at a time in the flipbook player, regardless of device or browser size. We recommend this option if you want to use the pages as slides in a presentation and for other landscape-oriented flipbooks. If you display both pages for landscape flipbooks, they sometimes look a little bit small and are hard to read.
Smart view - It's called "smart" because it provides the best display solution based on the readers' screen size. It displays one page at a time on mobile devices and two pages on laptop screens or computers, balancing readability with the elegance of a real-life-looking flipbook. This is the default setting for most flipbooks.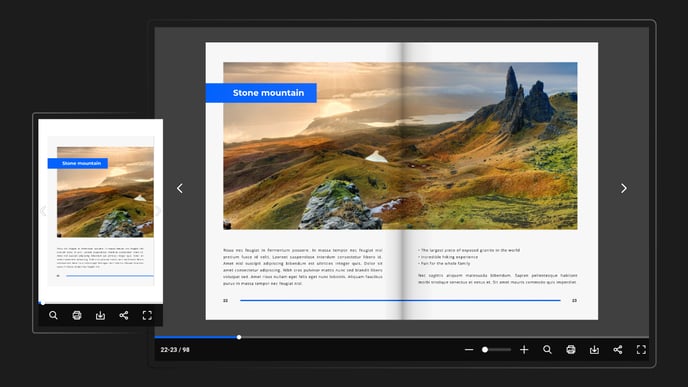 Important: In order to use the Single page view or the Smart view, the Page layout of your flipbook has to be set to Single in the Flipbook settings in the Design Studio.
Two-page view - Displays the flipbook with two-page spreads always, regardless of the readers' screen size. It's also the only option available for flipbooks with double-page mode enabled in Design Studio.
Now that each layout style was explained, all you have to do is to choose the perfect layout style for your flipbook!
Tooltip Language
If you want to change your tooltip language, simply choose the language you want from the dropdown menu.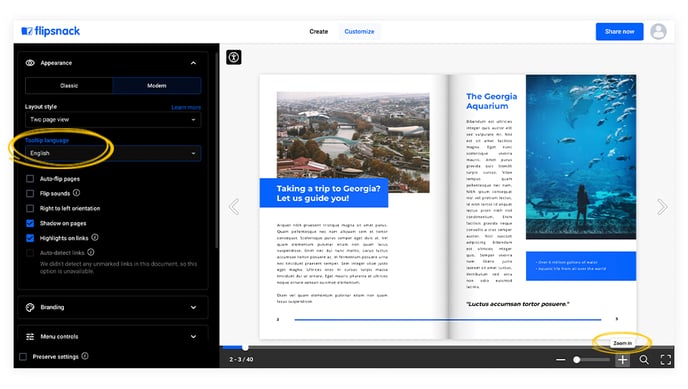 The languages available for your flipbook tooltip are Basque, Bosnian, Catalan, Czech, Danish, German, Dutch, English, Spanish, Hebrew, French, Greek, Croatian, Indonesian, Italian, Hungarian, Norwegian, Polish, Portuguese, Romanian, Russian, Serbian, Slovenian, Finnish, Turkish, Slovakian and Swedish.
Auto-flip pages
By default, this option is turned off because it allows the flipbook reader to flip through the pages and read at their own pace.
However, you can make the pages flip automatically by enabling Auto-flip pages and type in the number of seconds you want the flipbook player to wait in between page turns.
Flip sounds
For a complete, life-like, realistic reading experience, enable Flip sounds, and your readers will hear the sound of paper when turning the pages.
The flip sounds are available for laptops and desktops only.
Right-to-left orientation
For languages that are written right to left, such as: Arabic, Aramaic, Hebrew, Kurdish, Persian, or Urdu, you can change the navigation of the flipbook to be right-to-left by clicking the Right to left orientation check box.
Shadows on pages
If you want to add a shadow on your flipbook pages, simply check the Shadow on pages check box, and the shadow will be applied on all your flipbook pages and cover. The shadow effect gives your flipbook the illusion of depth, making it look more realistic.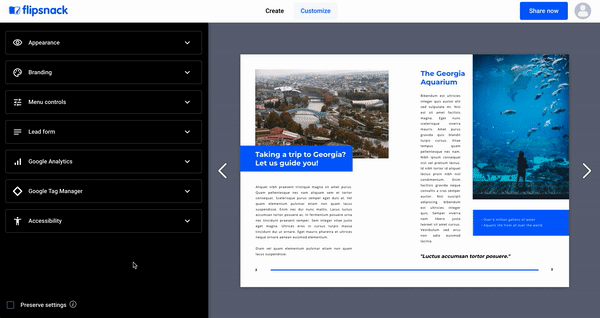 Highlights on links
The perfect way to make your links more visible in your flipbook is to apply the Highlights on links effect.
Once the Highlights on links box is selected, your readers can see the links that appear on each page of your flipbook and click on them.
You might see that after the Highlights on links feature is applied to your flipbook, there will be significantly more clicks on it. You can check the number of clicks in Statistics.
By deselecting the Highlights on links box, your readers will no longer see the hyperlinks but will still be able to click them.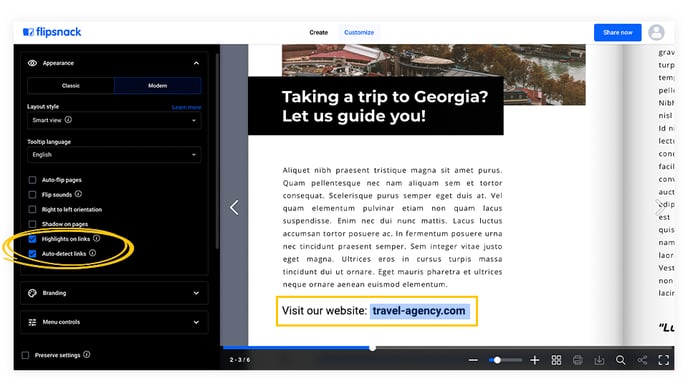 Auto-detect links
By enabling Auto-detect links option, any web address, email address, and link that you have in your uploaded PDF will be automatically detected, and a hyperlink will appear in your flipbook.
Branding
Background color
Next step: choosing how your Background will look. You have 3 options to choose from Transparent, Solid colors or Upload image.
You can choose a transparent background for perfect integration with any website or platform. If you have a specific color in mind or you want to choose your brand color for a more personalized look, you can add a HEX code.
You can also upload an image directly from your computer as a background and select if you want it to be scale-cropped, centered, or tiled.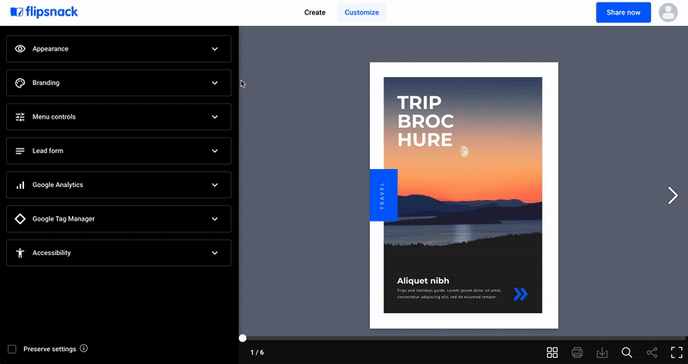 Add your logo
We know how important branding is for you and your company, and that's why you have the option to add your logo for a more professional and branded look for your flipbook.
Simply check the Add your logo box and upload your logo from your computer. You can add a link to your logo, for example, your website link.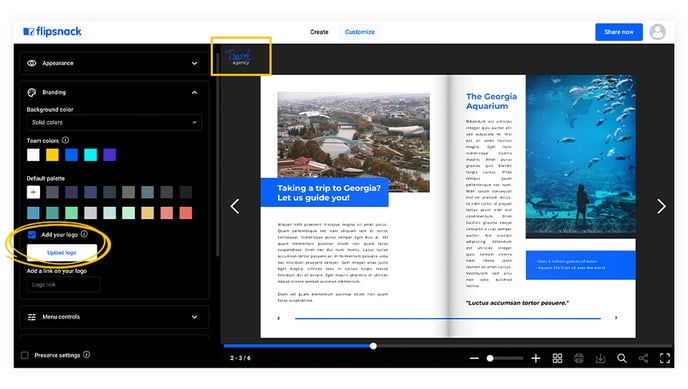 Menu controls
Let's talk about menu controls now. The controls are all the buttons and menus that are featured in the flipbook player surrounding the flipbook itself. In this section, you can decide which controls and options of the flipbook you want to display or hide for the reader.
Controls in normal mode
By checking the Controls in normal mode box, you allow the controls bar to be displayed in the flipbook, even when the reader is not reading the flipbook in fullscreen mode. The controls bar appears and disappears when hovering over the flipbook.
Here is how the controls will be displayed in the Classic skin: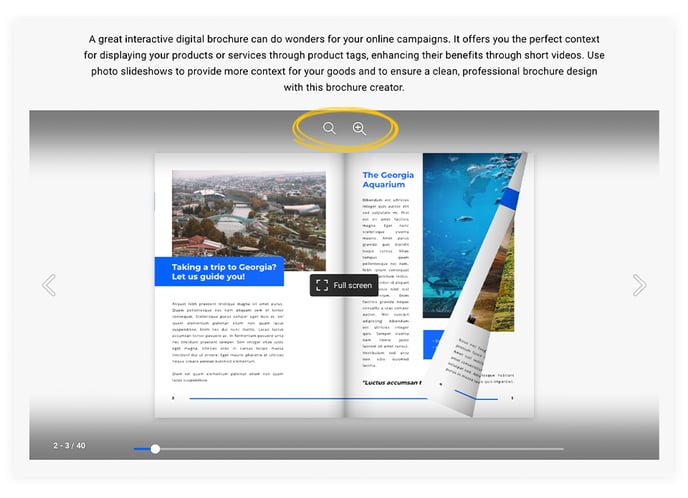 Here is how the controls bar will be displayed in the Modern skin: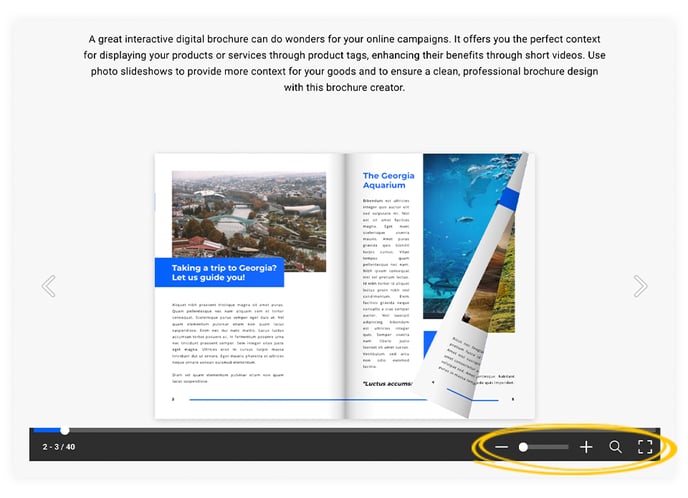 Navigation bar
The Navigation bar is the grey/ blue bar displayed under the flipbook. When enabled, it will show the reading progress through the flipbook, by displaying the exact page where the reader is and making it easier to navigate through, by dragging the white dot from one page to another.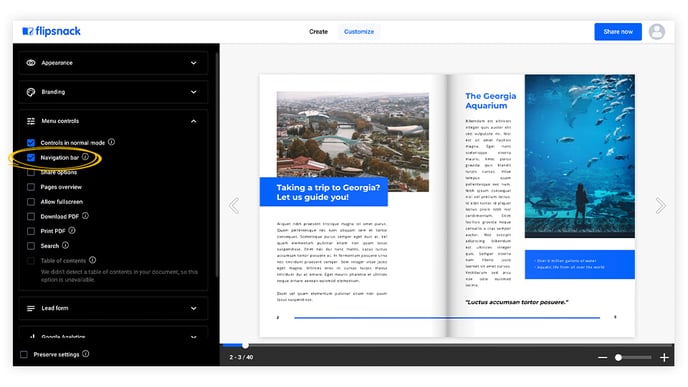 Share options
Everyone is on social media nowadays, and by enabling the Share options, you will allow your readers to share your flipbook via Facebook, Twitter, Pinterest, or send it via email. In turn, you'll maximize your flipbook's exposure and get more readers.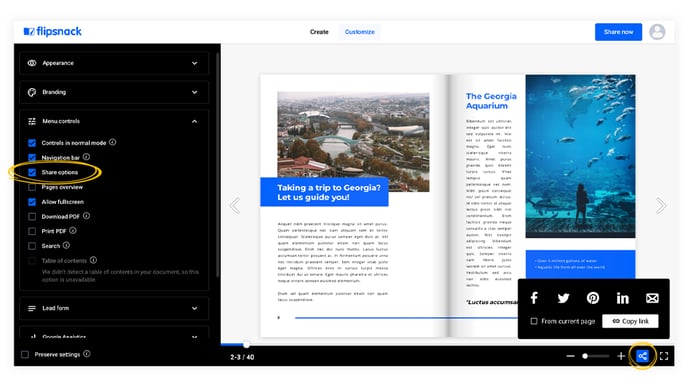 Pages overview
When enabled, the Pages overview function allows the reader to preview the entire content of the flipbook and quickly navigate to a specific page or chapter from the publication.
A nice feature of this option is that if you add a lead form starting from a specific page, the reader won't be able to visualize the following pages in the Pages overview until he completes the lead form: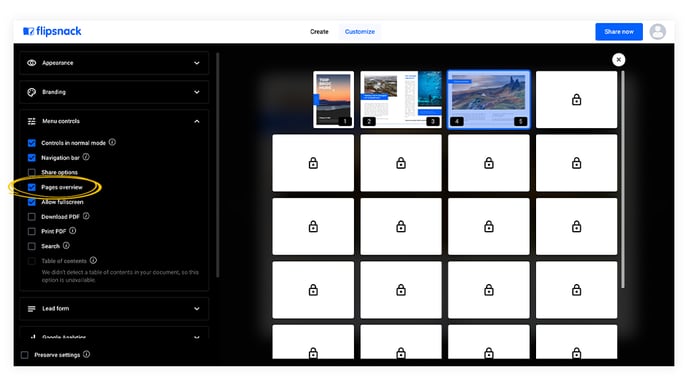 Allow fullscreen
By default, the fullscreen option is on for all the publications. It allows the reader to better read the content of your flipbook by opening it in fullscreen view. However, if you don't want the reader to open your flipbook in fullscreen, simply untick the Allow fullscreen box.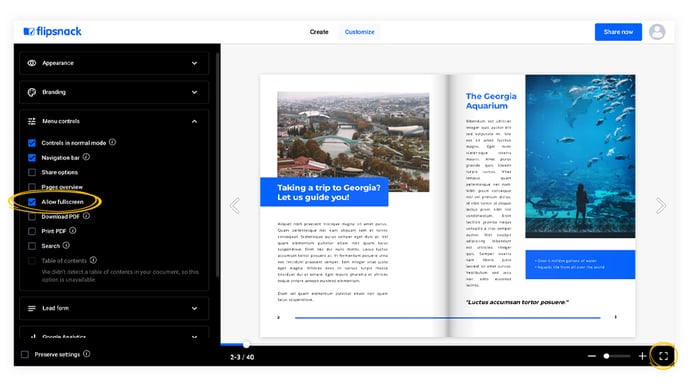 Important: For the Classic skin, the fullscreen button appears in the center of the flipbook, while for the Modern skin, it appears in the controls bar in the bottom right corner of the flipbook.
Download PDF
This option will enable the PDF download for your readers.
Only premium users can enable PDF download and PDF print.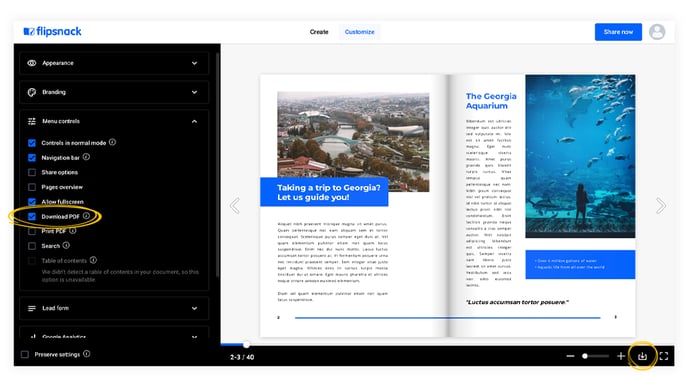 You can download PDFs from your Flipsnack dashboard as a premium publisher, even if this option is disabled.
Print PDF
Likewise, if you want your readers to be able to print your flipbooks easily, simply enable PDF print for your readers.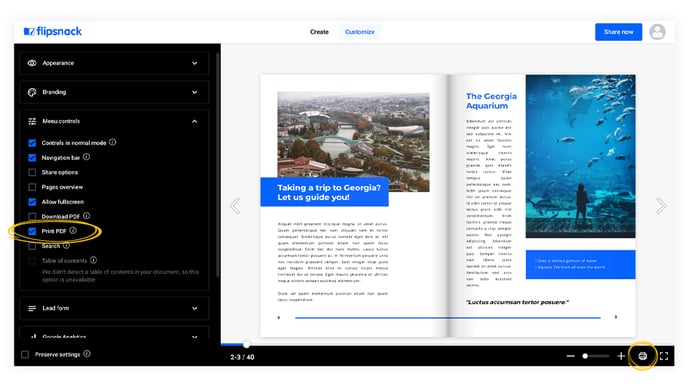 Only premium users can enable PDF download and PDF print.
Search
By enabling the Search option, you will allow your readers to search within the content of your publication by a keyword.
This will help your readers easily find the information they need in your flipbook. Once they search for a keyword, the readers can see what page it is and navigate directly to that publication page.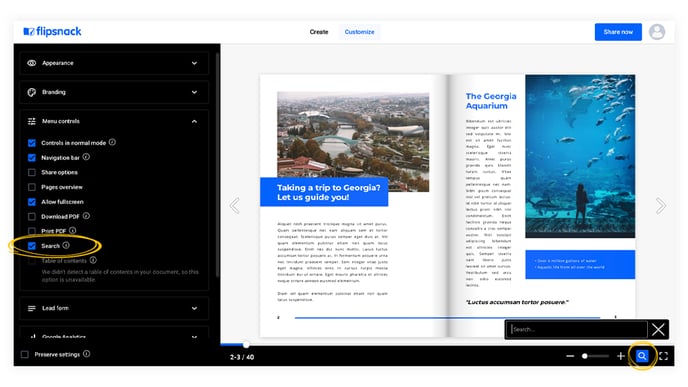 Table of contents
Another option your readers will love is Table of contents. If you have a PDF uploaded into Flipsnack with a Table of Contents, it will be autodetected and displayed in the flipbook player.
Enable the Table of contents, and your readers will be able to navigate through your flipbook chapters using the left panel.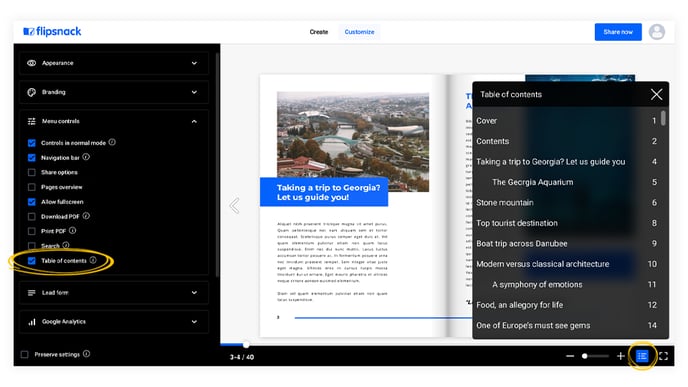 Lead form
If you want to add a Lead form to your publication, just check the Add lead capture form box. From here, you can change the form's title, input placeholder, and the text on the button, and also set the page you want to be displayed. Start collecting email leads through your publication!
Google Analytics
Besides Flipsnack statistics, we offer Google Analytics integration. By adding your Google Analytics tracking ID to your profile, you will be able to track and view data for all of your Flipsnack public links, and it will automatically track data on all of your flipbook.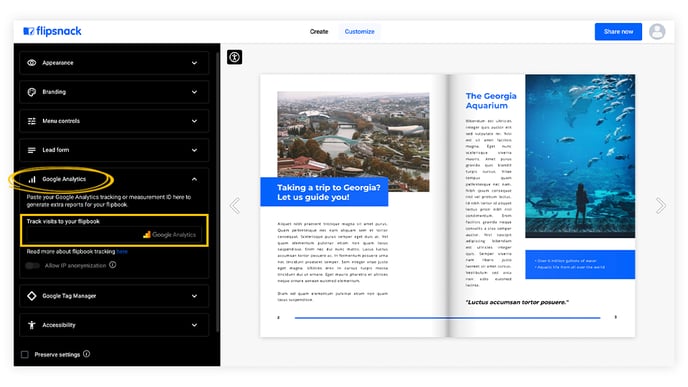 Google Tag Manager
Connect your flipbook to your Google Tag Manager to track conversions from flipbooks or other actions independently, all on your own. Learn more about the GTM integration in the flipbook player.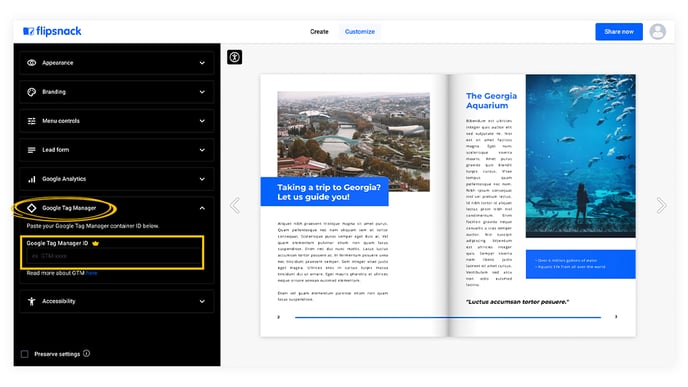 Accessibility
From the Accessibility tab, you can make your flipbook accessible to people with eyesight disorders by setting up a title and description for each page of your flipbook. Once set, the VoiceOver software will be able to read the titles and descriptions to your readers as they flip through the publication.
Read more about how Accessibility works in Flipsnack.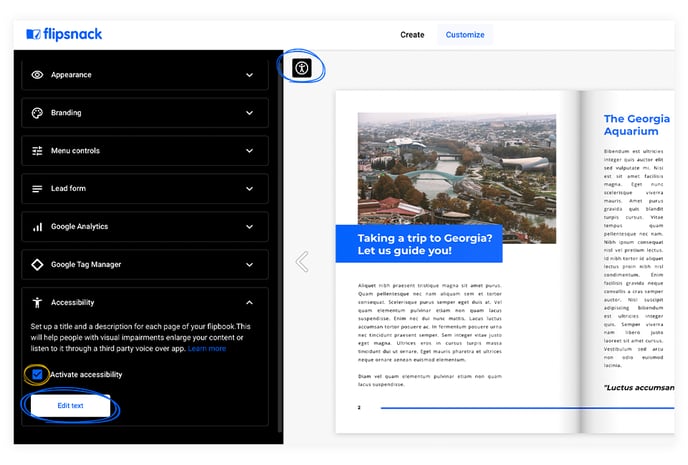 Here is what an accessible flipbook looks like: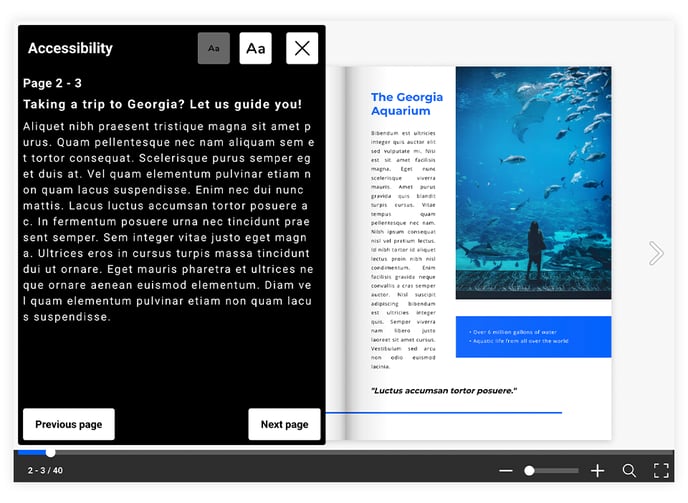 Lastly, some of the customization options are available only with a premium subscription. As a free user, you will see in Customize which plan unlocks each option: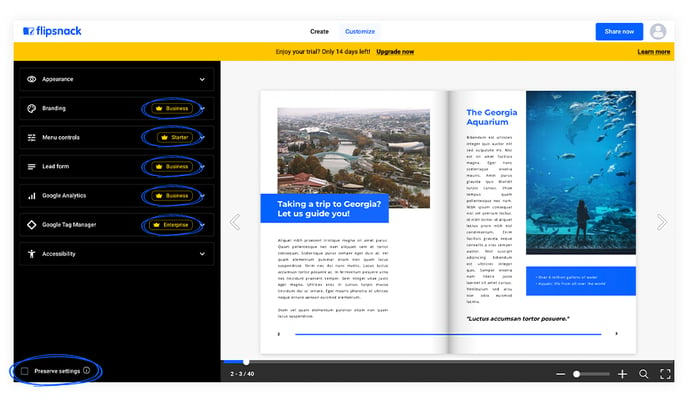 After you've set all your customization options, you can check the Preserve settings box and save precious time, your options will be applied automatically for all future flipbooks.
We hope you like these customization options and will use them to make your brand and flipbooks stand out!