Learn more about the branding customization available in the "Customize" page. Here we'll explain them and provide examples.
Once your flipbook is uploaded and designed, you can go and customize the branding aspects of it.
From the Design Studio or the Upload page, if you go to Customize, you'll find multiple branding options to ensure branding consistency across your publications.
Let's take a closer look!
Branding
Get rid of all third-party branding elements by uploading your own. Offer your readers a seamless experience and introduction to your brand by including all the elements that improve branding consistency from Customize.
Add your logo
We know how important branding is for you and your company, and that's why you have the option to add your logo for a more professional and branded look for your flipbook.
Simply check the Add your logo box and upload different-sized logos from your computer to choose from depending on each flipbook. You can add a link to your logo, for example, your website link.
Background color
Next step: choosing how your Background will look. You have 3 options to choose from: Transparent, Solid colors or Upload image.
You can choose a transparent background for perfect integration with any website or platform. If you have a specific color in mind or you want to choose your brand color for a more personalized look, you can add a HEX code, or choose from the pre-set team colors or default colors available.
You can also upload an image directly from your computer as a background and select if you want it to be scale-cropped, centered, or tiled.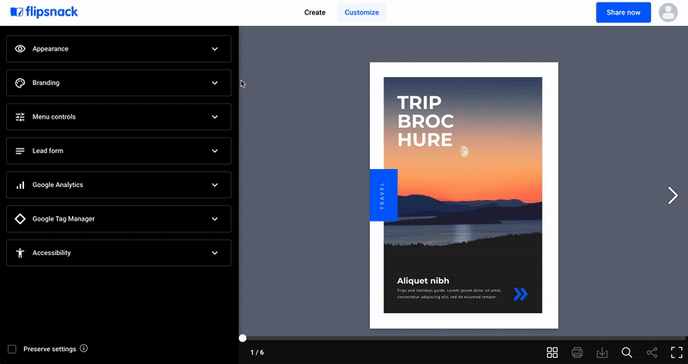 Player accent color
For a seamless reading experience, you can set up a player accent color. That will affect toolbar colors in the navigation bar beneath the flipbook as well as the hover color in pages overview and the table of contents.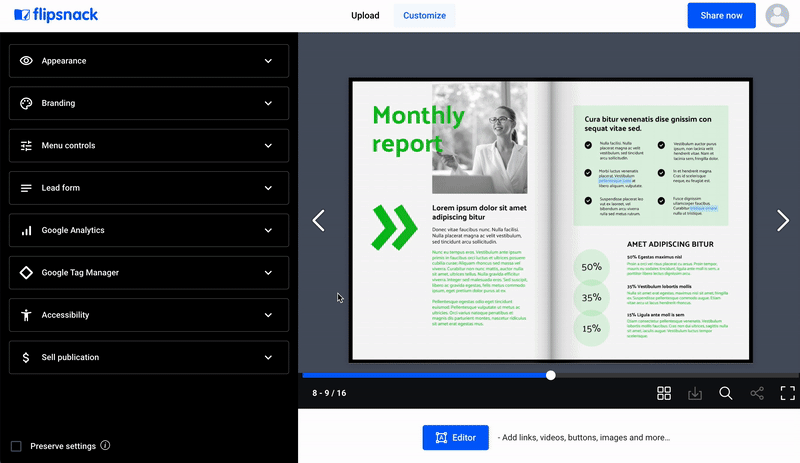 Once your customization options are set, check the Preserve settings box to save precious time and ensure these settings will be applied automatically for future flipbooks.
We hope you like these customization options and will use them to make your brand and flipbooks stand out! For any further details, contact us via live chat!