Find out all the ways you can share your flipbooks to get more exposure.
There are many ways in which you can share your flipbooks on Flipsnack. Whether you want to share the link of your flipbook or you want it integrated into your website, just go to My flipbooks and locate the flipbook you want to share, and click on the Share tab.

As you do that, you will see a popup open with multiple sharing options. We're going to go over these and I'll provide you with more details.
Note: Keep in mind that these sharing options, will only work if publishers will enable the sharing options in their flipbooks.
Share flipbook from the current page
You can easily share a published flipbook's link from a current or specific page with whoever you like. Just open it in the player and go to the page you want your readers to first see. Now head over to the sharing icon, check the box "From current page" and then simply click on the "Copy flipbook link".
The receivers will be able to open the flipbook exactly on the page you wanted to. Easy and fast, right?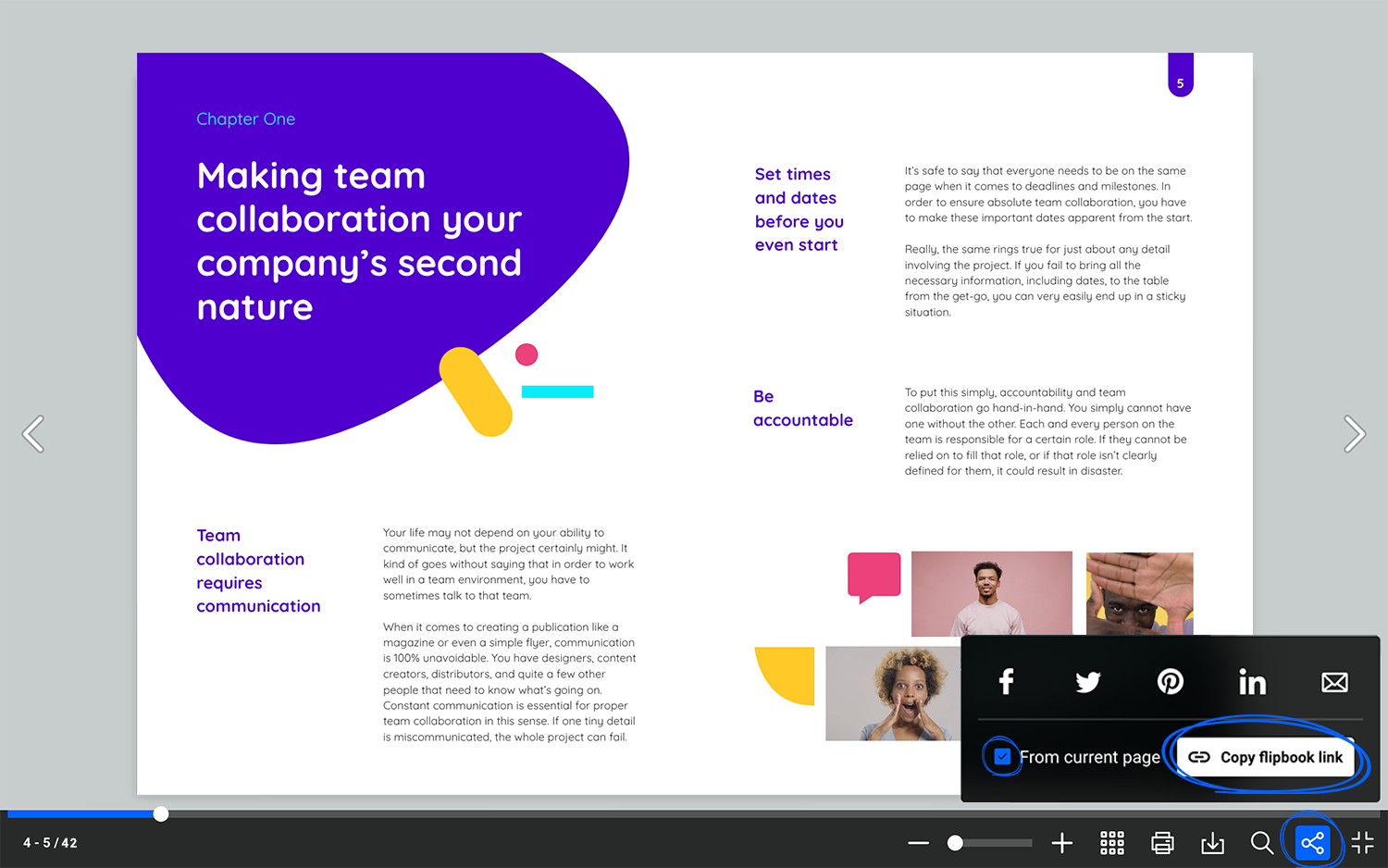 Social media sharing
Sharing options include Facebook, Twitter, and Pinterest. Basically, when you click on one of the social media buttons here, it will create a social media post with the flipbook's URL and flipbook preview, based on the type of preview that is supported on the selected social channel.
Read more about social sharing.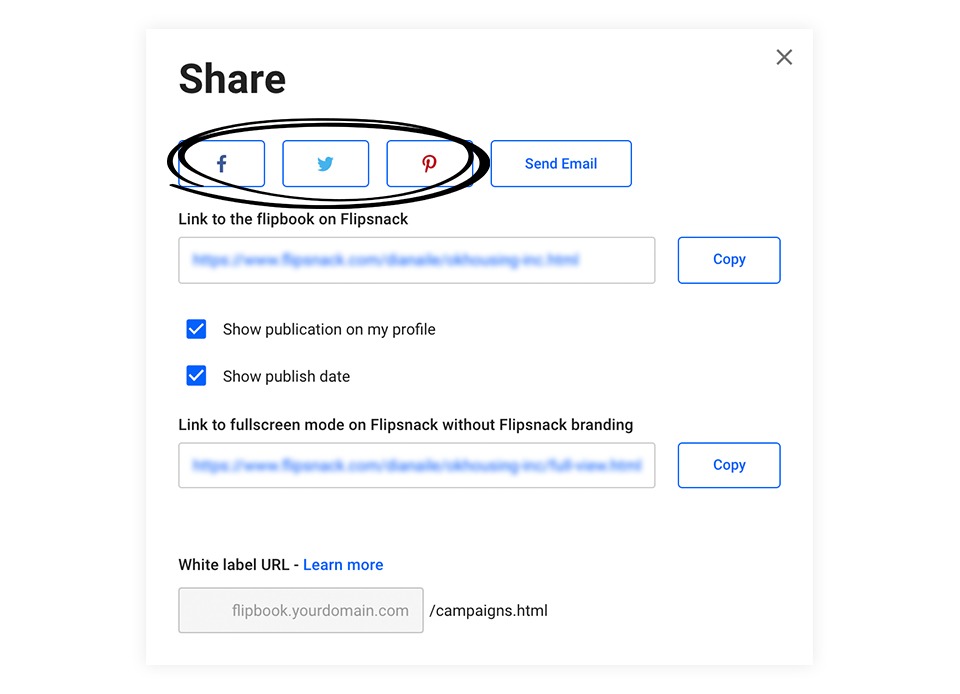 Share via email
Right next to the social media icons we have the Send email option. It allows you to customize a standard email template. How much you can customize it depends on your subscription. With the Enterprise plan, you can personalize the colors, subject line, title, description, button label, logo, and email footer.
Another cool thing you can do is check how your email will look for readers who open it on their mobile devices.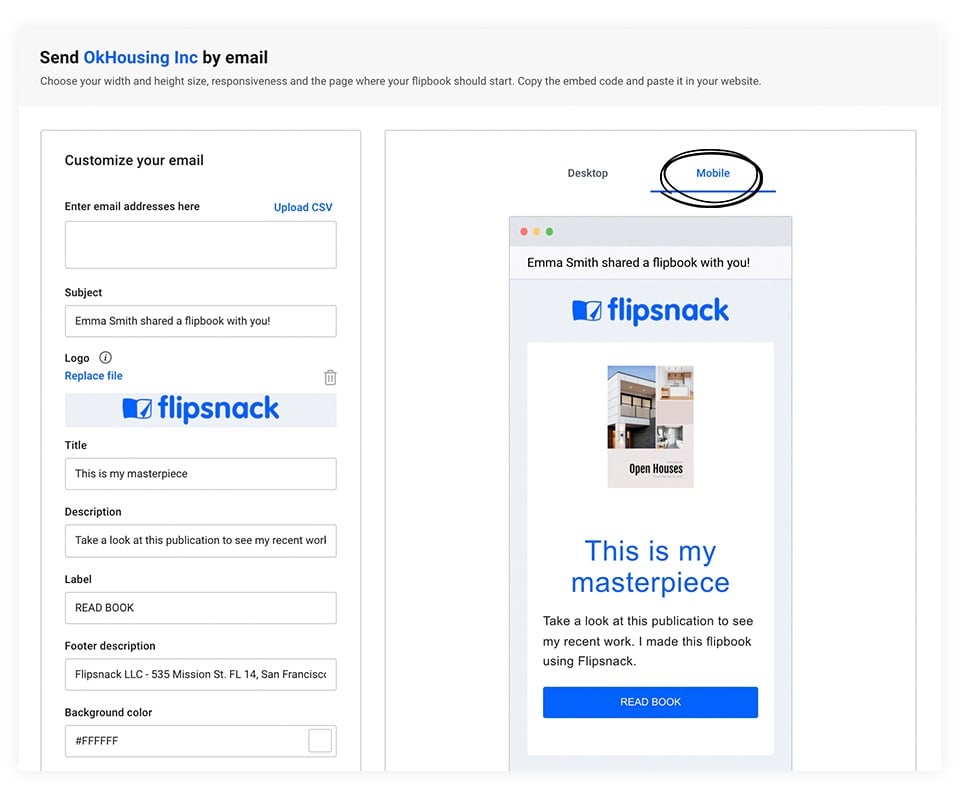 After you're done customizing, you can copy the email code and import it in as an HTML email template in your Email service provider tool, if you want to use it in an email campaign.
Alternatively, you can send the email directly through Flipsnack. In that case, the email will be sent from noreply@flipsnack.com, so keep that in mind. If you don't like that, read about email sharing and how you can replace that with your own!
Share the direct link or the full view link
The direct link is available for everyone, including the people who don't have a paid subscription on Flipsnack.
Just copy the link and share it as you wish. The page that you're going to share contains our site menu, your flipbook and other publications, and our site footer. Our Enterprise subscribers have some customization options that allow them to remove our branding from the page, and add their own links.
Here's an example of a standard direct link for a paid account.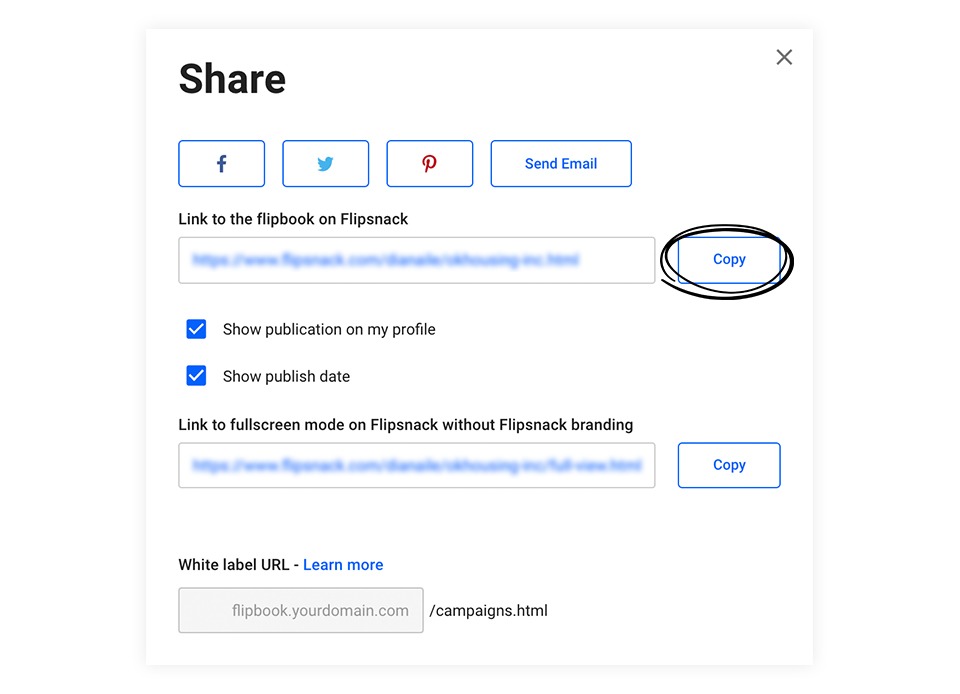 The full view URL is an elegant and clean way of sharing your flipbook. It opens your flipbook in the browser, without displaying a menu, related publications or a footer, so it provides a great experience for readers. This link is only available for our premium members.
Here's an example of how a Flipsnack full-screen link looks.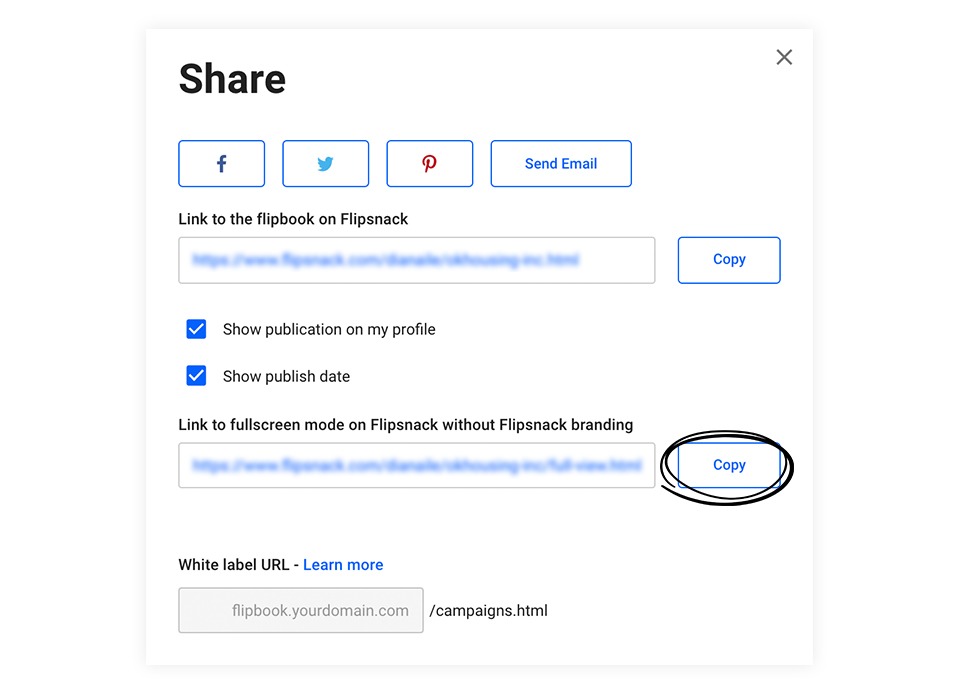 Embed (add the flipbook player on websites)
In addition to the sharing options we've discussed so far, you can also embed the flipbook on a site or blog pretty easily.
From the Embed tab, copy the embed code and then paste it on any website that supports embeddable content. You can choose your embed size if you want your flipbook to be responsive or not and the page you want your flipbook to start from.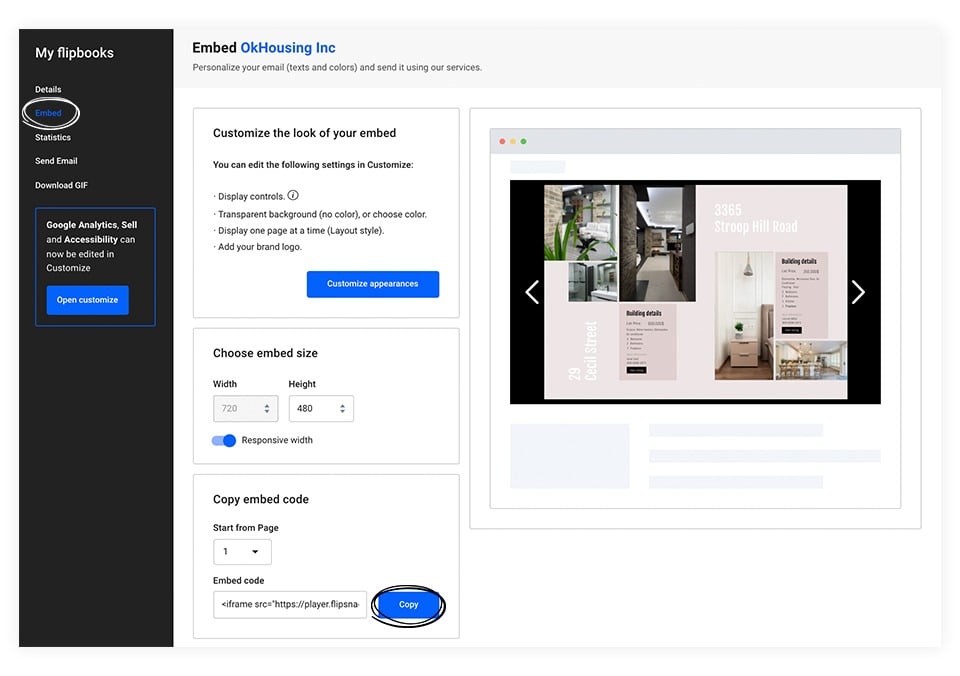 Download options
If you go to the desired flipbook, select Download, and a different popup will open with various format options: PDF for web, PDF for print, HTML5, JPEG, PNG, MP4 preview, GIF preview.
We have a detailed article about all of the download options which we recommend reading if you're not sure which option is right for you.