Find out how to download your flipbooks in MP4 format.
Ever since Facebook blocked our flipbook embeds from the wall, we've received repeated requests for this feature. And no wonder! Next to embedding your flipbook, a video of your flipbook is the best solution for getting more people to view your content! So this is why we decided to offer you short video previews of your flipbooks for social sharing!
And here's a trick you might want to know: It's better to share your flipbook as a video post (but place the link in the description) than to simply share the link on Facebook. Uploaded videos get a higher reach on Facebook. It's just the way their algorithm works. A higher reach guarantees more engagement and more readers. It's what most of you want.
You can upload the video on any social platform, but we mentioned Facebook because it's the most popular one.
How to download flipbook as video
In order to take advantage of this feature, head over to My flipbooks, locate your flipbook and click on the Download option.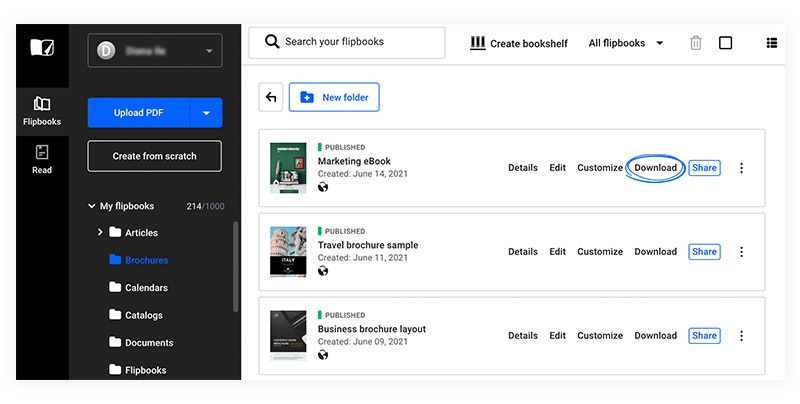 From the newly opened pop-up, select the Download MP4 option and click on Download.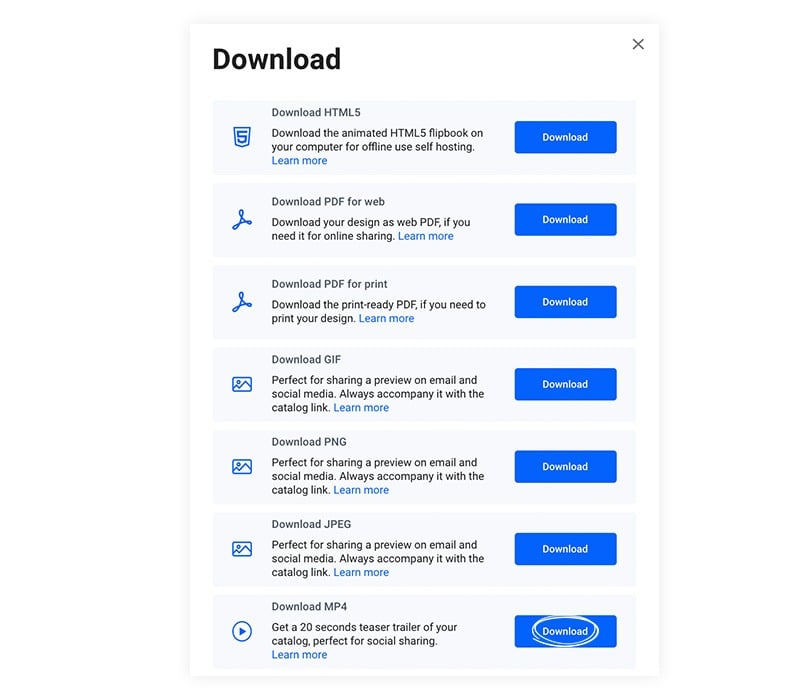 Now that the video is downloaded on your computer, you can do whatever you want with it! You can upload it on social platforms as we suggested earlier, or you can simply keep it offline.
Video specs
We have designed the video in such a way to be lightweight and easy to share on any social media that supports .MP4 formats.

Right now the video is up to 30 seconds long using a frame rate of 16 FPS, so it's a sneak peek of your publication. It does not show all the pages.
Important: Don't forget to place the flipbook's URL in the video's description, so people can quickly click on it and enjoy the full publication. The video's purpose is just to offer your audience a quick taste of your flipbook. Naturally, some of them would like to see the whole story. That's why you should provide the link for them. Don't miss out on this fabulous way to attract more readers!
Here's how a video download preview would look like:
This feature is available with our Professional, Business, and Enterprise subscriptions. We know it will give your publications an interest boost, so don't miss out!