Select the visibility of your flipbooks according to your needs.
Table of contents:
How to set the default visibility
Publishing options and pricing plans
Once you've finished editing your flipbook, you get to decide if you share it with the whole world or only a select few.

You will discover we have four publishing options: Public, Unlisted, Password locked, and Private.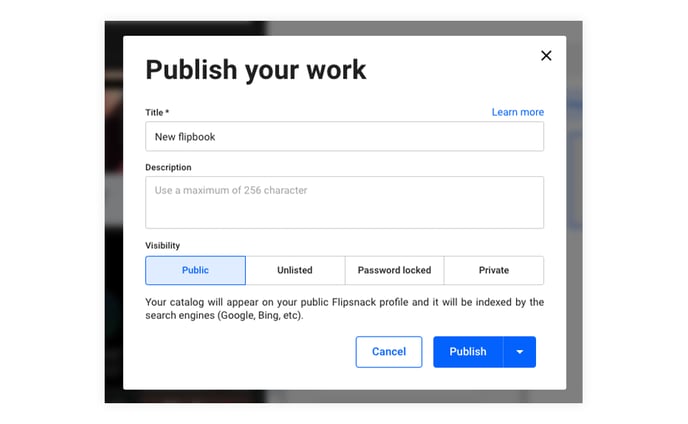 Public
The public visibility option is set by default, and it is available to all of our users. Public visibility means your flipbooks will appear on your public Flipsnack profile, and they will be indexed by search engines (Google, Bing, etc.). The public visibility is perfect if you want to make your flipbooks easy to access and share.

Unlisted
For extra privacy, as part of our premium plan, you can choose the unlisted option. An unlisted flipbook will not be indexed by search engines, and it will not show up on your public profile. The only way to have access to an unlisted flipbook is through a direct link.

If you want to find out more about this option, you can read this article about visibility options.
Important: Please take into account that once you've set your flipbook as public, you can't change it to unlisted, but we can offer a solution for this type of situation. In this article, you can learn how to make a public flipbook unlisted in Flipsnack.
Password locked
If you need a secure way to publish your flipbooks and keep the content safe, we would recommend the Password locked option. This way, only those readers who have the password will be able to view the publications that you choose to share with them. This feature is available with our Business Plan and Enterprise Plan.

If this is a good option for you, check out this article about password protected flipbooks and find out more about this option.
Private
Another great way of sharing your flipbooks, available for our Business and Enterprise Plan users, is sharing the flipbook with specific people only. This is the most advanced and secure way you can share your catalogs. You'll be able to add the email of the person you wish to share the publication with, and they will receive a link to it in their email. Your readers will have to sign in or sign up to Flipsnack, depending on the case, to read your publication.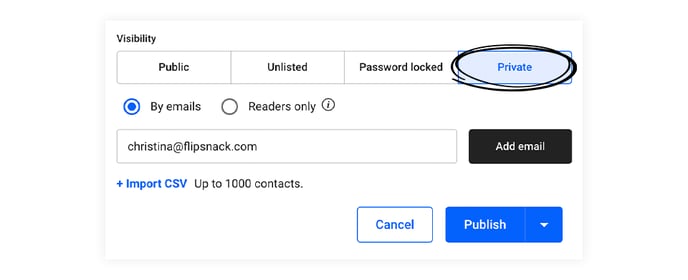 If someone who doesn't have access to it wants to read it, they can send you a request via email, which you can grant or not.
If you wish to find out how only those you invited can read your publications, we have an article for you to read about how to share your flipbooks with specific people.

My Readers Only
If you have a list of readers or have to share your work with your colleagues constantly, this feature will allow you to do just that. You can use it to share your work with those people, and unlike Private, you only have to add them to your list once.
Your readers will only have access to the flipbooks you published for them and will not be able to see other details about your profile. As per a recent update, flipbooks shared with readers will now open in the app and require authentication to the Flipsnack account. This change applies to all flipbooks shared with readers, even to the ones shared before the update. The URL of those flipbooks will now redirect to the new ones.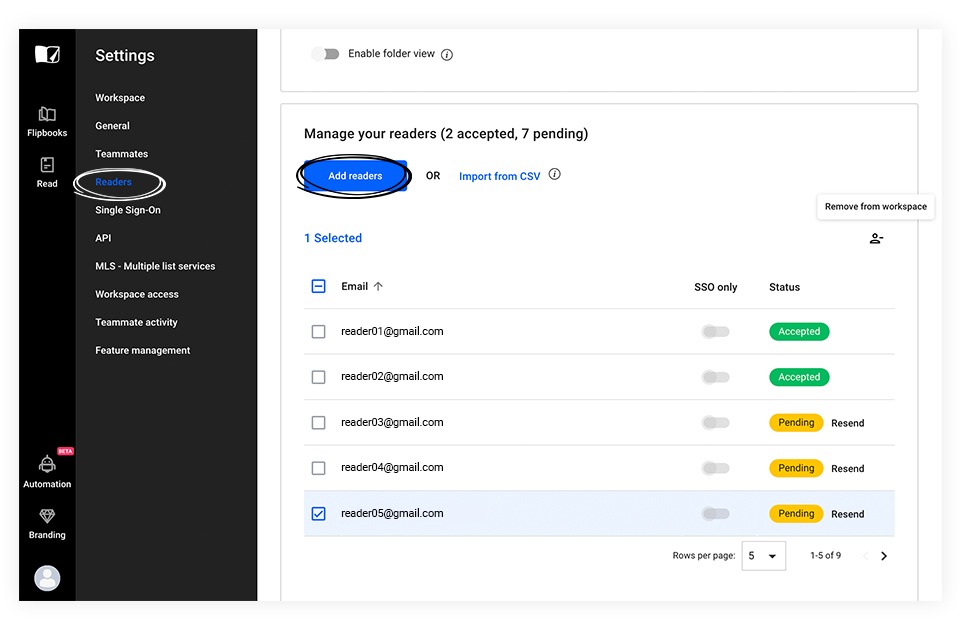 Learn how you can add readers to your list.
Note: Your readers can have access to all the flipbooks you shared with them in their Flipsnack workspace. In the Read category, they will find all of them in the Shared with me section.
SSO for viewers
There's also another safe, fast, and secure option for sharing your flipbooks. Our SSO for viewers ensures that only readers inside your SSO environment are able to view your flipbooks. It's a secure option that requires no Flipsnack registration and is effectively managed by your IT team. This means that you can share your flipbooks with a large audience without being required to create an account for each participant.
If you wish to set the SSO sharing, you'll need to set up a SAML SSO with Flipsnack, such as Okta, Azure, or Google Workspace. Also, make sure to check the SSO for viewers article for more in-depth information.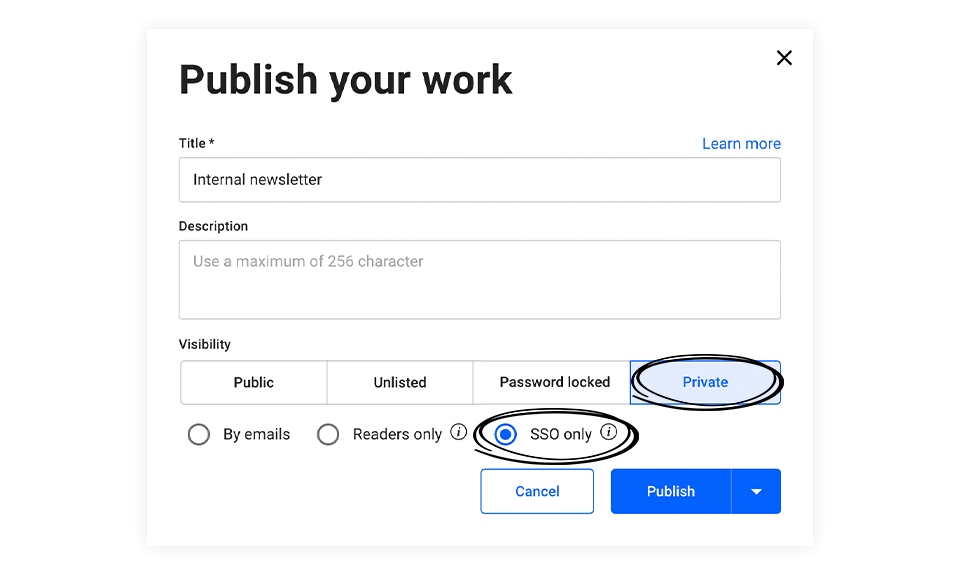 Note: After you hit the Publish button, you will have access to the link you need to share. Please remember that the link will only work for people connected to your SSO system.
How to set the default visibility
As part of the Enterprise plan, Flipsnack allows you to set a preferred visibility option for your account. The default visibility is set to Public, but you can change it in a few easy steps. To do so, go to Settings, then General, select a visibility option, then click on Save changes.
Here is where you can check or uncheck the Hide the other visibility options checkbox as well.
By checking this option, everyone from your workspace can publish their flipbooks only with the visibility you have set as default. This will ensure that your publications won't be accidentally shared with different visibility options. When finished, make sure to click on Save changes for the updates to take place.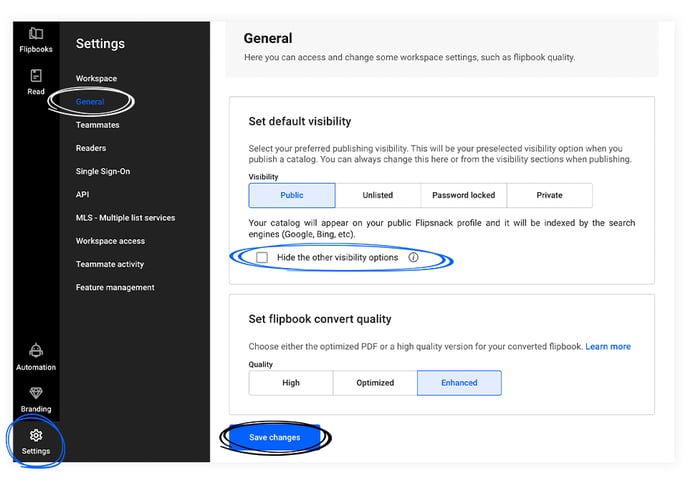 Publishing options and pricing plans
These are the different publishing options available and the pricing plans they start from:
We hope you will find these publishing options as useful as we do, and if you have any questions about them, you can also reach us on the live chat.