Learn how to share your publications through SSO without a Flipsnack account
We have introduced a different way to share your Flipsnack publications: SSO sharing. There are a few advantages it offers:
It is safe, as only people that are part of your SSO system can access the shared publications. You have total control over the audience.
It is fast, as your readers can access the publication without a Flipsnack account, as long as they are part of your SSO system. This means that you can share it with a large audience without being required to create an account for each participant.
To share through SSO, you will first need to set up a SAML SSO with Flipsnack. It is currently compatible with Okta, Azure, and Google Workspace. We have included detailed information on how to set each of them up in the following articles:
How to share through SSO in Flipsnack
1. Once you are ready to share your publication, click on the Share now button when in the Design Studio. When on the My flipbooks page, click on Publish.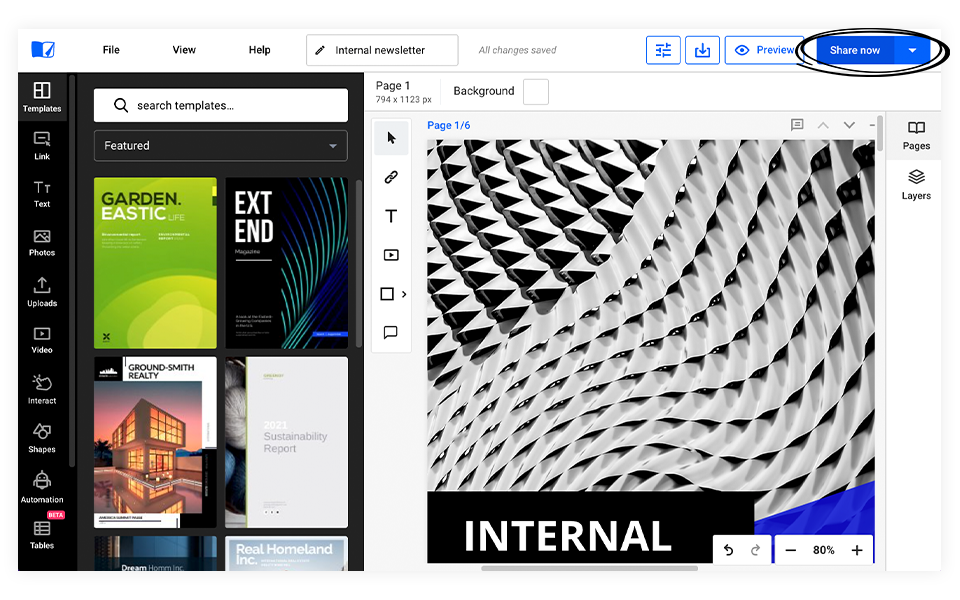 2. Set a title, and a description, click on Private, choose SSO only, and click Publish.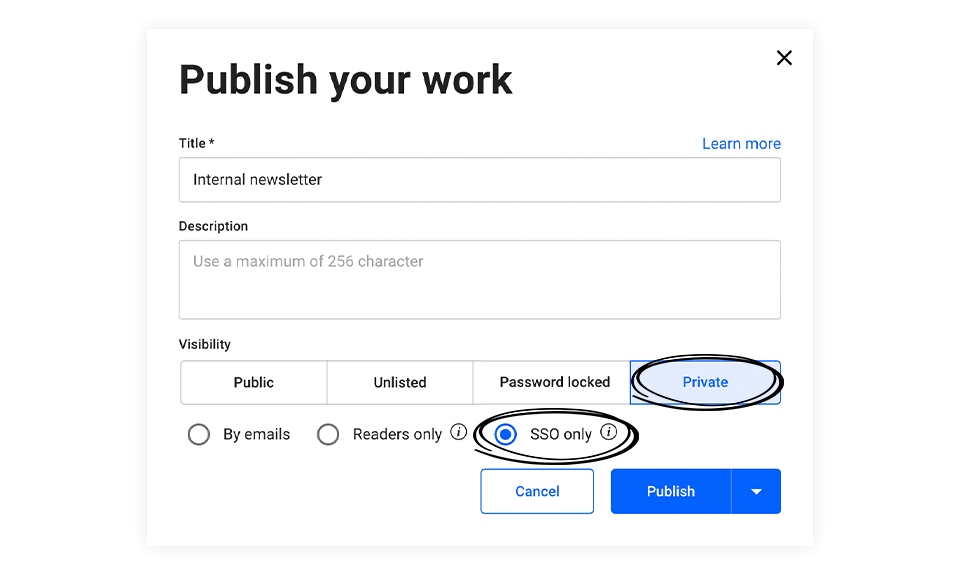 After you click on Publish, you will have access to the link you need to share. Copy the link, then share it with your readers through your preferred method.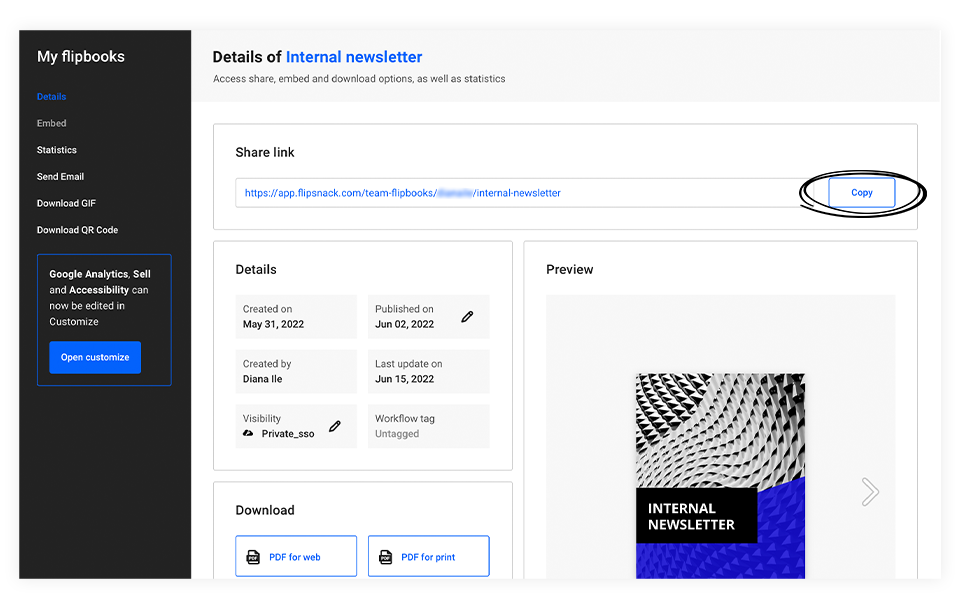 Once again, please remember that the link will only work for people connected to your SSO system.
SSO for viewers statistics
After you share your publications with your audience, you can keep track of different statistics. You will be able to see if the viewers from your SSO system have opened the publications and how they have interacted with them.
To do so, when on the My flipbooks page, select the flipbook you want to see the statistics for, then click on Stats.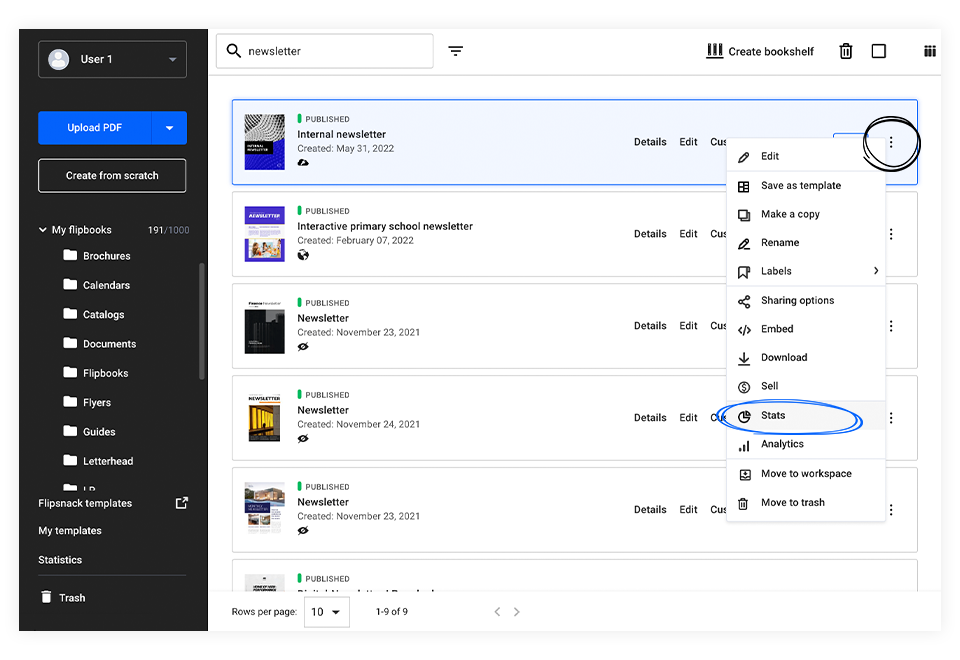 This will lead you to a new page. Here is where you can select the date and view the overall summary for all the SSO viewers. This is the default, but you will also be able to view statistics for each viewer individually by clicking on the dropdown menu and selecting the desired viewer.
By default, Flipsnack displays the email address of each viewer in this field, but you might want this information to remain confidential. In this case, you can change the information you display in Flipsnack through your SSO provider.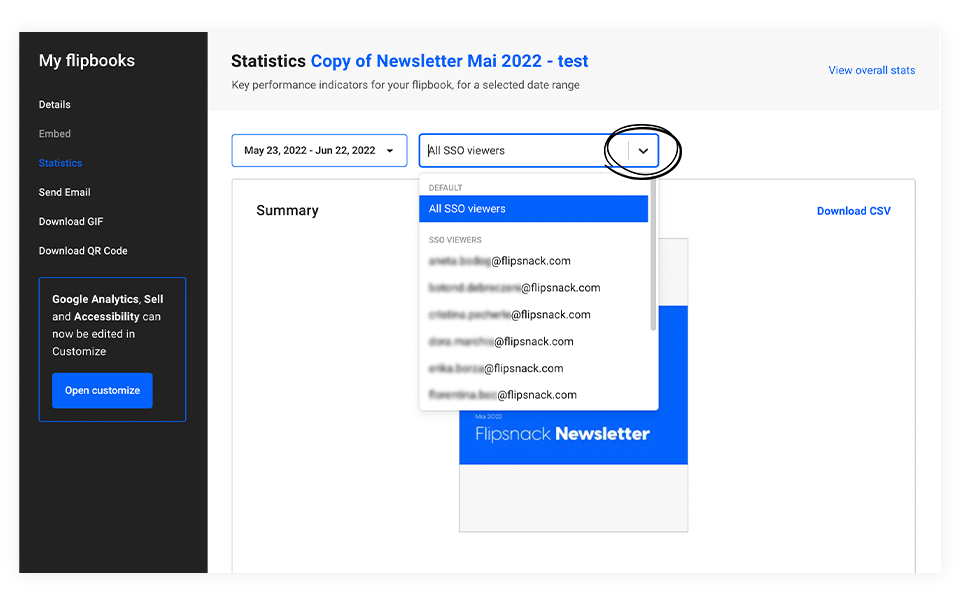 Further down the page, you will have access to various statistics such as impressions, views, average time spent, and downloads. You will also have access to timeline reports, page-level statistics, engagement statistics, devices, sources, and country reports. You can download these statistics as CSV. For a detailed explanation of each statistic, please read the article about Flipsnack statistics.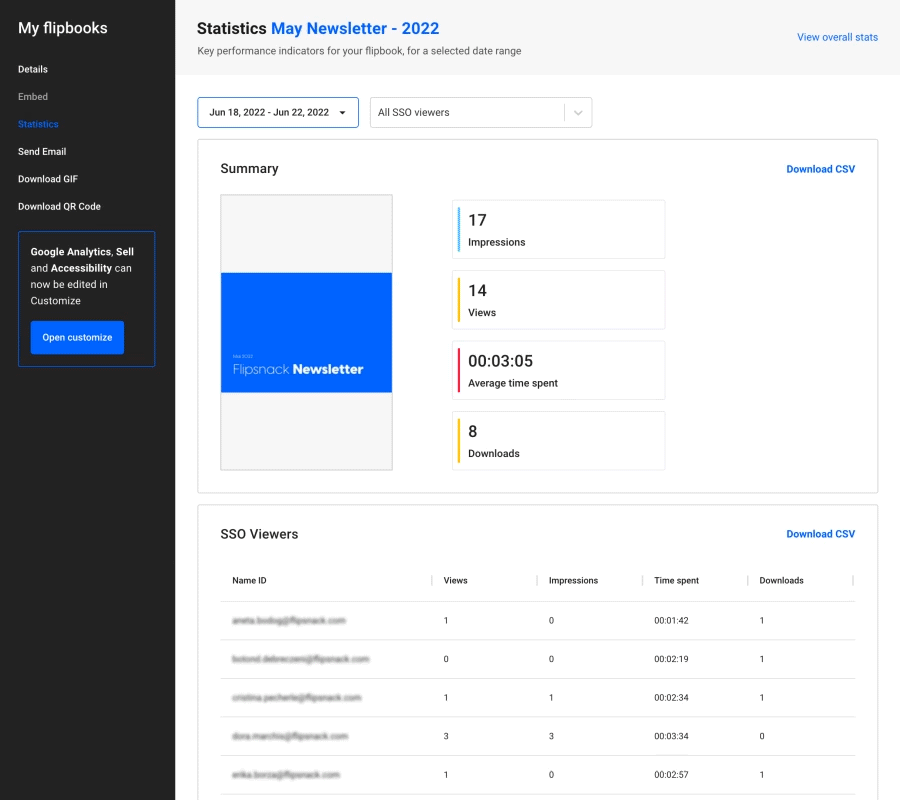 If you have any questions or further recommendations regarding this feature, please do not hesitate to contact our support team via live chat.