Learn everything you need to know about the integrated Flipsnack statistics.
With Flipsnack is easy to see how well your flipbooks are performing. You can keep track of different statistics for the entire workspace, publication, and for each individual page of that publication. Most reports can also be downloaded.
Our in-built tracking system automatically tracks all important actions that happen in the flipbook player.
If you want to go even more in-depth and track how your employees interact with a flipbook, we have a very cool functionality that we recommend, readers statistics. We usually recommend that for internal communication / corporate communication.
Statistics are available with the Professional subscription and above.
Now let's see what statistics are available in Flipsnack.
Workspace statistics
These statistics will inform you how your flipbooks are performing together as a group.
To access these reports, you need to log in, and on the main dashboard, on the left-hand side, you can click on Statistics.
You'll be able to change the date range if you want using the date selector at the top. By default, it's set to present the data collected in the last 30 days.
Important: All Flipsnack statistics are presented following the UTC timezone.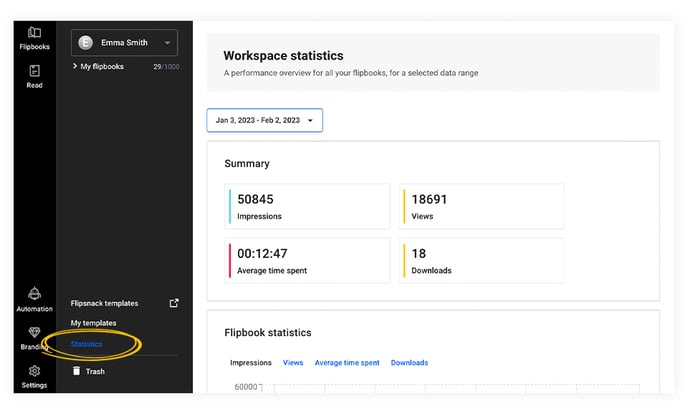 A very useful report featured in this section is the top-performing flipbooks, which shows the flipbooks with the highest number of views during the selected time range.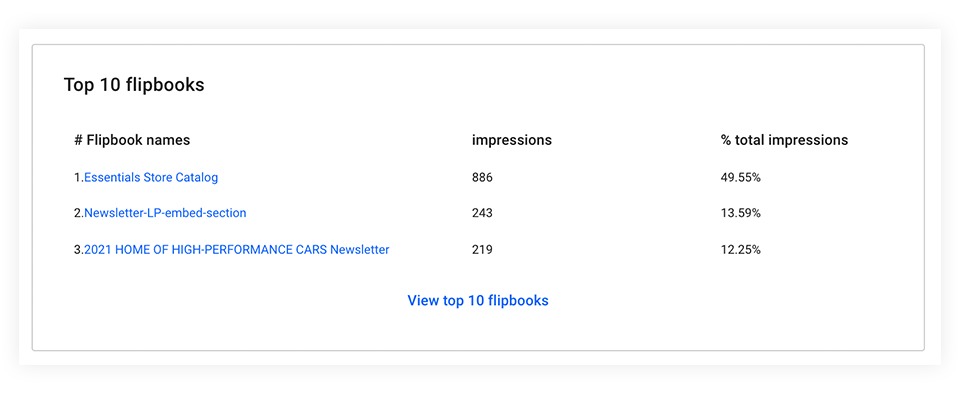 This is the only place where you can compare at a single glance how multiple flipbooks are performing, and it can be very useful. Maybe you'll be able to figure out what works well for the top-performing flipbooks and apply the same successful solution to your other flipbooks.
There are other reports available, including an overall summary, as well as a timeline report that contain the same type of data, just presented in 2 different formats:
Impressions - counted instantly every time your flipbooks are accessed through an embed or a Flipsnack URL visit.

Views - counted every time any flipbook is accessed, but only if (1) there is an interaction with the flipbook (click, page flip, etc.) or if (2) the reader spends more than 5 seconds on the page. Neither views nor impressions are unique per user. If I visit a flipbook URL and I refresh the webpage while viewing and clicking through, it will count as another impression and another view.

Bottom line: views indicate a person's engagement at a basic level with publications.

Average time spent - average for the total time spent reading your flipbooks

Downloads - total number of times your readers have downloaded PDFs from your flipbooks. Naturally, if this option is not enabled on any of your flipbooks, the downloads will always show 0.
Devices and Sources
This is where you can see an overview of how your flipbooks are generally accessed and viewed: through a Flipsnack URL or embed. You can also see what devices are generally used by your readers.
Global views by top locations
The country reports show the locations your views come from. These reports include the country, the number of views, and the percentage of each location.
Individual flipbook statistics
So far, we've covered the overall statistics. Now let's focus on performance reports for one individual flipbook.
To access these reports, search for the flipbook you want to analyze, click on the three dots, and then Stats. If you don't see that option, your flipbook wasn't published. To share a flipbook and collect data about it, you need to publish it first.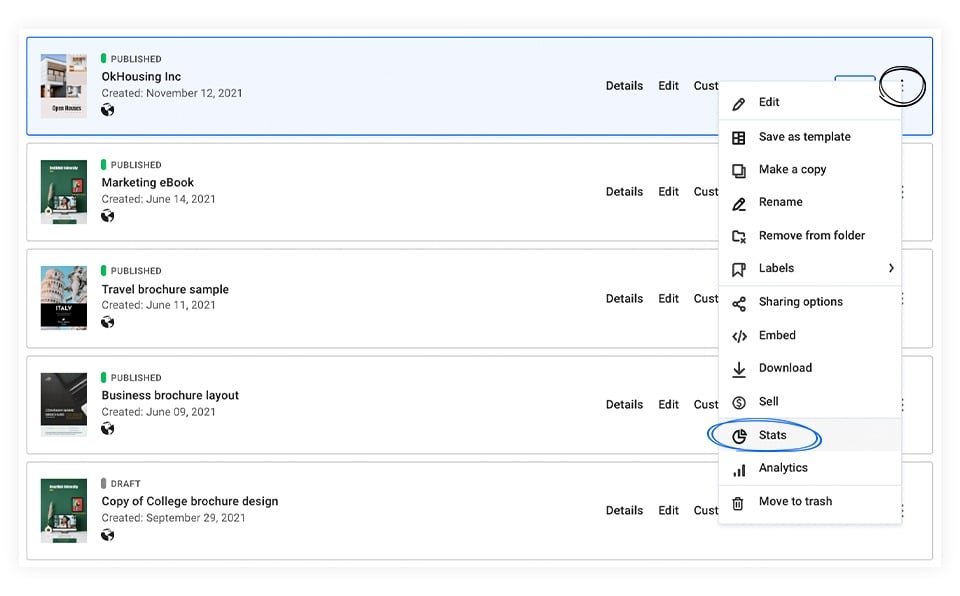 Now let's see what reports are available for each individual flipbook.
Summary report
It's right at the top of the page, below the date selector. It contains some of the most important KPIs regarding a flipbook's performance.
Impressions - it shows how many times a flipbook has been accessed either through the direct link or through an embed. This number will always be higher than the number of views because every view starts as an impression

Views - it shows how many times someone has interacted with or expressed an interest in the flipbook by spending more than 5 seconds on the page. So views are triggered every time someone spends some time with the flipbook or when they start clicking on links, navigating to other pages, etc. Both views and impressions are not unique per viewer. If I check a flipbook five times today, it will count as five impressions and five views (if every time I access the flipbook, I also interact with it)

Average time spent - metric that reports the average amount of time users spend on your flipbook, expressed in seconds. To calculate your average time spent duration, our system would add together the duration of each visit and divide the sum (seconds) by the number of visits to get the average time spent.

Downloads - this shows how many times your readers have downloaded the flipbook in PDF format. By default, this option is not activated in the flipbook player. If you want to make a flipbook available for download for your readers, make sure you activate the option in Customize. If you download the flipbook yourself using other download methods from your dashboard, those actions will not count and will not appear in this report.
Timeline report
This report shows the same data as the summary report but in a different form. You can see how many views/impressions/downloads you had during the selected timeframe, day by day.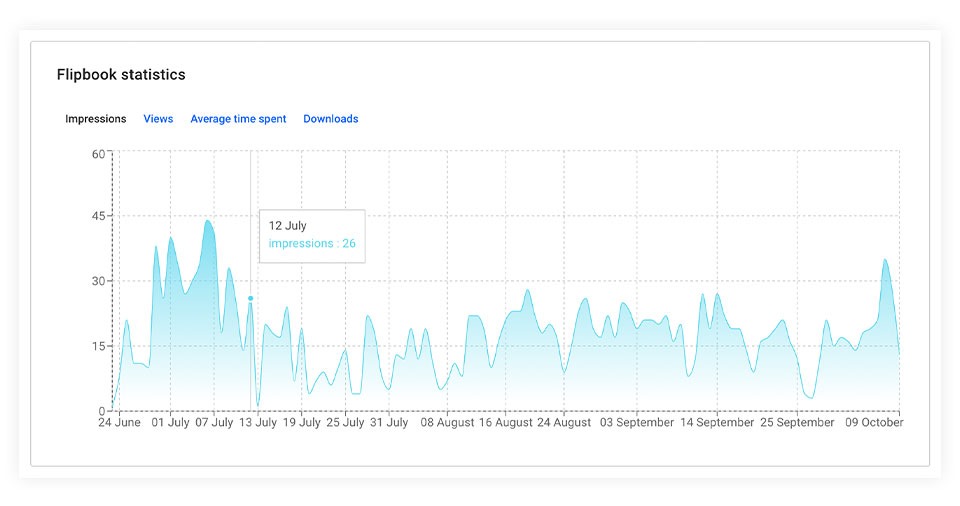 Page stats report
Moreover, you can access page-level statistics, showing you more detailed information: the average time your readers spend on each page, as well as views and clicks. These metrics are the same as those listed in the summary metrics, but they are calculated and presented here for each individual page.
So let's think about this scenario. I will access a flipbook three times today. Two of those times, I will view the cover and not go any further. The third time I will go to the next two pages. The flipbook report will show three impressions and three views. The page report will look like the one just below. The flipbook summary report will not sum up all of the page views (in this case 3+1+1) because it is not supposed to.
Now, let's think about another scenario. I will access a flipbook once today. The flipbook will have 1 impression and 1 view. As I read the flipbook, I will flip through pages 1, 2, 3, 4 and 5, and then I will go back to pages 2 and 3, to check some information once again. This will cause pages 2 and 3 to register 2 impressions and 2 views, and the pages 1, and 5 will have just 1 impression, 1 view. The explanation is simple. I went back to pages 2 and 3, so I viewed them twice.
For this reason, the flipbook impressions and views number will never match the page impressions and views number and can be smaller than the page impressions and views.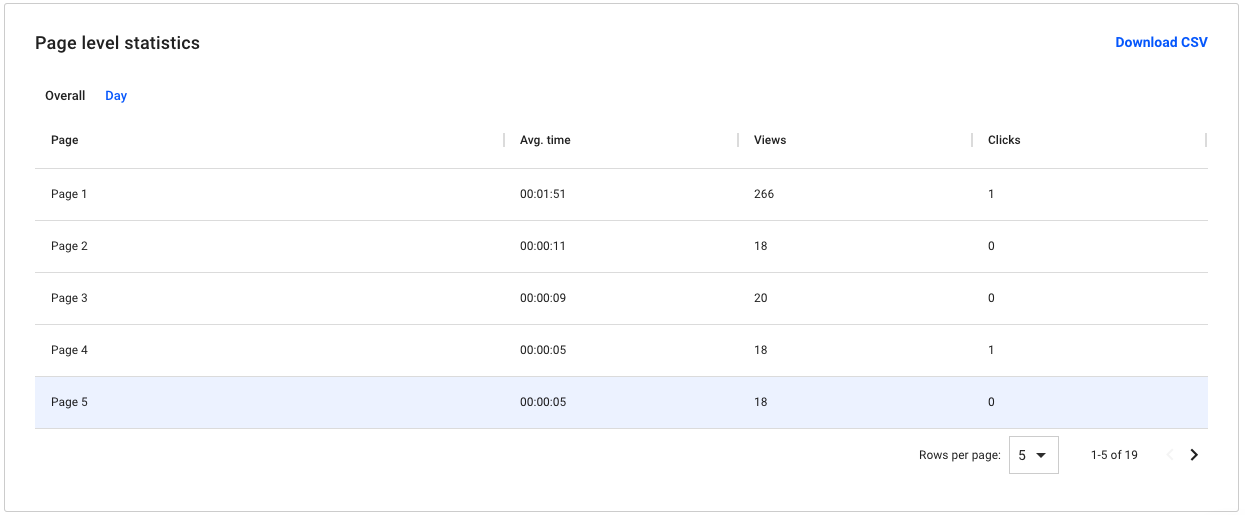 Engagement statistics
In the Engagement statistics section, you can see more in-depth stats on how your readers engaged with your publications. More specifically, what elements they clicked on, on what page these elements were, and how many times they clicked on them.

Devices and sources report
Find out what percentage of your readers opened your flipbook via desktops, tablets, or mobiles, as well as a percentage of sources, whether it was directly through a Flipsnack page or via an embed on another website.

Country report
The Global view by top locations map shows where the flipbook readers are located, with a number of views from each country and an interactive map.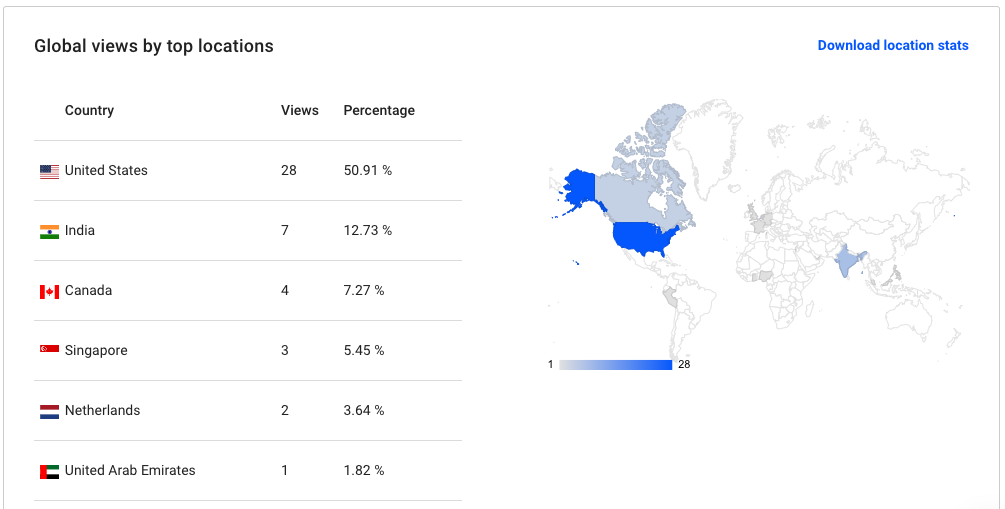 Form entries report
If you've added a form in Customize and readers have filled it in, you will see all of the collected data here, and you'll be able to see when each form entry was submitted. The download option comes in handy if you want to import the data in CRM or elsewhere.

Google Analytics
Besides keeping track of integrated statistics, you also have the option to integrate Google Analytics on your profile or with specific flipbooks.
If you already use Google Analytics tracking, you will see some differences between the GA reports and Flipsnack statistics. These can easily be explained. We're talking about two independent tracking systems that interpret the data differently. View means something in GA and something a little different in Flipsnack.
Your GA filters could also filter some data out of the report. However, the difference between Flipsnack views and GA impressions shouldn't be sky-high. If it is, I'd first look at the selected report dates in both tools to ensure we're looking at the same date range and then investigate further.
In case you have any questions, please feel free to contact us via live chat.