Learn how to see the orders made through the Shopping List feature.
If you have included the shopping list feature in your flipbooks, you should know that there is a way to keep track of interactions and orders for each catalog or as a whole for all your flipbooks
Flipbook and workspace statistics
Finding these statistics is very simple.
For individual catalogs, simply find the desired catalog in the My flipbooks section of your dashboard. Move your mouse button to the right, click on the three dots, then click on Stats.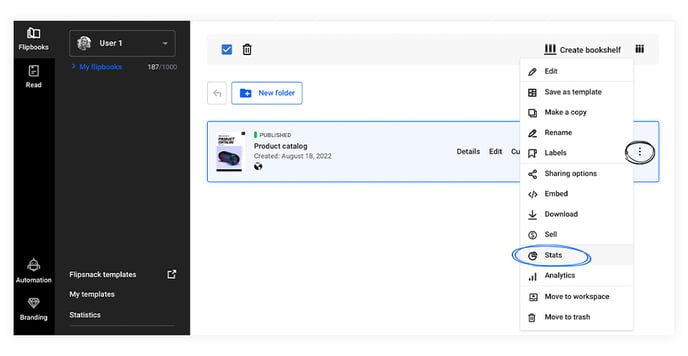 Important: Your flipbook catalog must be published to see the Stats option.
Once you click on Stats, you will find all kinds of helpful information on your catalog, including Shopping cart orders. Select the dates you want to see the statistics for, and in this section, you'll be able to see all the orders you've received during the selected period.
Important: By default, you will be limited to receiving 1,000 emails per month. Any amount over 1,000 will result in an extra charge of $10 per 1,000 extra emails. Please contact your account manager for more information. You can also talk to your account manager about integrating Mailgun, Amazon SES, or a custom email provider in Flipsnack.
Now, if you want to see the collective statistics of all your published flipbooks, head back to My flipbooks. In the bottom right corner, you will see the Statistics button.
Important: All Flipsnack statistics are presented following the UTC timezone.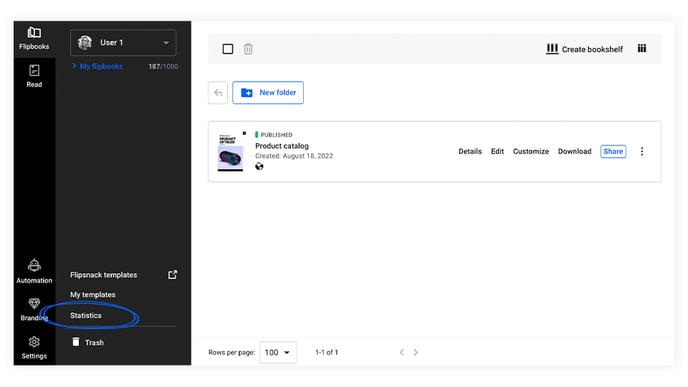 To see how many emails you can still receive in the current month, go to My flipbooks and click on Statistics. You will have a badge at the top of the page containing this information.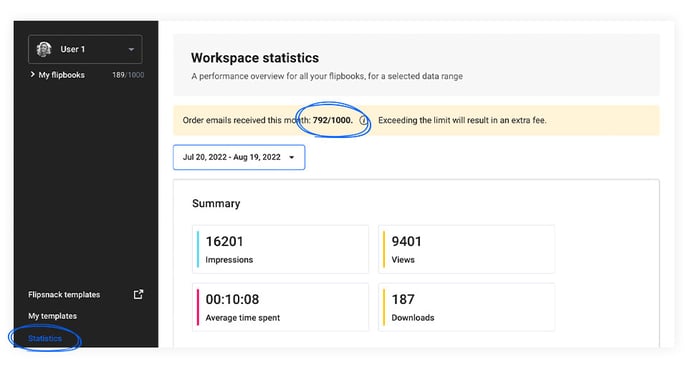 Here again, you will see loads of helpful information on your flipbooks, and you can even set the dates you want to see the statistics for.
For any questions you may have, please do not hesitate to contact us via live chat.