See how you can keep track of your colleagues' activity directly in your Flipsnack account.
We know things can get quite complicated when more teammates work together in the same account. For security reasons and to streamline your workflow, we made it easy for you to track your colleagues' activity through User logs.
This feature is especially useful when things get out of control. Like someone deleting the catalog you worked so hard on. No matter the issue, you can now check to see what happened, when, and who did it. Directly in your Flipsnack account. Makes it so much easier to track the source of the problem.
Using Flipsnack User logs
This feature can be found under the Settings section of your profile.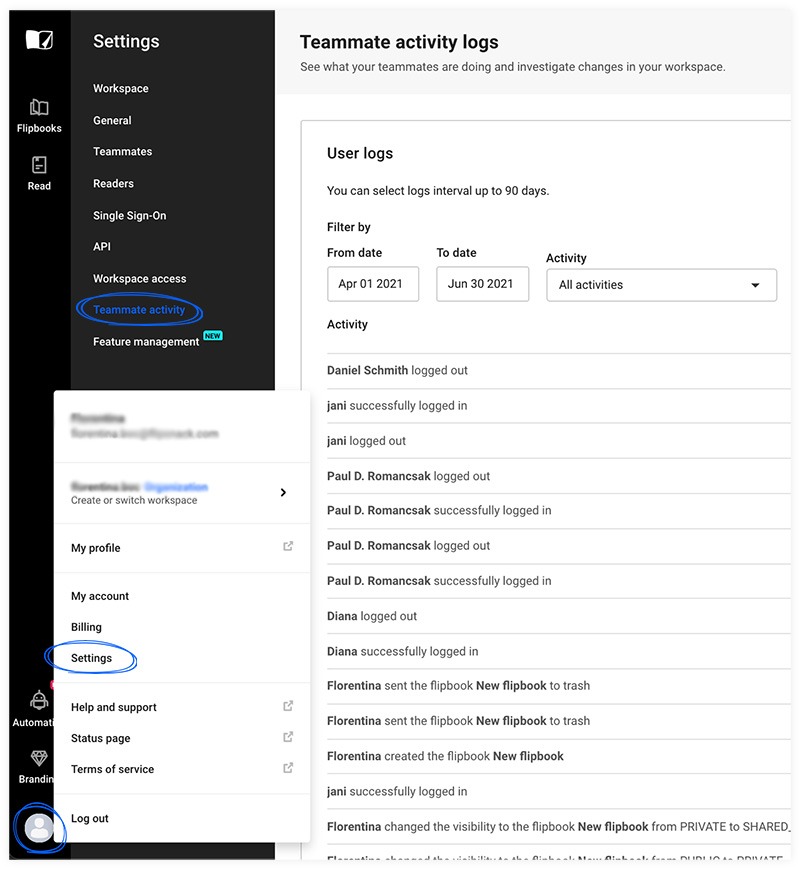 You can track any activity from:
Create flipbook

Edit flipbook

Update flipbook

Save as template

Moved flipbook to trash

Permanently delete flipbook

Scheduled flipbook for publish

Save flipbook as draft

Download PDF

Download flipbook as HTML5

Download JPG for flipbook

Download PNG for flipbook

Download GIF for flipbook

Download flipbook in MP4 format

Set flipbook for sale

Change visibility for flipbook

Made a copy of a flipbook

Discard draft for flipbook

Delete flipbook item

Update tracking ID

Delete tracking ID

Create flipbook shelf

Share a flipbook via email

Change subscriptions

Asked for review

Add teammate

Accept invitation

Remove teammate

Change teammate role

Add readers

Add affiliate user

Confirm affiliate account

Add workspace

Delete workspace

Update workspace

Change password

Change email

Successfully logged in

Logged out

Delete account

Save SSO settings

Regenerate API keys

Update notification settings

Saved settings brand profile

Save changes personalization

Add card

Remove card

Canceled subscription

Upload fonts

Remove fonts

Made changes in typography

Add logo

Remove logo

Made changes in colors
Important: You can filter logs for up to 90 days. Not just the latest 90 days. And you can also filter data based on the type of activity and teammate.
If you want to save this data on your device, you can simply export it as CSV.
Pay attention, though, when applying a filter; only this data will then be downloaded in your CSV file.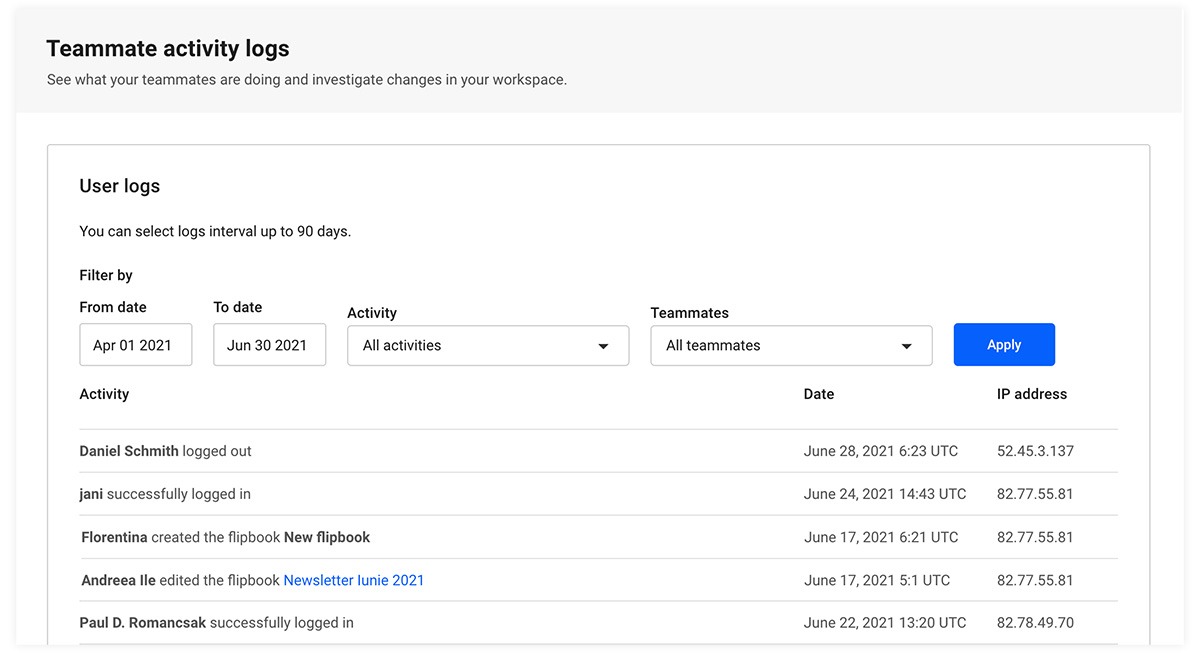 Upgrade to Enterprise if you want to keep track of your teammates' activity.