This article explains what workspaces are, how they work, and how to create and manage them.
Working on many different projects can get quite stressful at times. Things can get unorganized easily. Especially when you work on multiple projects with other colleagues or contributors. We know this, and it's exactly what workspaces are all about. A feature that will give you total control of each project you work on in its own environment. Let's see how this works:
What is a Workspace?
A workspace is a dedicated space where one or more people can work on a specific project. Every person that signs up on Flipsnack will automatically have an account and a workspace.
However, as a Flipsnack user, you can be involved in several workspaces at a time.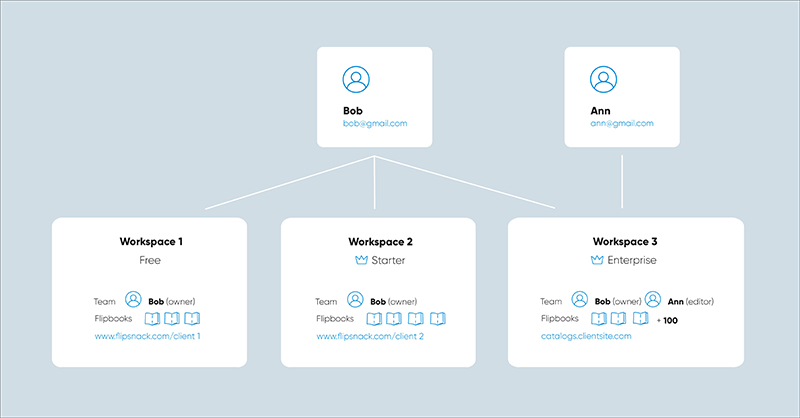 The reason why this is helpful is because you can create a network of projects without needing to own all of the individual projects. Essentially, you create your own account and then create and join (if invited) other workspaces.
Keep in mind, however, that a workspace for that account will also be created as soon as a new account is created.
Projects are no longer tied to an account but workspaces instead. Under your account, you only have your email address, password, and email subscription. On the other hand, a workspace will contain your public profile, users associated with the workspace, flipbooks associated with the workspace, payments and subscriptions, branding options, and SSO settings.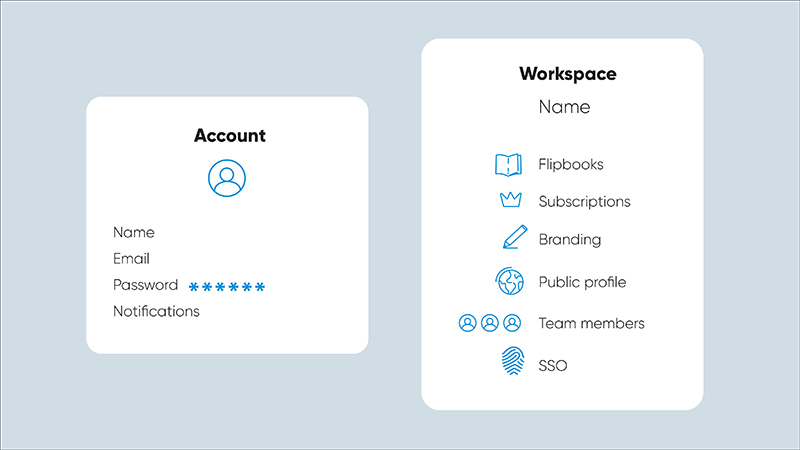 Each workspace is its own entity. But don't worry, it's a fairly simple process to create, delete, and collaborate in a workspace. Let's talk about all of that and more below.
How to create a workspace
Since all accounts automatically have a workspace created for them, each original workspace is free.
Because we wanted you to see how additional workspaces work and experience all the perks that come with it, you can create an additional workspace and use it for free for a limited amount of time - 14 days. No credit card is required.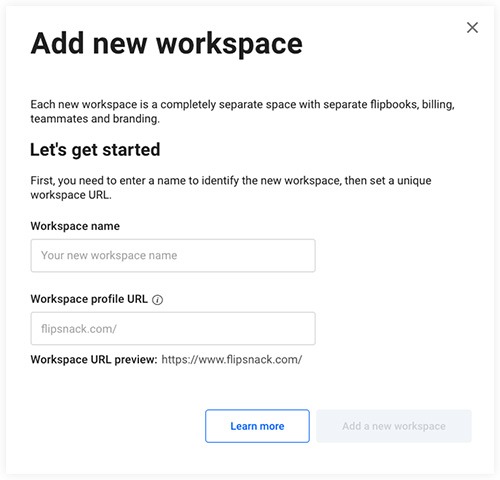 However, after your trial expires, you will be logged out of it. Unless you upgrade, you will no longer be able to use it. Don't panic, though. Your default workspace will forever be free, and you can still use it successfully.
Keep in mind that you can only activate a trial workspace once.
You can click on the account icon in the upper right corner, then hover the mouse over the current workspace. This will reveal a list of all the workspaces that you're a part of. Everyone already has one to start with. Here's also where you can create a new one.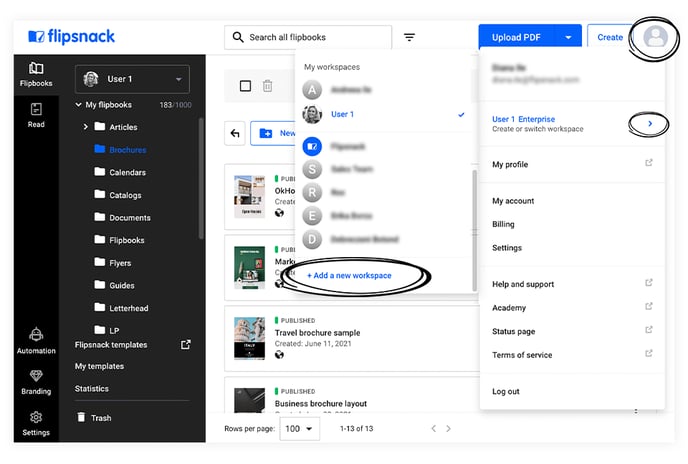 Click on Create or Switch Workspaces and then on Add a new workspace, and an overlay window will appear. Here is where you will fill in all the required information for the new workspace, such as the workspace name and workspace profile URL. Next, you will be able to select the teammates you wish to invite.
Before we move on, remember that this is also where you will manage all your workspaces in the future, switch between them, and add new ones.
Roles in a team workspace
When you add team members, you can assign specific roles within a team. Depending on each role, that person will have certain responsibilities and permissions. It's worth mentioning that only the owner of a workspace can delete that workspace. Additionally, if you want to work in a team workspace, you need an Enterprise subscription.
How to join a workspace
The process for joining a workspace is simple. Once the owner has created it, they can choose to invite whomever they want. If the owner chooses you, he will input your email address. You will then receive a simple email with the invitation to join.
We want to make an important note here: this process will differ depending on whether the invited person is an existing Flipsnack account holder or a new one.
If the invite is sent to an existing account, that user will automatically be invited into the workspace and have the option to switch between the free workspace and the one where he was invited to.
If the invite is sent to someone without a Flipsnack account, that person will need to create a Flipsnack account first. Important to know that if someone creates a Flipsnack account to join a workspace, that particular workspace will be the first workspace. The user won't have the option to create another workspace unless they contact Flipsnack.
Workspaces and subscriptions
We talked about this briefly above, but let's go over it in a little more detail now. Keep in mind that each additional workspace has to be a premium workspace. You can purchase a Starter, Professional, Business, or Enterprise workspace. It's up to you and your needs for each workspace that you own.
Users can be a part of multiple workspaces, each with its own subscription and its own set of features.
If the payment for an additional workspace doesn't go through, the new workspace will not be generated.
Leaving or deleting a workspace
Deleting a workspace is easy, but it has consequences that you need to know about. Once a workspace is deleted, everything that belongs in that workspace will be lost forever.
However, you can't leave a workspace.
As a simple team member, you will have to be removed by the owner of that specific workspace. When you're removed from a workspace, the flipbooks you have created will not be deleted. Instead, they will be automatically assigned to the owner of the workspace.
The owner can't leave the workspace either. He/she can only delete the workspace completely (everything from that workspace will be gone, including everything created by other teammates). The owner could also delete the Flipsnack account. In that case, he will be offered a chance to transfer the ownership of the workspace to someone else.