Build your brand kit. Manage fonts, colors and more, all in one place
Your brand identity is what sets your brand apart from the rest. Simply put - it's the easiest way to be recognized in a sea of competition.
Here at Flipsnack, we recognize the importance of building a unique brand identity and maintaining it.
Over time, we developed various branding features that help small or bigger companies maintain brand consistency all throughout their communication channels.
From ways in which you can brand your catalogs and brochures (through custom colors, by adding your logo watermark, by white-labeling your catalog URLs, and through the use of custom fonts, branded colors, and other typography settings in Design Studio), to locking features, that are life-saving for any brand manager whose mission is to keep the brand consistent.
The Branding section, where you can easily build your brand kit, can be found under My flipbooks, on the lower left-hand side. Everyone has access to see what it contains but enabling these branding features requires a premium subscription.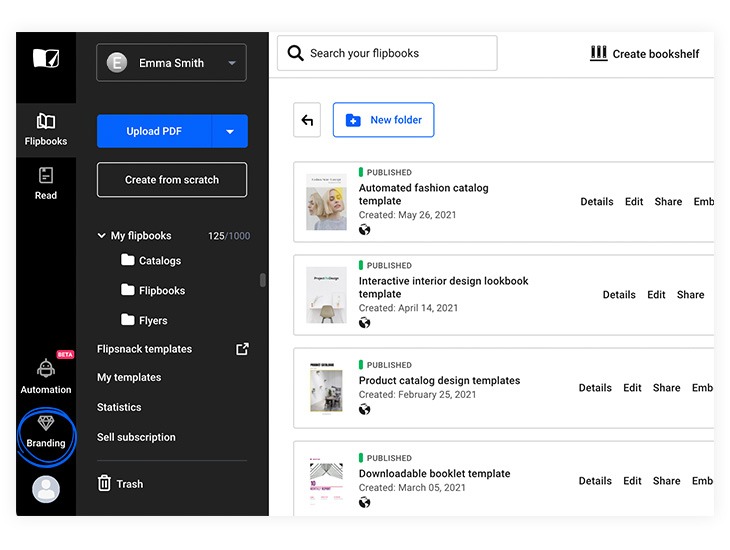 Profile settings
In Branding -> Brand Profile, click on the Settings tab in order to make your profile private, set a username (this can be done only once) in the Default workspace profile URL box, add your Google Analytics tracking ID and Google TAG manager.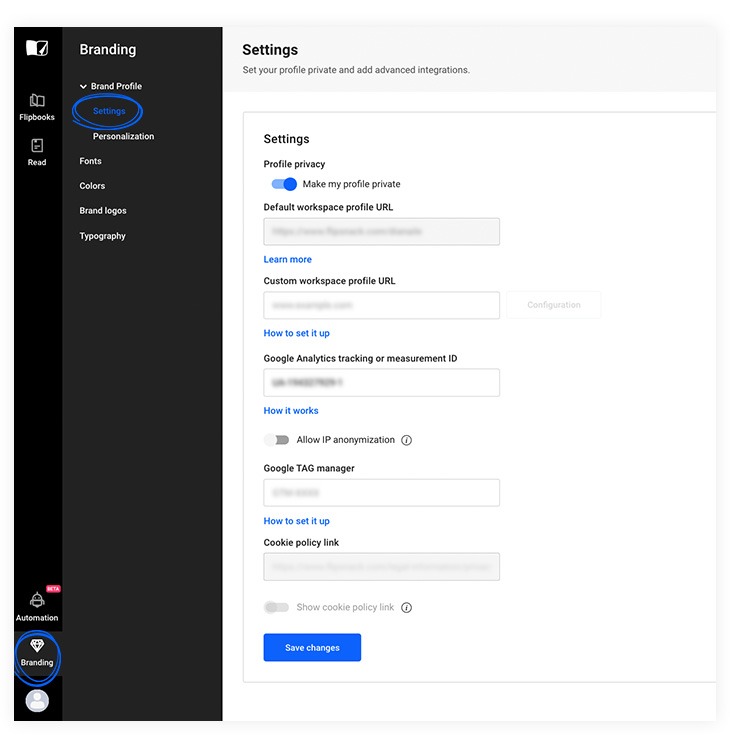 Profile personalization
In this section, you can change many things related to your Flipsnack profile.
You can change your favicon, add your social media profiles, change your social media thumbnail, or add links to your footer.
You can also update your profile information such as profile image, name, description, or link to your website.
In this section, you also have the option to personalize your header. For example, you can replace the logo, change the Header color, and the Elements color (the text and icons that show up in Team flipbooks).
Some of the features have a toggle option, which means that you can add them and then choose if you want to make them visible or not. Any changes you make will be visible in real-time as a preview on the right side of the page.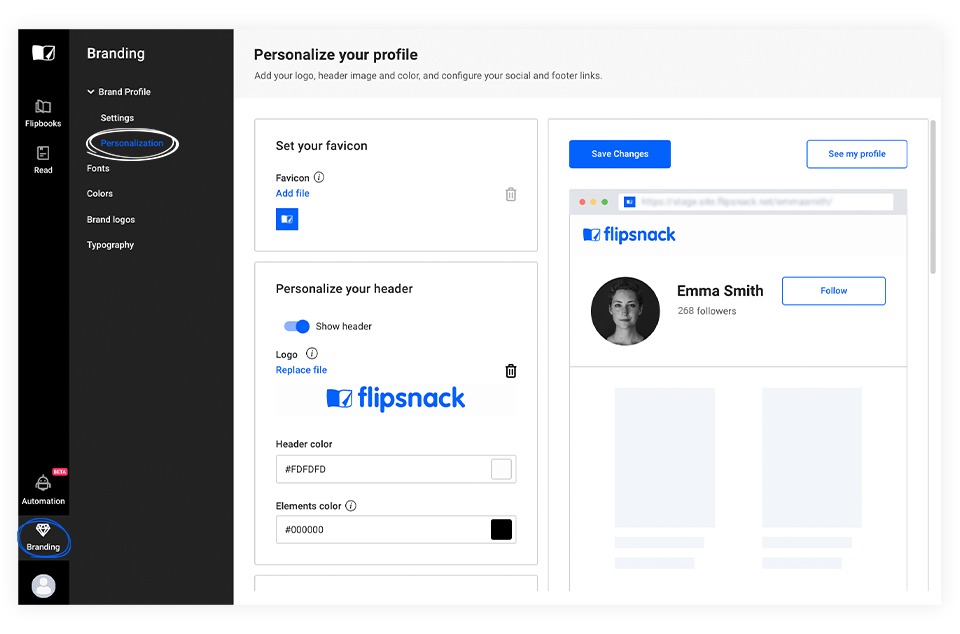 Font management
You can upload your own fonts and view or delete the uploaded ones.
Before uploading a font, make sure that it is a TTF or OTF format, otherwise, it won't be accepted. Also, make sure that you have permission to use the font you want to upload.
To upload your fonts, simply click on the Upload your font button, select your font, then click Open.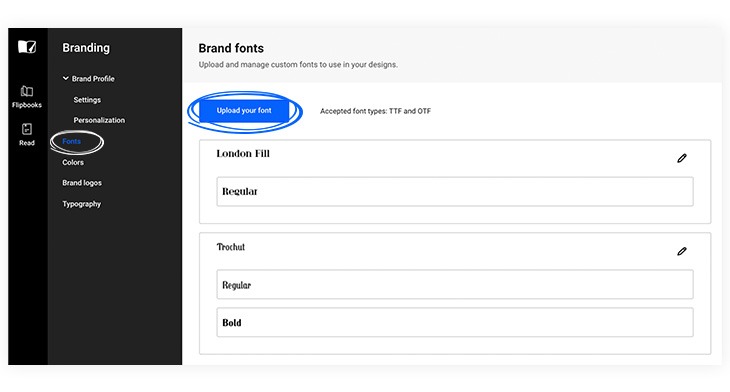 If you want to delete a font, just click on the trash can icon, then in the pop-up box that will open, select Delete.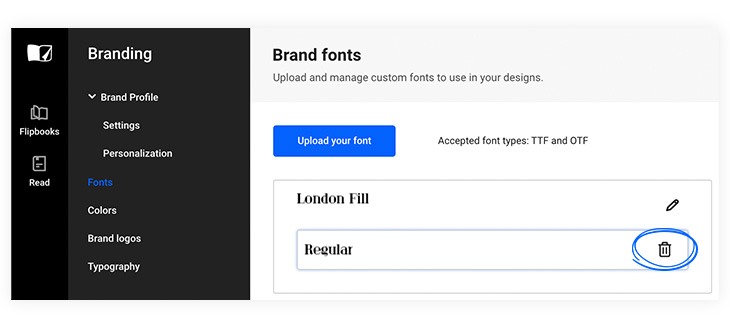 Brand colors
By adding your own brand colors in Branding, you simplify the process of finding and using brand colors while you work on customizing your publications and designing them.

Create custom typography settings
Any of our premium plan holders have the option to set custom text styles to match their brand identity and save it for later use. It's basically a template for all the text styles you prefer to use in Design Studio.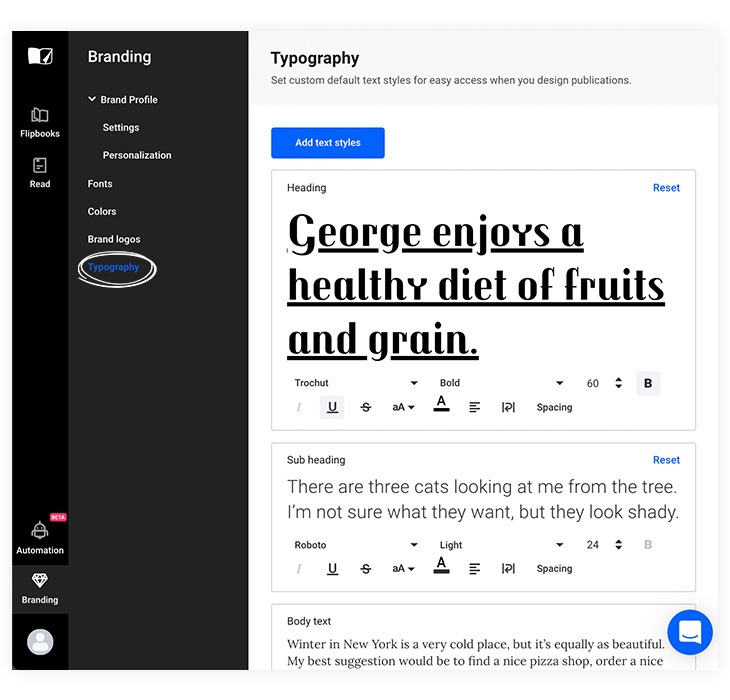 You can create custom default typography settings for headings, sub-headings, and paragraph/body text. Create up to 20 different styles to use at one time. If you want to delete and add another style, simply go to the Branding section of your dashboard and create more.
We are consistently improving and developing new branding features for our users.
If you have any suggestions regarding these or other branding options, let us know via live chat support.