Everything you need to know to get started with the Organization plan, what it is and how it works.
What is the Organization plan?
The Organization plan is a pricing plan that can be purchased through one of our sales agents or through your account manager if you're upgrading from the Enterprise plan. A single subscription and invoice are issued for the entire organization.
Flipsnack Organizations go beyond the team setup you may be used to with a regular team plan (Starter/ Professional/ Business/ Enterprise). Instead of a single workspace for a team, you have a dedicated Organization space that contains multiple workspaces for multiple teams.
Teams are organized in separate environments or workspaces, which are set up and managed by a high-level admin of the entire organization (or a group of high-level admins).
Everything in the Organization plan is owned by the organization. This includes files, flipbooks, and every team within the organization.
Who is it for?
We think this is particularly helpful for multinational companies who might want to set up their workspaces by country.
It can also be a good fit for a company that has multiple branches in different states or cities.
Or maybe you are a business that operates through franchises, and each affiliate needs its own separate environment.
There might be other causes for which the Organization plan is a good fit.
Make sure you contact our sales agents or your account manager if you need advice or if you're interested in the Organization plan.
Organization management
Every organization has a main workspace from which all the other regular workspaces can be set up and managed. In order to access the main organization page, you need to be logged in to this main workspace. Here's how you'll be able to access the organization management page.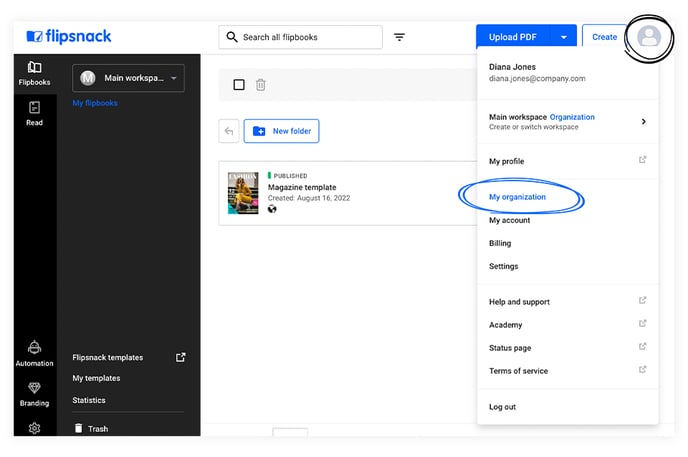 From the main workspace, the organization owner can create as many team workspaces as needed, based on your organization structure and on what you discussed and agreed on with your account manager.
You can go to a certain workspace from this main organization page.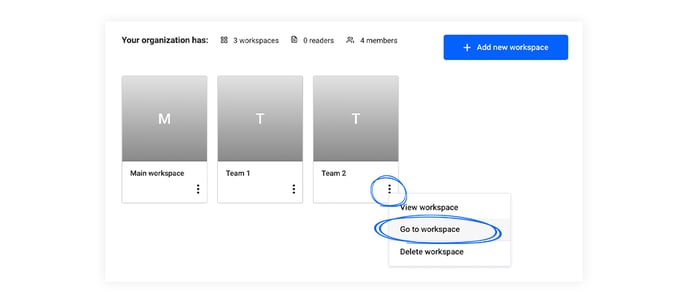 The organization owner is automatically the owner of every other workspace they set up. This person has full control over all aspects of the organization. He/she can view and manage teams and monitor teammates' activity through activity logs by switching from one workspace to another. The owner manages billing, tracks statistics, sets up the organization branding (fonts & colors), creates templates, and shares them with the entire organization.
Besides the owner, you can have other teammates in the main workspace. Everyone who is part of the main workspace can view a list of the organization's users and team workspaces.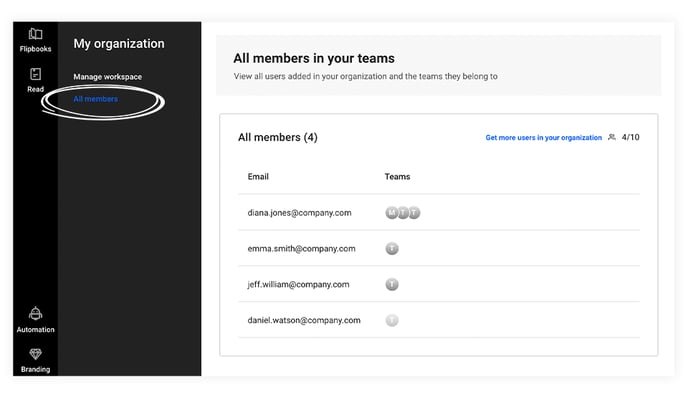 However, being a part of the main workspace does not automatically give you access or control over other team workspaces unless you are the owner. In order to access the other workspaces, you need to be invited in there. Furthermore, in order to edit settings or invite teammates within a certain workspace, you need to have an admin role within that team.
If you are an admin in one or more workspaces, please read our guide for admins.
Organization templates
Members of the main workspace can share templates with the other teams. As soon as they are shared (added to teams), they will be accessible to all the users of the entire organization. Remember that a template created in a team workspace cannot be shared with other teams or the main workspace.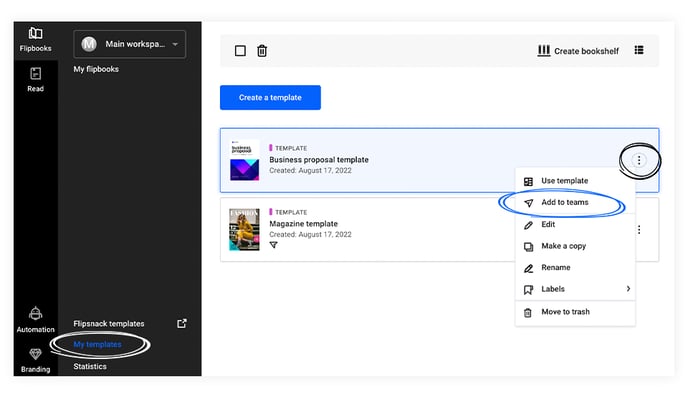 Team templates and organization templates are neatly organized in 2 tabs, making it easier for users to identify them.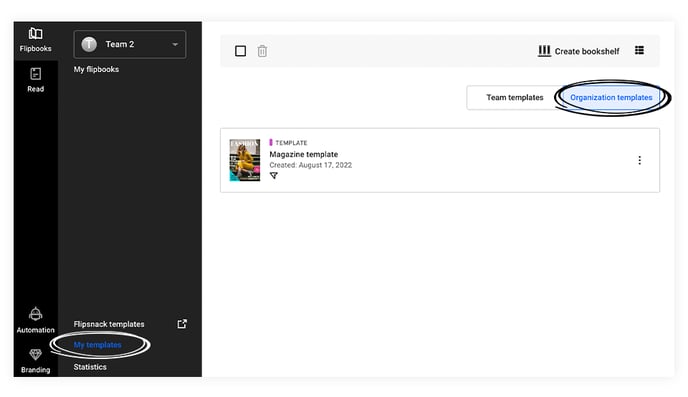 Billing
There is a single subscription for the entire organization, and the price is based on the number of teammates that are part of the organization in Flipsnack and based on your needs.
Shared branding and resources across teams
Naturally, all teams within one organization will use the same branding elements. One company - one brand.
So instead of having each individual set up their branding elements (colors, fonts, typography) within their respective workspace, you only have to add them once in the main workspace, and they are automatically made available in all the connected team workspaces.
Once you upload and share fonts with teams, they will automatically have access to them. Teams can also upload more resources (eg: fonts) and create their own templates as well (based on roles and permissions).
These resources will be organized in 2 different tabs: Organization and Team.
Templates created in the main workspace can also be shared with the entire organization.
Important: We recommend that you finalize the templates before sharing them.
Useful resources to share with all workspace admins that are part of your organization:
In addition to the resources listed above, we also have an online course that covers all the bases regarding the functionalities of Flipsnack. We highly encourage all admins as well as other users to enroll in Flipsnack Academy.