Learn how to share design templates with multiple teams and connected workspaces with the Custom plan
If you already have an active Custom plan, you can add your organization's branding elements (fonts, colors, typography), but you can also create branded templates that the entire organization can use.
The Custom plan is built around one main workspace, or a main workspace, so to speak. Therefore, if you want to create templates for the entire organization, your templates need to start in that main workspace.
However, these organization templates will not automatically be available for all connected workspaces in your Custom plan. In the main workspace, you can create, see and manage your organization templates by adding them to your team's workspaces or not. Your team can access your organization templates only if you share them with their workspaces. Your team can create team templates in the other workspaces, but these cannot be shared with the main workspace.
Each workspace, including the main one, can have its own separate templates. To help you figure out which template belongs to which workspace, you'll have them organized in 2 different tabs only in the other workspaces: Organization templates and Team templates.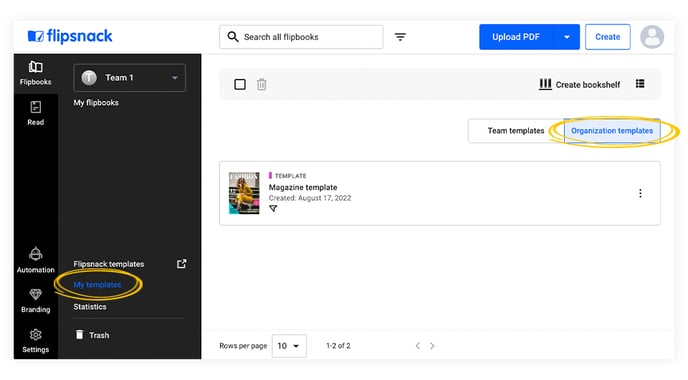 How to share Organization templates with all connected workspaces
The templates you create in your main workspace have to be final and saved as templates to be available for sharing with the teams from the other workspaces. Still, if updates occur, just save it again, and it will also update in your team's workspaces.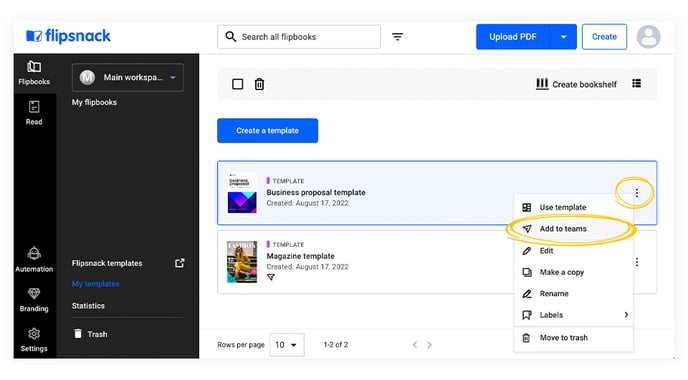 After your template is ready, go to My templates in the main workspace and click Add to teams. If, at a later point, you want to remove a template from the team workspace, click on Remove from teams.
After a template is added to all connected workspaces, it will instantly be available to all teams in My templates -> Organization templates.
Make the most out of the features that the Custom plan has to offer! In addition to templates, remember to configure your branding options and create locked templates. If you have any questions, contact us through live chat!