Connect your public profile (flipbook library) to Google Analytics.
By adding your Analytics tracking ID to your profile you will be able to track and view data for all of your Flipsnack public links. You only have to set this once, and it will automatically track data on all of your flipbooks. It will also start tracking data whenever you publish new flipbooks.
All this data would be available in your Analytics account, so it's very easy and convenient to access it whenever you want.
How to start tracking
It's super easy, don't worry!
All you have to do is go to Branding (in the main dashboard) > Brand Profile > Settings.
There you'll find a field where you need to enter your tracking ID.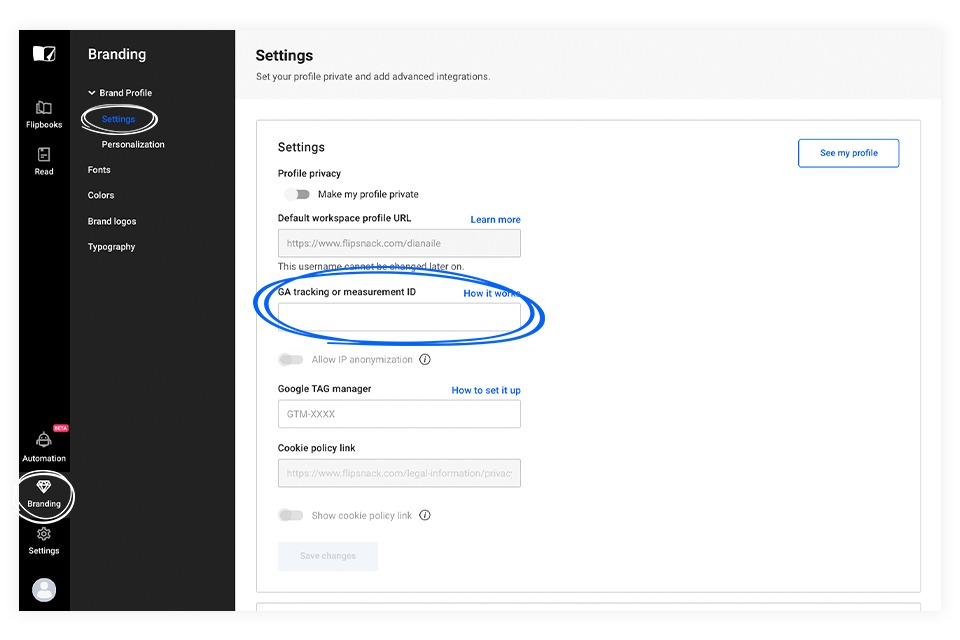 The tracking ID can be found in your Analytics account, in Admin >Tracking info (in the Property column) > Tracking code. Every Analytics property has a unique tracking ID, but it always starts with UA- and it's followed by numbers. That is the number that you need.
After you add your tracking ID to your Flipsnack account, in the profile section it will take up to 24h before you see any data in Analytics reports.
Further reading on Google Analytics integrations
If you're not an advanced user of Analytics you should probably read a few articles that will help get started and make the most out of the Analytics integration.
A first step would be to set up the Flipsnack Google Analytics dashboard in your Analytics account. It's basically a collection of ready-made charts and graphs regarding your Flipsnack traffic. We also have an article about possible issues you might have with Google Analytics integration and how to fix them.
However, the best way to get advanced very detailed reports is by setting up a custom Flipsnack view. This is the best way to make the most out of the Analytics integration.
Google Analytics integration is available starting with our Business plan.