Install the Facebook Pixel on Flipsnack through Google Tag Manager
Before installing the Facebook Pixel on your profile page and flipbooks, first, you should read about the integration of Google Tag Manager in Flipsnack. This feature is only available with the Enterprise plan.
The Facebook Pixel is an analytics tool that allows you to measure and optimize the results of your Facebook advertising. It also allows you to create custom audiences of the traffic coming to your whole site, a specific page, or of the visitors who have taken the desired action on your website.
By installing the Facebook Pixel on your Flipsnack profile, you can create audiences and run advertising campaigns to retarget your profile page viewers and publications or create lookalike audiences based on your readers.
Implement Facebook Pixel
You can easily implement your Facebook Pixel on your Flipsnack profile through Google Tag Manager by following the steps below:
1. Make sure you have correctly added the GTM ID in Flipsnack. If you haven't already set it up, you can read our article about Google Tag Manager integration in Flipsnack.
2. Log in to your Facebook Business Manager account, open the hamburger menu on the top left corner, and under Events Manager, click on Pixels in order to get to your tracking code.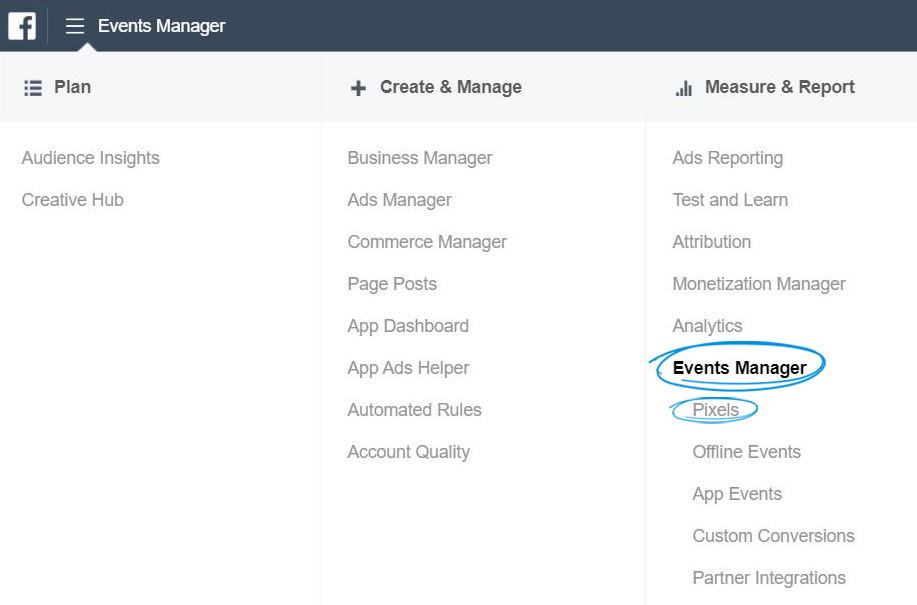 Open the drop-down menu from the blue + Add New Data Source button and select Facebook Pixel.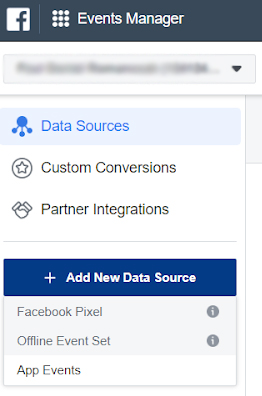 This will reveal the option to Manually add pixel code to website option. Now you'll see the snippet of JavaScript code that needs to be copied/inserted into Google Tag Manager as the next step.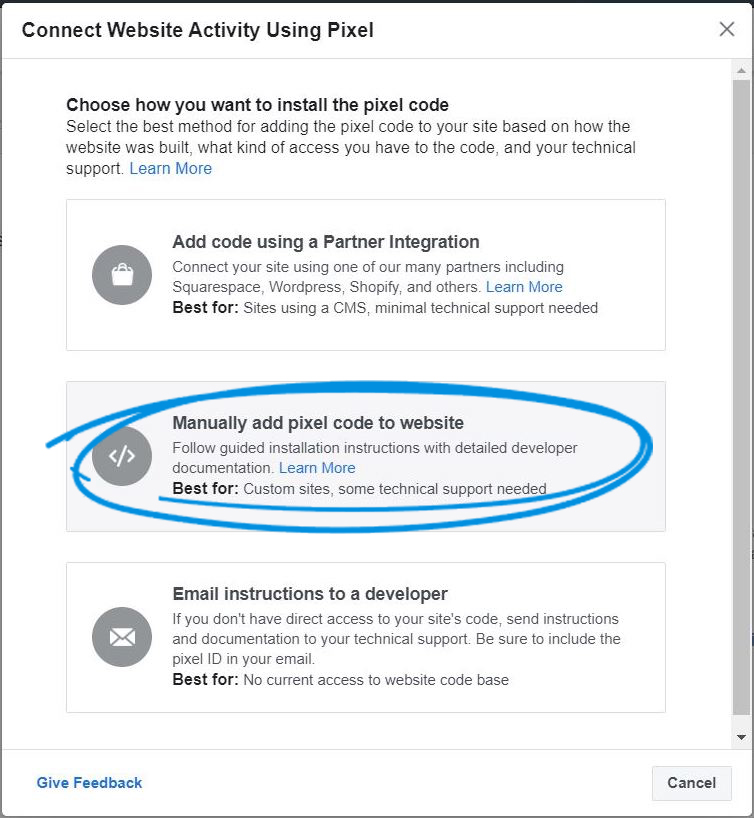 In case you already have Facebook Pixel created and associated with your account, you have to click on the Details button, and then on the top right side of your screen, under the Set up dropdown menu, click on Install Pixel.


This will bring you to the pixel code that you need to copy into your Google Tag Manager account.
3. Now that you have obtained the code of your Facebook Pixel, log in to your Google Tag Manager account. Under the Tags menu, you'll have to click on the New button in order to add your Facebook Pixel.
While setting the new tag, click on the Tag Configuration box. This will open a right-side menu with all of the tag types you can create. Scroll down to the option that lets you add a Custom HTML Tag.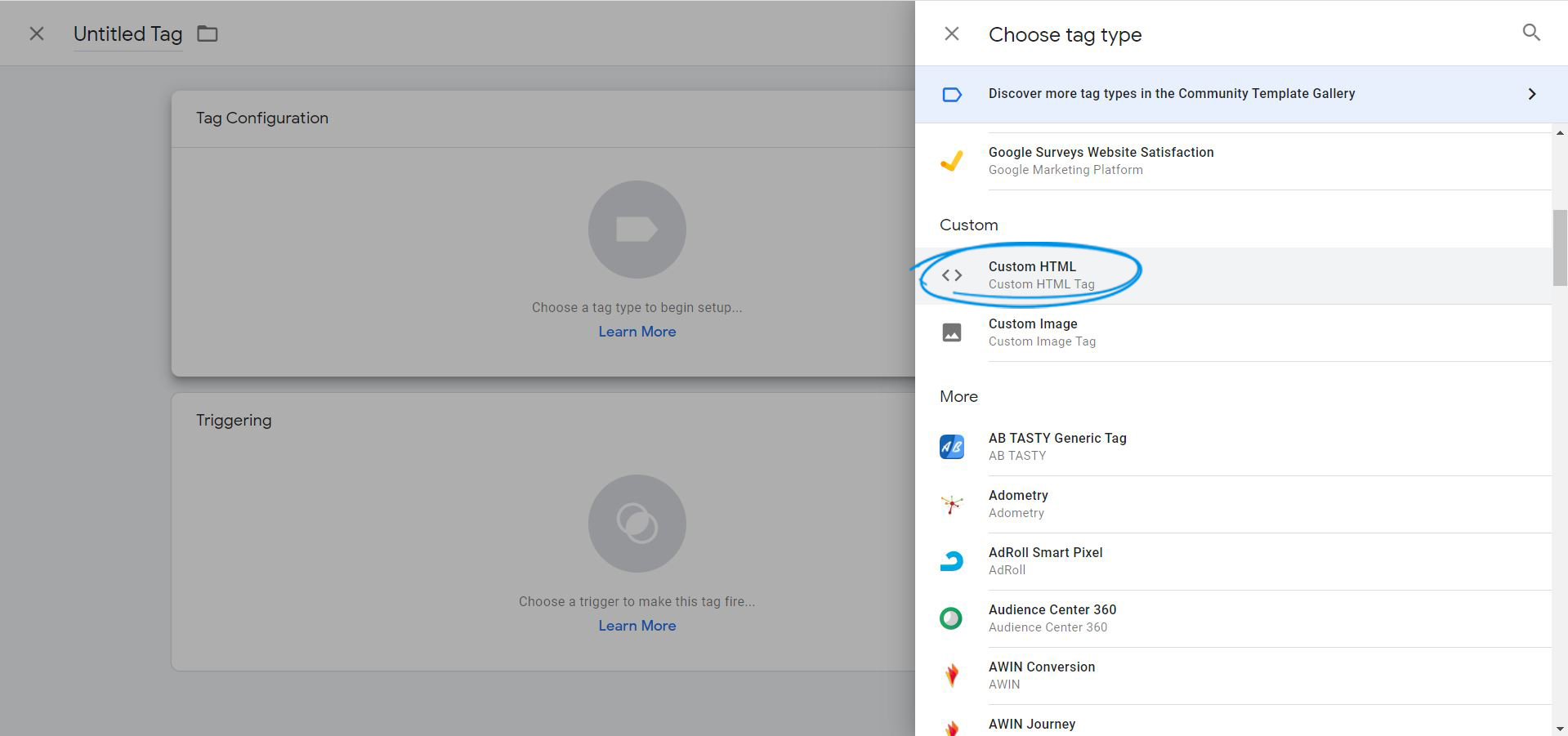 Here you have to manually paste the code from the Facebook Business Manager that you obtained in the previous step. Afterward, click on the Advanced Settings dropdown and select Once per page under Tag firing options.

Click on the Save button to set your Tag Configuration, and now, under Triggering, select All Pages. This will ensure that the code is installed on your whole Flipsnack profile and all of your flipbooks.
4. After you've set the Facebook Pixel tag to trigger on all of the pages, close the Tag Set up options and click on the blue Submit button in the upper right to begin publishing your changes.

Next, add details, such as a Version Name and Version description, then click on the Publish button in the top right to activate your tag and apply it to all your work.
5. Now you're done, and you're tracking all of the traffic on your profile and your publications.
Furthermore, you can now create custom audiences to use in your advertising campaigns and set your custom conversions and events according to your needs and preferences.
Finally, after everything is set up, you have the option to check if your pixel is working and tracking properly, using the Test Events tool or by installing the Pixel Helper extension in your web browser.