Learn how to make a separate view in Analytics for your flipbooks data.
Someone has recently contacted us to help find a solution to their Analytics problem. The person in question had some flipbooks embedded on his site, so he got a pageview hit when someone visited his site URLs and then multiple for when each one of his embedded flipbooks was opened. So what should've been one pageview led to multiple, which obviously, skewed his site view data.
You have this problem too if you meet all the following criteria:
(1) you're using Analytics tracking for your flipbooks
(2) you use the same Analytics Tracking ID for your site and for Flipsnack flipbooks
(3) you haven't set up filtered views
(4) you have embedded flipbooks on your site
The solution we recommend is setting up separate Analytics views for site data and for Flipsnack data. It's really not that complicated, even for inexperienced Analytics users, if you follow our step-by-step tutorial below.
You can also explore more reports in Analytics if you keep all of your catalog data separated on a different view (or property) in your Google Analytics account.
Note: Please read and follow the steps below carefully, and don't skip steps. Make sure you also filter Flipsnack data out of your site view, as instructed below.
How to set up a Flipsnack data view in Google Analytics
1. Go to Admin. Select your site's Property, then click Create View.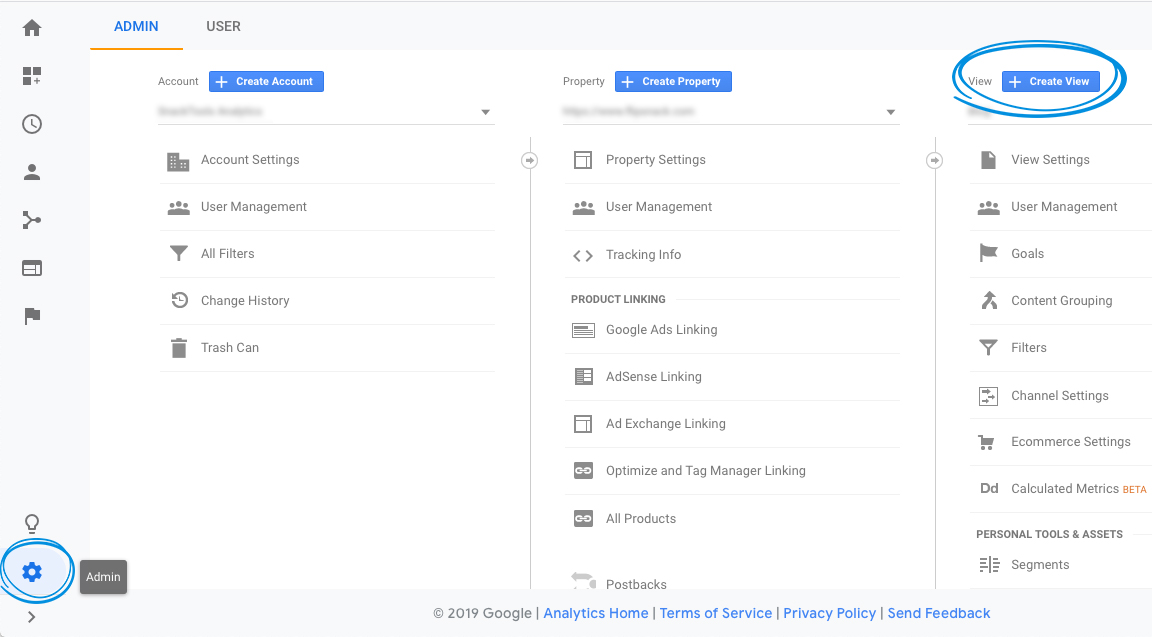 2. Select a relevant and descriptive name for your view, so you can easily tell what data is in this view when you see the name in a list (for example, Flipsnack catalogs, Flipbooks, or Magazines).
Also, select your time zone.
Click Create view: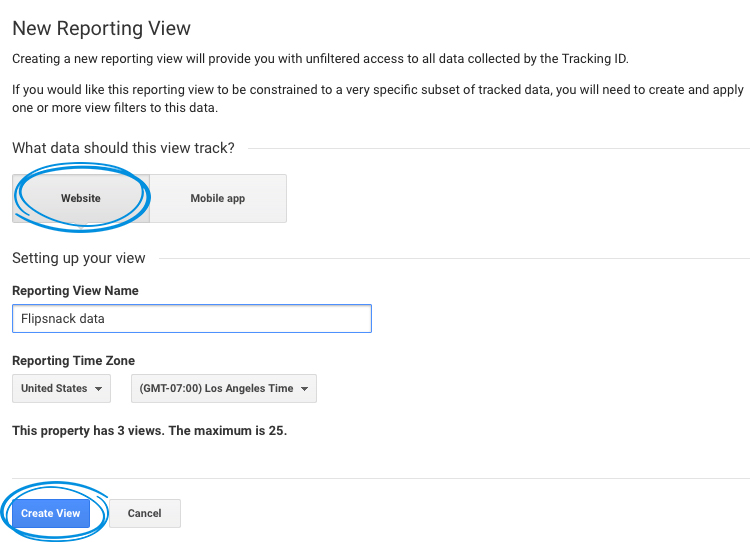 3. Now, you have to add a filter to your view to make sure that you'll only see Flipsnack data when you check the view that you've just created. Start by clicking Filters on the view that you've just created. It's very important that you click Filters below the View, not below the Property.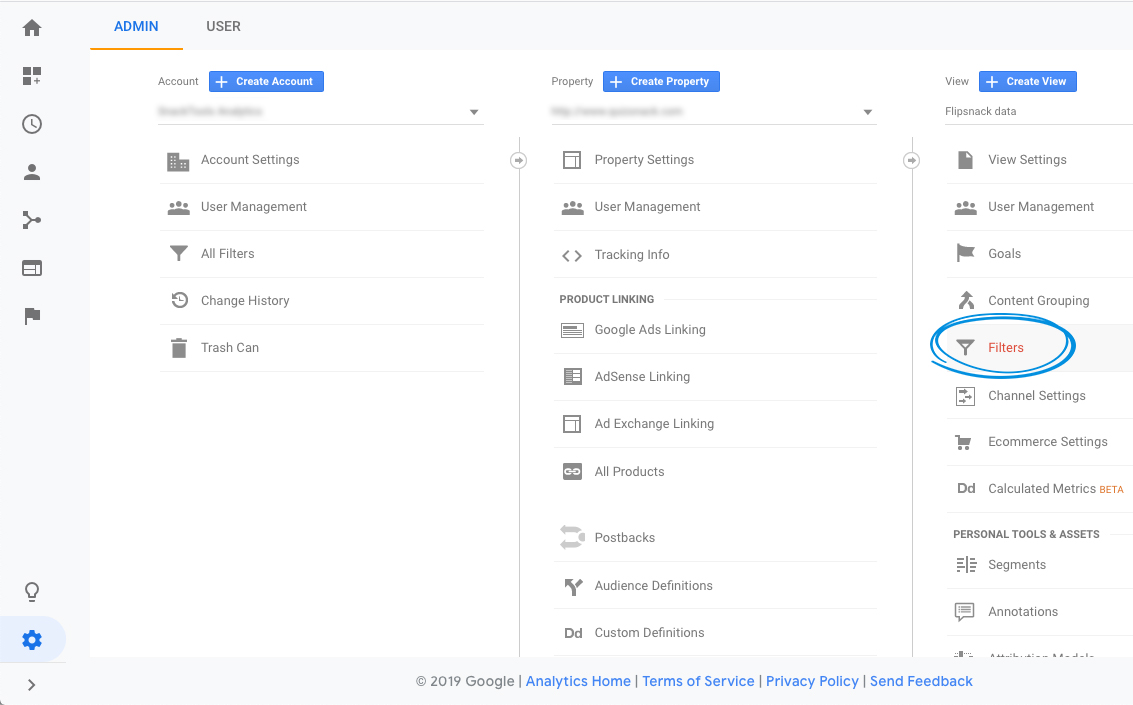 4. Click Add Filter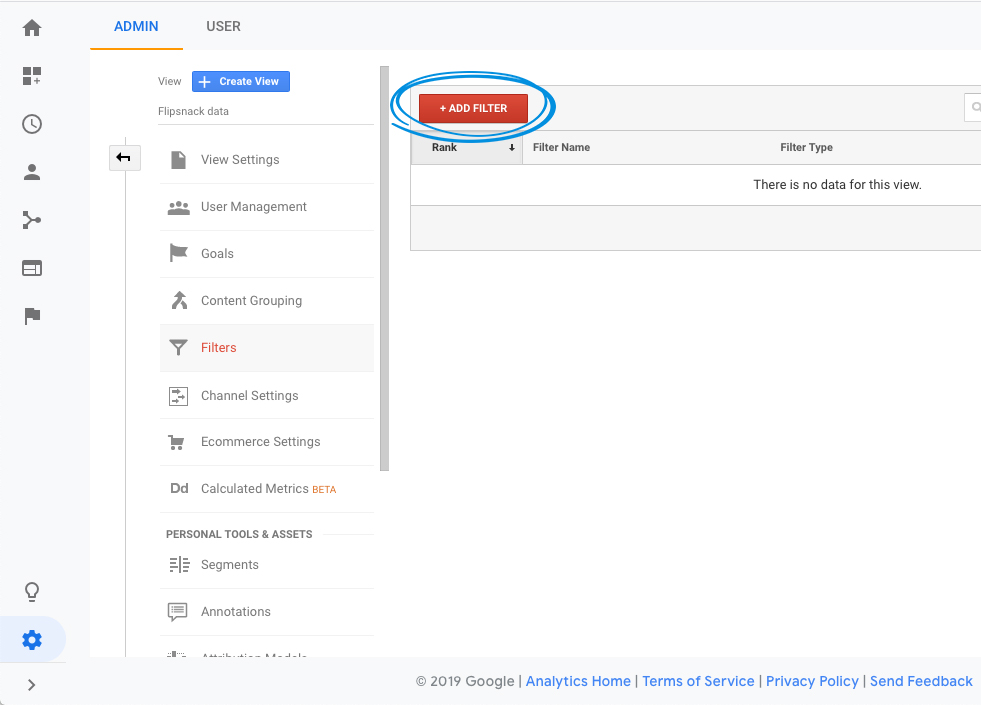 5. And now you just have to configure the filter properly. Select Create new filter. Add a relevant and specific filter name, so you can easily tell what the filter does. Then select a Predefined filter and set it up to Include Only - traffic to the hostname - that contain - flipsnack.com Before you move on to the next part of the tutorial, you should verify this filter. Make sure there are no typos, as a single spelling mistake will ruin everything.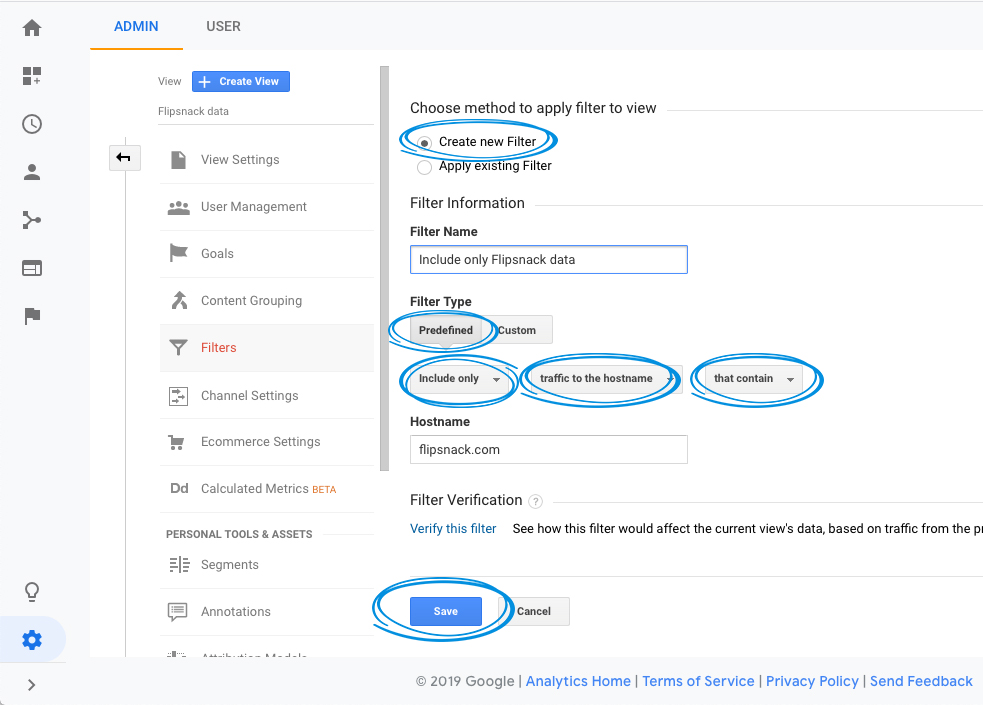 It will take about 24 hours to see reports in Analytics, but you might want to check the Real-time reports already, just to check if you're only seeing Flipsnack data. If you've followed our instructions carefully, there shouldn't be any issues.
How to filter Flipsnack data out of your site view
Now that you have a separate view for Flipsnack data, surely you want to filter the Flipsnack data out of your site view. This is where you make sure that you do not have your flipbooks data merged with your site data.
Go back to Admin, and select your original site view from the dropdown view menu. Next, click on Filters (View Filters, not Property filters).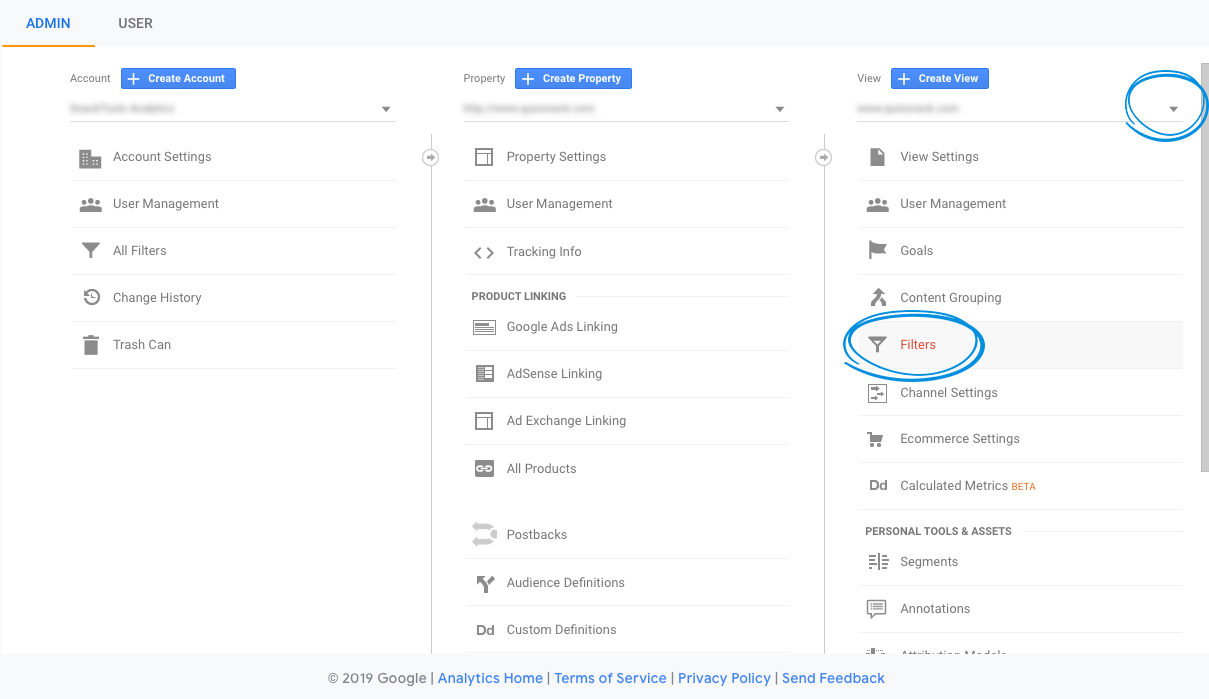 2. Add a filter - Create new filter and add a relevant name (such as Exclude Flipsnack data). Select a Predefined filter to Exclude - Traffic to the hostname - that contain - flipsnack.com. Again, check the spelling because it matters a lot in this case. Verify the filter, and click Save.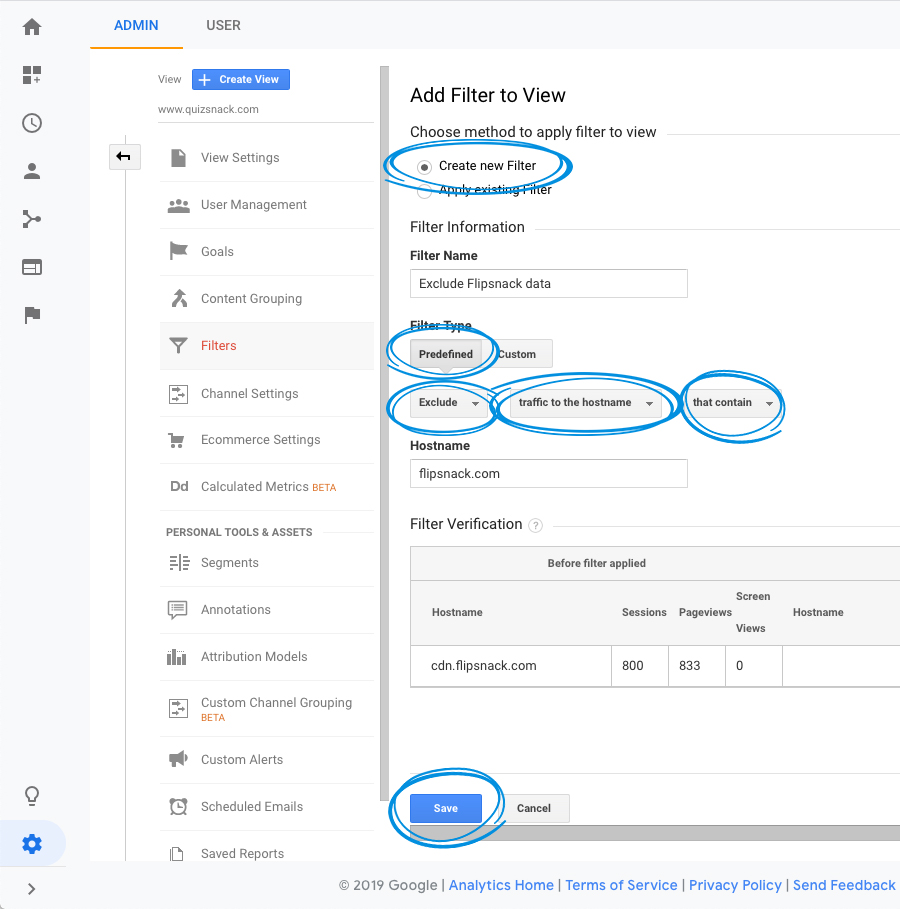 Other remarks about Analytics views, filters, dashboards
After you connect your Tracking ID with your flipbooks, it will take about 24 hours to see your data in Analytics.
It will also take about 24 hours before filters are applied to your reports (the only exception being the real-time reports).
If this is all new to you, it might be a good idea to continue reading about view filters or get someone to double-check this. They are a very powerful tool, so you should first understand how they work and how they will affect your reports before you start working with them.
We already have an article about how to set up a custom Flipsnack Analytics Dashboard. If you haven't embedded flipbooks on your site, you might be happy enough with that solution, as it is easier to set up, so you might want to check out that option too.