View information about your catalogs in a single Google Analytics Dashboard
Table of contents:
What is the Flipsnack Analytics dashboard?
How do I import this view into my Analytics?
Advanced customization for your dashboard
In a previous article, we covered a tutorial for implementing Google Analytics tracking for your catalogs. Once you've followed the steps presented in that tutorial, you will be able to see some data in Analytics, and we explained where to look for it.
But there is a better way to view your catalog statistics in Analytics and we'll show you how in this article. Instead of applying various filters to various charts, graphs, and tables, you can simply import our dashboard and view a plethora of reports regarding your catalogs in one single dashboard.
What is the Flipsnack Analytics dashboard?
The Flipsnack Analytics dashboard is a custom bundle of reports configured by us. It contains a set of 9 charts and tables which were built to only display information regarding Flipsnack catalogs.
Once imported into your account, it will become populated with data from your connected Flipsnack catalogs. So even though we've pre-configured the dashboard, each one of you will see different chart data, because that data comes from your catalogs, not ours and not someone else's. Read more about custom GA dashboards.
The contents of the dashboard
The dashboard contains an overview report summary of all flipbooks connected to GA. So keep this in mind: the data is the sum of all catalogs connected to Google Analytics. If you'd like to see more granular data for each catalog, you will need to add a few more charts or simply access Statistics in your Flipsnack account.
Here's what the dashboard contains:
Date/period selector - all the charts will be updated if you change the dates

How many people viewed your catalogs

A timeline displaying how many times your catalogs have been accessed

A world map of your catalog readers

Sources (Flipsnack/sites where catalogs are embedded)

How many times your readers clicked Next, Previous, Click to read, Close

Chart displaying when your catalogs are the most accessed, by day of the week

Top catalogs, by number of views

Average time spent on your catalogs

Devices used to access your catalogs
How do I import this view into my Analytics?
It's extremely easy to import this dashboard into your Analytics account. Just follow the steps below:
1. Log into your Google Analytics account, select the property which was used for connecting catalog statistics and the view where you want to see this dashboard.
2. Go to Customization -> Dashboards -> Create

3. Write a name (Flipsnack Analytics Dashboard, for example) and click Import from gallery.
4. Search for Flipsnack in the Solutions gallery.
5. Click Import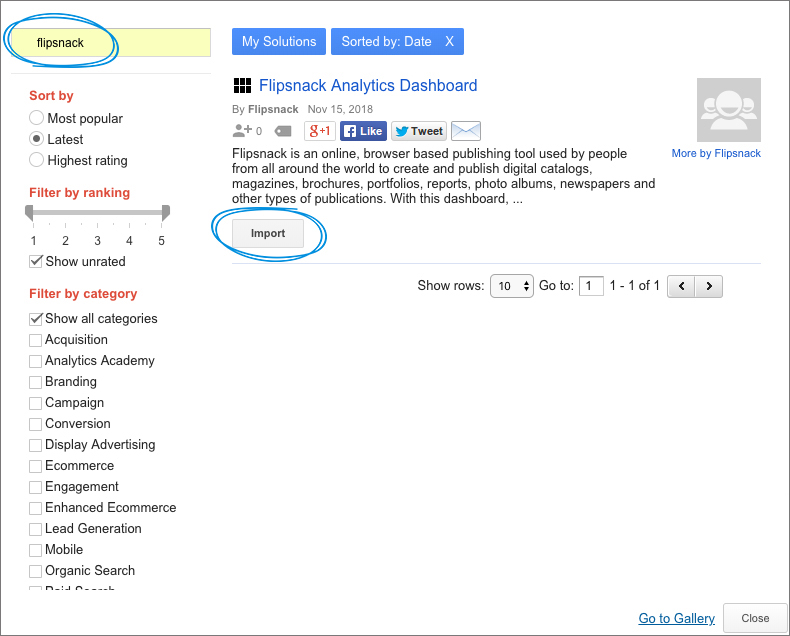 Alternatively, you can start by clicking Import in Flipsnack's analytics dashboard from the solutions Gallery, select the right property, and view in the pop in window (as instructed above in step 1).
After you import our dashboard into your Analytics account, you can go look for it in your account, in Customization - Dashboards. Just click Flipsnack Analytics Dashboard, and you will see all the reports there.
Advanced customization for your dashboard
The more advanced Analytics users probably have some customization ideas already. These Analytics dashboards are fairly easy to customize.
You can add more charts and graphs by clicking Add widget. From there on, it's entirely up to you what type of widget and what type of data you choose to display in your new chart.

If you want to display data from just one specific catalog in your chart, make sure you apply a filter to only show - event category - exactly matching and then insert the unique name of the catalog.
Note: Make sure that all of your projects in Flipsnack have unique names in order to avoid confusion.
Before you save your chart, rename the chart, so you'll know later what you're looking at. I would write the name of the catalog.
Here's the exact configuration for that: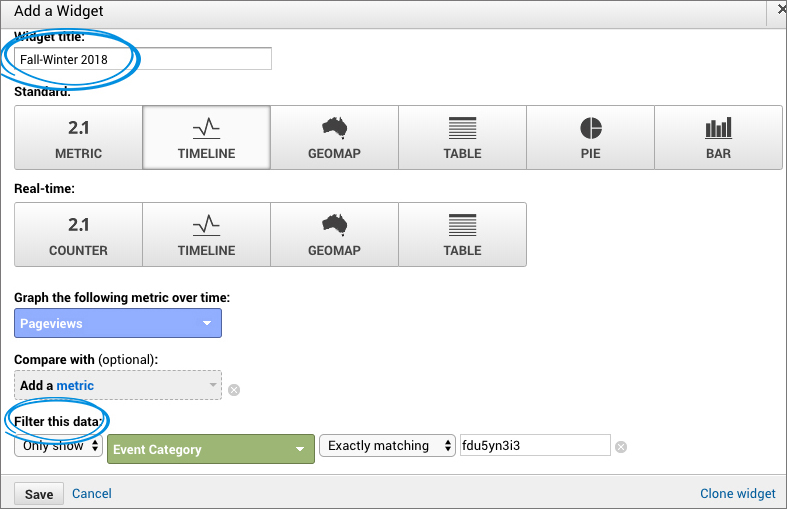 You can also customize the layout of your dashboard as you like. Google Analytics gives you 6 layout options, so choose the one that you like best.
You can delete this dashboard at any time. As long as your catalogs are connected with Google Analytics tracking, you will still have your data in Analytics, and deleting the dashboard will not have any impact on that.
That's about it for now! If you're encountering any problems while importing or after importing the dashboard, read our troubleshooting guide for the Analytics dashboard.