What can you do with the free plan, and what are the limitations?
You can try Flipsnack for free for 14 days. What are the free plan limitations? What happens to your account when this period expires?
What can you do with a free account on Flipsnack?
You can create up to 3 flipbooks in your account, by uploading PDFs or by creating them from scratch in our integrated Design Studio. With a free account you can design a brochure with up to 30 pages in Flipsnack.
Each one of your 3 flipbooks can have up to 30 pages. If your uploaded PDF has more than 30 pages, only the first 30 will be displayed.
With a free account, you can share the link of your flipbook on social media, email, or chat.
Another option is to integrate your digital flipbook on your site or blog, by adding the embed code. A Flipsnack watermark will be applied right next to the animated flipbook in your embedded flipbook player.
You can also download a GIF preview of your flipbook for sharing on social platforms.
In a nutshell, this is the basics of what you can do with a free account. Keep in mind that this free account is only available for your first 14 days after signing up.
For businesses and organizations, we generally recommend a paid subscription, because they unlock a lot of valuable features, in terms of interactivity, privacy settings, statistics, branding, collaboration. They also allow you to create more flipbooks, with more pages. Check our pricing page to see all details.
What are the limitations of the free version?
Here's a quick overview of some functionalities that are not available with the Free plan, but which are included in our Starter plan. Please keep in mind that we do have more options in Flipsnack, available with higher pricing plans.
| | | |
| --- | --- | --- |
| | | |
| Number of flipbooks (that you can have in your account at a time) | 3 | |
| Number of pages displayed / flipbook | | |
| Create and save your own templates | | |
| | | |
| Export your design as PDF | | |
| | | |
| Allow your audience to download the flipbook in PDF format | | |
| | | ✔ |
Important: These limitations apply to the free accounts created after September 1, 2022.
What happens after my free 14 days expire?
When logging into your Flipsnack workspace, you will be prompted by a warning message stating that you no longer have access to any of your flipbooks
The message will include a link to the pricing page or to contact the live chat support.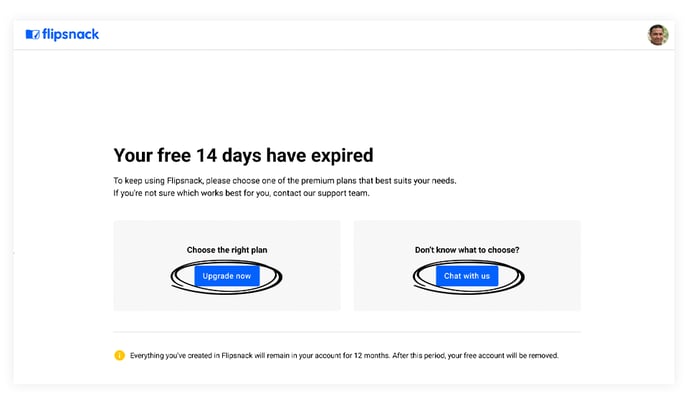 Your account will still be active for 12 months, during which you will have the option to buy a subscription. With an active subscription, all your flipbooks will be reactivated and available to use again.
What if I embedded my flipbook during this free period?
The embedded flipbooks will still work but have the Flipsnack watermark on them.
What if I decided to cancel or not continue my active subscription?
In this case, your account will enter the 21 days trial period, and you will only have access to the free account features. If during the active subscription period you have created flipbooks with advanced features (e.g., interactivity), those features will no longer work during the free trial period. They will become available again when you reactivate the subscription.
What happens if I don't buy a subscription after 12 months?
In this case, your account will be deleted.
Need help deciding which pricing plan is right for you? Let our support team know, by contacting us on live chat.