What can you do with the free premium trial plan, and what are its limitations?
You can try Flipsnack for free for 14 days. What are the premium trial plan limitations? What happens to your account when this period expires?
Table of contents:
What features are included in the premium trial account?
What happens at the end of the trial version?
What if I embedded my flipbook during this free period?
What can you do with a free premium trial account in Flipsnack?
You can create up to 1000 flipbooks in your account by uploading PDFs or creating them from scratch in our Design Studio. If you create a flipbook from scratch, you can save it as a template for later use.
With the trial account, there are multiple ways to share your flipbooks: via a link, on social media, through email, or as QR codes. You can also embed them on your website through an embed code. You can schedule publishing dates and choose from different publishing options.
You can include multiple interactions: internal and external links, product tags, videos, lead forms, or social media buttons, to name a few.
Branding-wise, you can upload your brand kit and include custom fonts, logos, colors, and more in your publications. You can also use custom domains for the flipbook links or set custom favicons, headers, and footers for the links
You can also use advanced privacy & security options such as enforcing 2FA, using domain restrictions for embeds, or sharing flipbooks with SSO read-only access.
If you want to see how well your flipbooks perform, you can keep track of different integrated statistics for the entire workspace, publication, and each individual page of that publication. Additionally, you can integrate Google Analytics for more advanced statistics.
The trial account will also allow you to manage user roles and permissions and view teammate activity logs, amongst others.
Basically, the trial gives you access to most of our Enterprise features, with a few exceptions.
What are the limitations of the premium trial version?
Here are some of the limitations of the trial version:
Your flipbooks are limited to a maximum of 4 pages. If your uploaded PDF has more than 4 pages, only the first 4 will be displayed when sharing it.
You won't be able to download your flipbooks in any of the following formats: PDF, JPG, PNG, GIF, MP4, or HTML5.
You won't be able to upload SVG files or videos in the media library
You won't be able to use iframe embeds in your flipbooks ( virtual tours, maps, surveys & more);
You won't be able to add Popup frames (insert custom code in popups) in your flipbooks;
You won't be able to manage multiple teams, brands, and workspaces;
What happens after my trial version expires?
When logging into your Flipsnack workspace, you will be prompted by a warning message stating that you no longer have access to any of your flipbooks
The message will include a link to the pricing page or to contact the live chat support.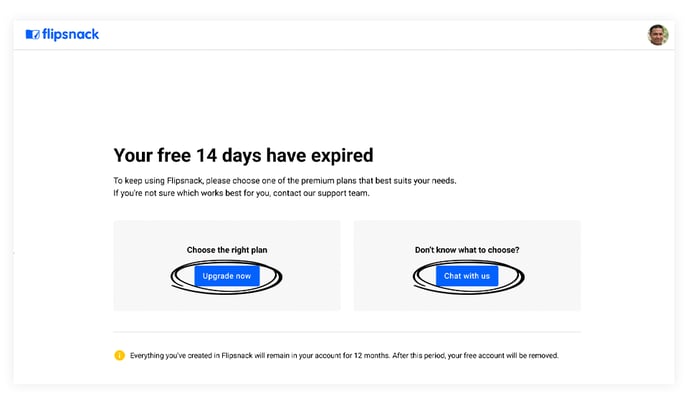 Your account will still be active for 12 months, during which you will have the option to buy a subscription. With an active subscription, all your flipbooks will be reactivated and available to use again.
What if I embedded my flipbook during the trial period?
Your account flipbooks will be deactivated, so any embedded flipbooks will stop working or loading on your website.
Need help deciding which pricing plan is right for you? Let our support team know by contacting us on live chat.