Use the spotlight effect to open an image as a popup
In this article, we're going to talk about the spotlight effect that you can use in our Design Studio. Let's start from scratch.
What is a Spotlight image?
When reading a magazine, a catalog, or a brochure, we want to be able to see images clearer and bigger. This is where the spotlight effect comes in. The spotlight opens an image as a popup when readers click on a certain area on the page. It works wonders for product catalogs, real estate brochures, menus, animal and nature magazines, and many other publications.
How does using a Spotlight image help me?
Do you want your images to become more visible and attractive to your audience? We have the perfect solution for you: Flipsnack's new spotlight effect.
When designing publications, images are an important part of it. Besides choosing the perfect images and finding the right place and dimensions, you need to make them more impressive and eye-catching. After applying the spotlight effect, your images will have a blue transparent background, so your readers will be more tempted to click on the image.
Remember, images are everything nowadays, and the bigger they are, the better!
How does a Spotlight image work?
Go to My flipbooks, at the Link section, click the Spotlight button, and with drag and drop, put it on the image you want to apply the effect on.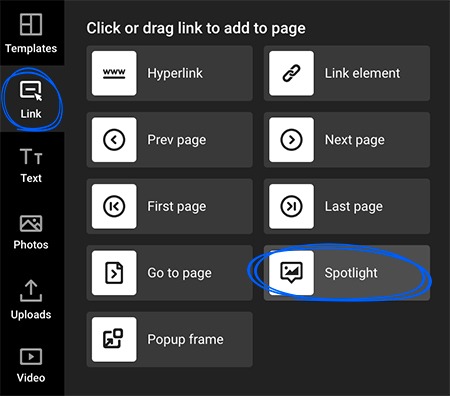 Now, when you click on an image with the spotlight effect on, a popup window will display your images at a bigger size.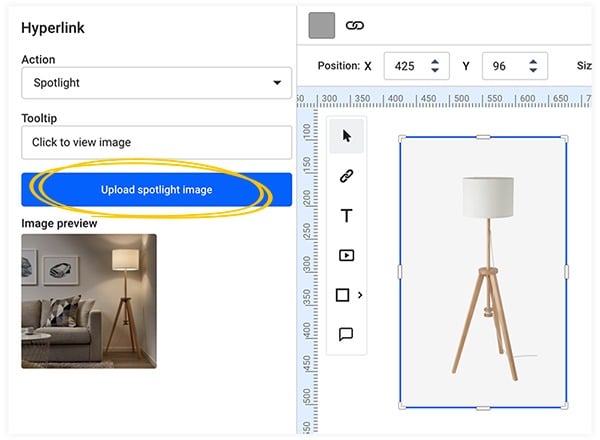 Aside from the Spotlight feature, you can add more interactive elements to your images, such as a hyperlink or a link element.
In addition, you can select when clicking on an image to go to the previous page, next page, first page, last page, or to a page you choose. And you can always see a preview of how your image looks.
Play with interactions, your readers will love it, and they will have a more engaging reading experience.