Quick rundown of how to publish a flipbook on Flipsnack
In Flipsnack, publishing your flipbook is a simple process. But it's an important step in reaching your audience, as only published flipbooks can be shared.
Whether you're publishing publicly or privately, there are 2 ways in which you can accomplish this. Today in this short article, we'll go over both of your options. Check them out below:
Publishing from the Design Studio
To start the process of publishing a flipbook, take a look at the following steps:
Upload a PDF or start a flipbook from scratch.

Use our Design Studio to customize and edit your PDF or newly created flipbook.

When you're happy with the design, click on Share now in the upper right-hand corner of the Design Studio.

A new window will pop up where you can select your publishing options.

Click on the Publish button.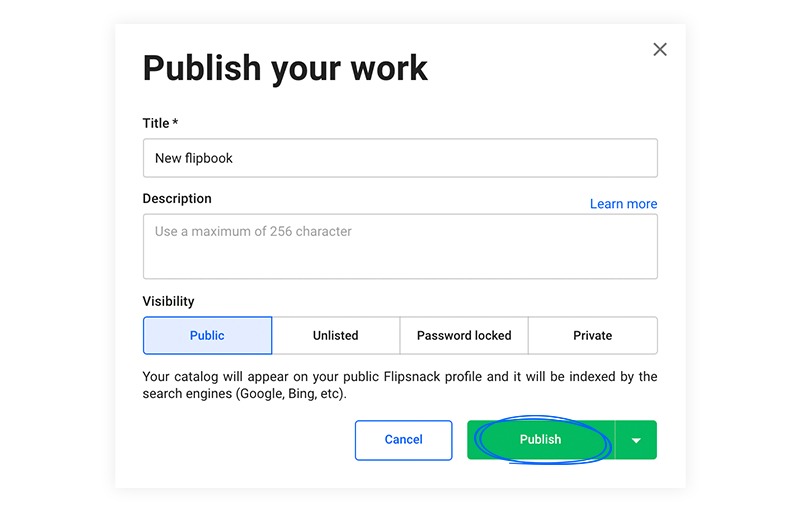 This window is where you'll decide between your visibility options, give your flipbook a title and description, and select a category for it to appear in.
Publishing from My Flipbooks
If you decide not to publish your flipbook right away, there is a quick publish option in My flipbooks.
To get to this option, simply go to the My Flipbooks section, find your desired flipbook, and click on the Publish button.
Again, the window where you decide all your publishing options will pop up.
If you'd like to increase your search ranking odds, you can also learn how to SEO optimize your flipbooks.
That's just about it. If you have any questions regarding publishing your flipbook or anything about our platform in general, please don't hesitate to contact our amazing live chat support team.