Discover everything there is to know about our player and fully personalize it to make your flipbook stand out
Our team has worked hard to deliver a cooler look and new functionalities to our flipbook player in order to improve the user experience. When we're talking about the flipbook player, we refer to the entire flipbook, with its background and toolbar options.
After you're done creating your flipbook or want to edit an old one, the next step you have to take is to customize and publish it.
At Customize, you can choose between Classic and Modern player skins. This means that you have two different ways to display toolbar options in your flipbook player.
The flipbook player is free and available for all users.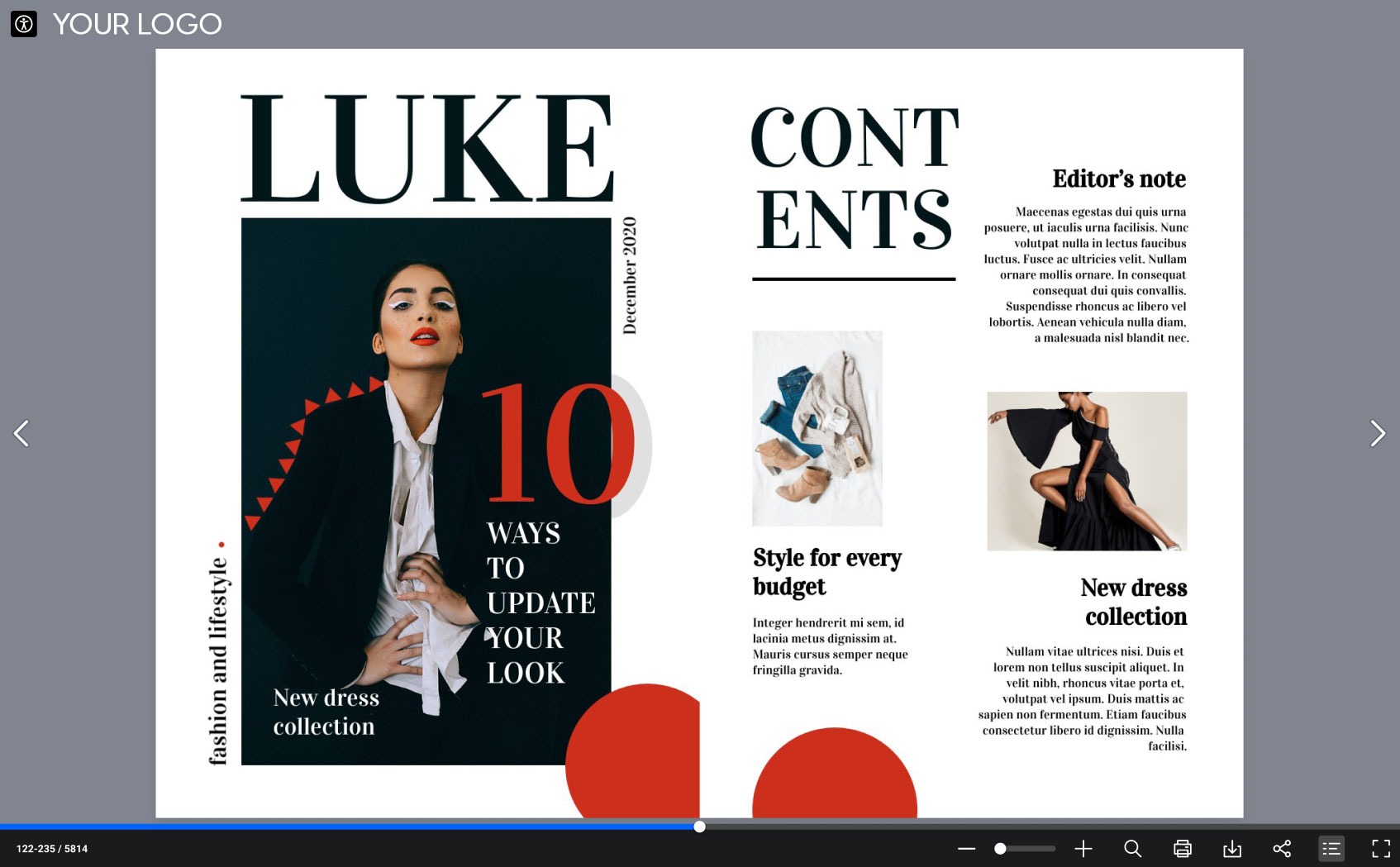 A better reading experience for your readers
The new flipbook player is more than just a new skin or a new look. The technology behind it is also new, with the code for the page flip effect and all of the options written from scratch. Faster and more user-friendly, with a new and simple design, fully responsive and optimized across different devices, even for mobile, for a better all-around reading experience.
Another reason was to improve our website UI (user interface) to make Accessibility more adjustable for people with disabilities. When you're using the new flipbook player, the Accessibility feature will open automatically if you have a screen reader and if the option is selected to be shown in the flipbook player.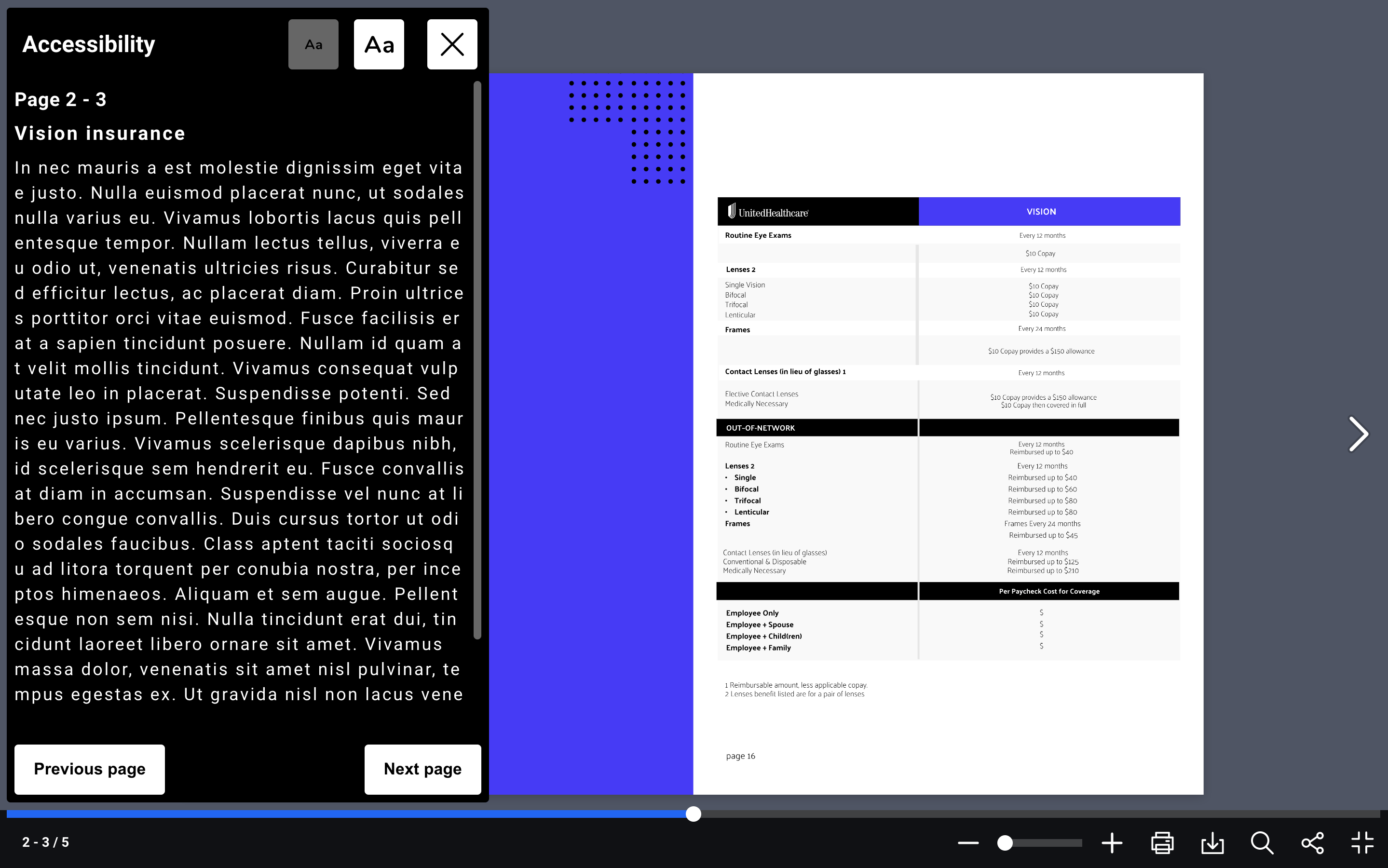 Your readers will now experience a more real reading experience because of the improved readability that provides the best display solution based on the reader screen size device. The flip effect is more natural to maximize the sensation of browsing through a real book when readers are dragging the page.
Also, when you want to embed a flipbook on your website, the new look of our flipbook player will fit perfectly into your website design, having a more polished and up-to-date look.
The main differences between Classic and Modern
Besides technical differences, the new flipbook player look comes with a new and fresh design.
Controls -> the controls you've selected for your flipbooks will be displayed below your flipbook, even when you're not in fullscreen mode.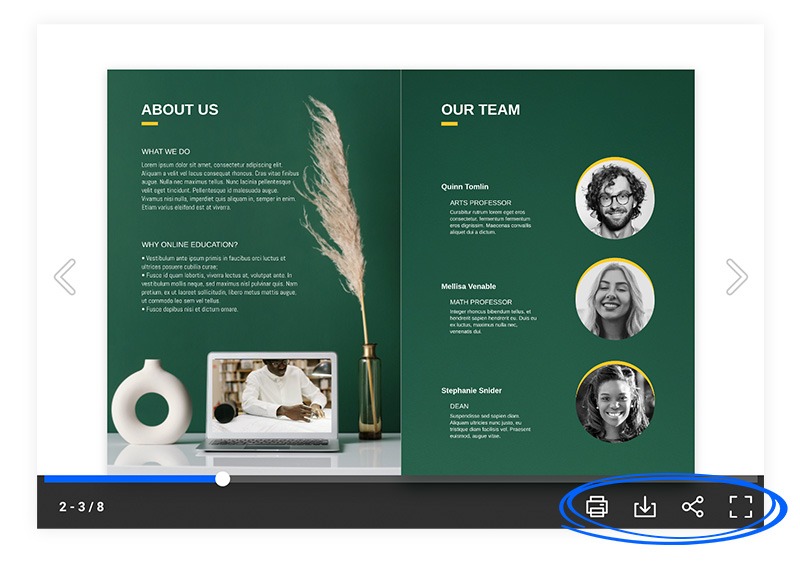 Logo -> the logo will appear now in the upper left corner of the flipbook player.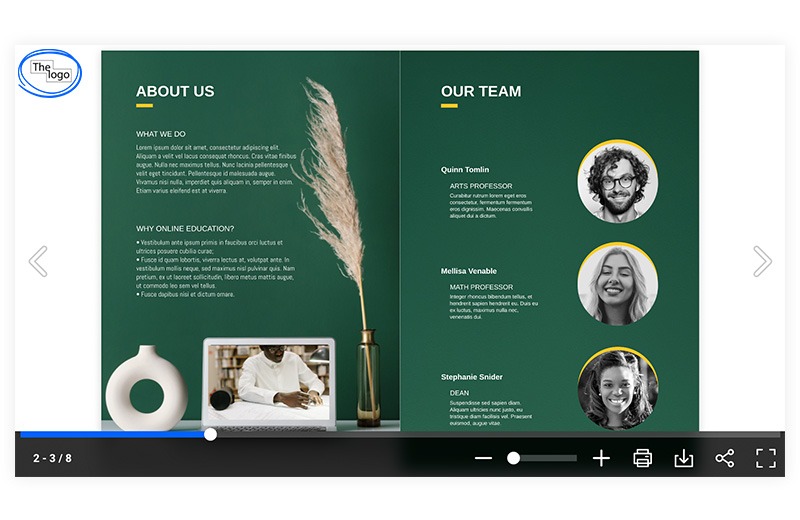 Control buttons -> the buttons: share options, allow fullscreen, enable PDF download, enable PDF print, search, table of contents; have a new and simple design.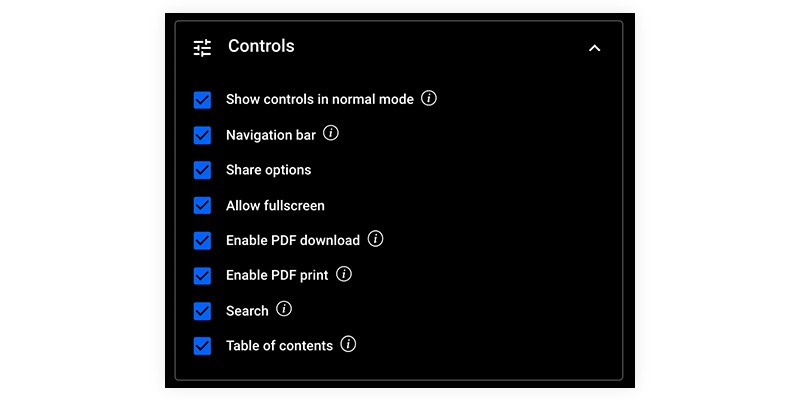 Navigation bar -> it has a complete overhaul with a focus on usability. We added a blue color slider to show flipbook progress while reading.
Zoom in/ Zoom out -> works smoother and now you can use double click to zoom content from your flipbook.
Flip effect -> is a more natural and realistic one, users can easily grab the page corner with the mouse, and the page curls and turns as you drag it.
Flip sounds -> together with the Flip effect, the Flip sounds make your publications feel and sound more life-like.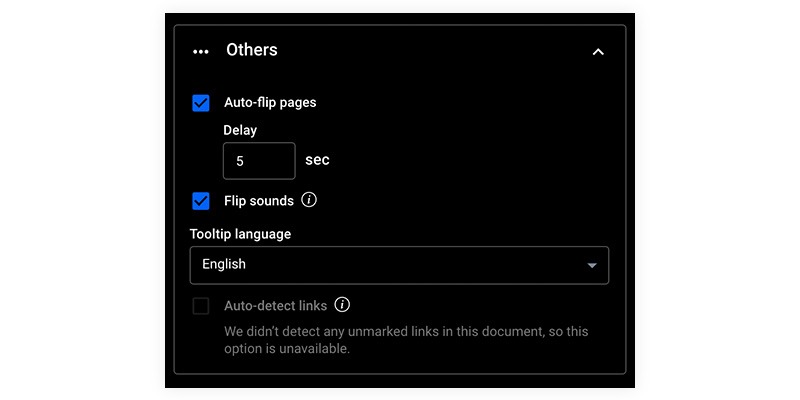 Lead forms -> they were previously in Design Studio and now have been moved to Customize. From here it is much easier to add a lead-form to your flipbook and you can view it in real-time.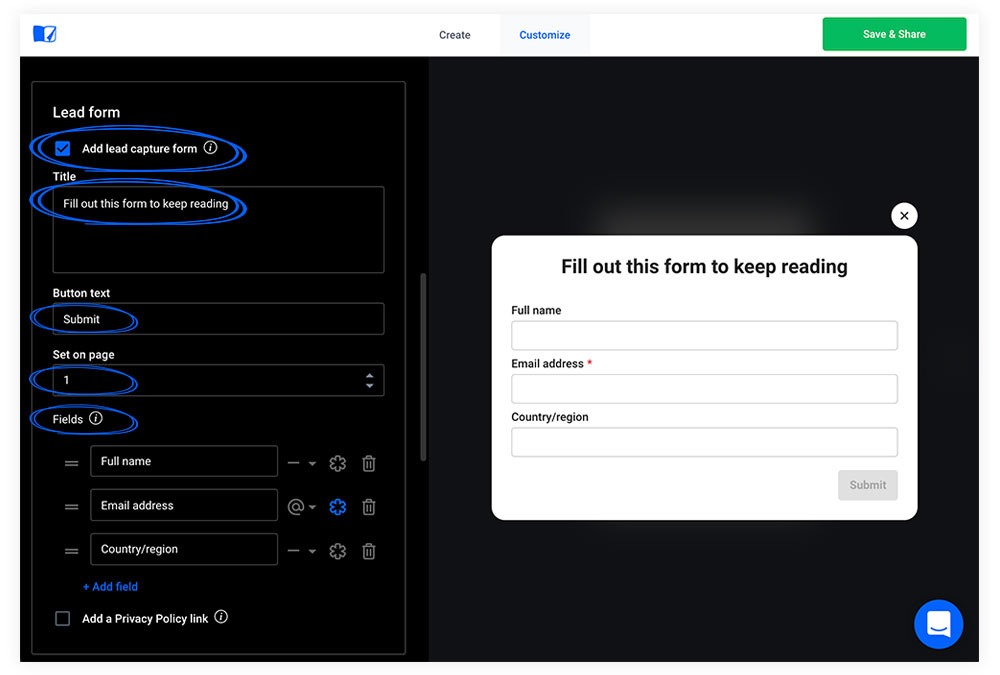 Shadow on pages -> It gives your flipbook the illusion of depth, making the publication more realistic.
Right-to-left orientation -> This option is useful for languages that use right-to-left scripts, such as Arabic, Aramaic, Azeri, Dhivehi/Maldivian, Hebrew, Kurdish (Sorani), Persian/Farsi, or Urdu.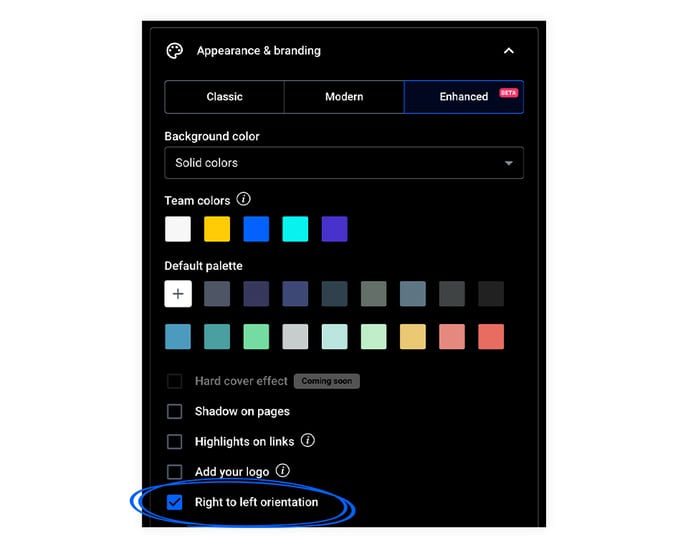 Auto-flip pages -> By default, this option is turned off because it allows the flipbook player to flip through the pages and read at their own pace. But with a simple tick, you can make the pages flip automatically by enabling Auto-flip pages. Moreover, you can even type in the number of seconds you want the flipbook player to wait in between page turns.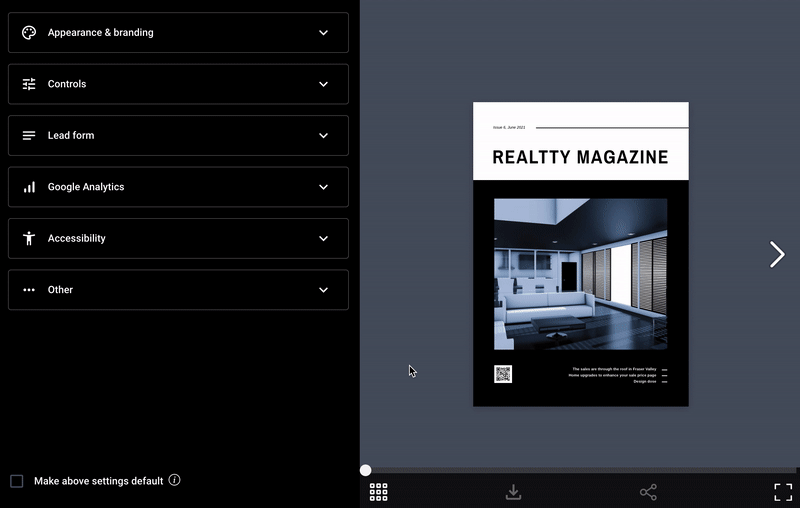 We hope you like our flipbook player's new look and functionality and that you'll use it to the fullest to make your brand and flipbooks stand out. We'd be delighted to hear from you if you have questions or improvement suggestions. Please contact us via live chat.