Flipsnack is striving to ensure it provides accessible publishing solutions for your readers. Learn how to enable Accessibility for your publications.
We've taken important measures to ensure our website is accessible to everyone. Today, Flipsnack offers an alternative for readers with impaired vision to help everyone publish accessible flipbooks that anyone can read, but we don't intend to stop there. We are constantly working to improve accessibility for flipbook readers.
Table of contents:
What is Accessibility, and why is it important for readers?
How do you enable the Accessibility option?
After you have uploaded and converted your PDF file into a flipbook, your published work can now be made accessible to visually impaired readers.
What is Accessibility, and why is it important for readers?
Accessibility is a feature that allows publishers to make their work visually approachable for people with visual disabilities. We are working to improve our accessibility features for other types of disabilities like mobility limitations, auditory issues, visual impediments, and cognitive disabilities.
You created and published your flipbook, and now it's time to make sure your work is visually reachable by everyone. After publishing your flipbook, you now have the option to turn on our Accessibility feature from Customize.
If you've turned on the Accessibility feature, readers can access it directly from their keyboard by using the Tab key. Simply use the Tab key to highlight the Accessibility icon and then press the Enter key to access it. When they've done that, they can once again use the same Tab and Enter keys to navigate through the different elements. The same two keys can also be used to navigate through the various interactive buttons on the page, such as Next Page, Zoom in, View in full screen, and others.
Important: Flipsnack doesn't come with a predefined plugin or software that allows reading such material. Accessibility means that our software is compatible with third-party reading apps that can translate the information. Basically, if the disabled person has such software installed on their computer and the accessibility feature is enabled, they will have no difficulty going through the flipbook.
Macbooks come with predefined installed apps. For example, Mac computers' VoiceOver feature allows users with visual disabilities to control their computers with gestures and specifically designed commands. Windows users will have to install separate software, such as NVDA or JAWS (Job Access With Speech), for this to work.
How do you enable the Accessibility option?
1. Create or choose an existing flipbook and go to Customize.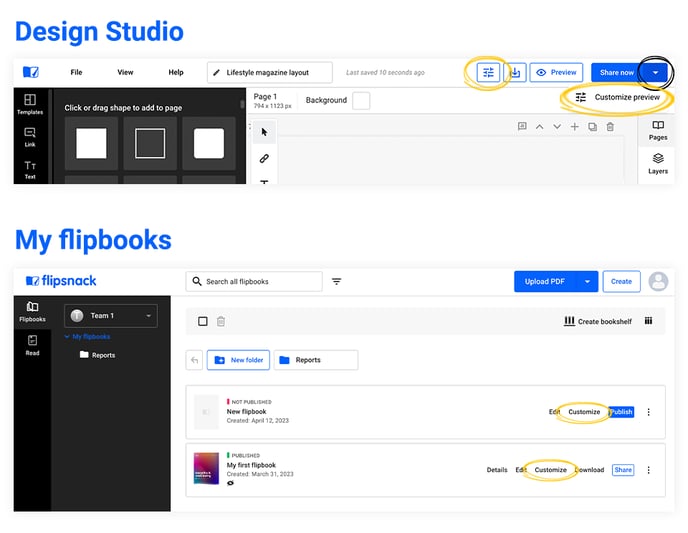 2. From the left side panel, click on Accessibility and check Activate accessibility.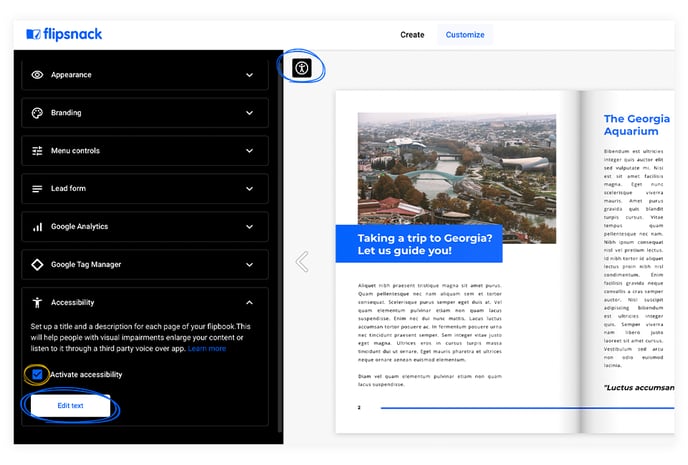 3. Click on Edit text, and a pop window will open.
4. Add the Title and Description for the pages you want to make accessible and click on Save changes.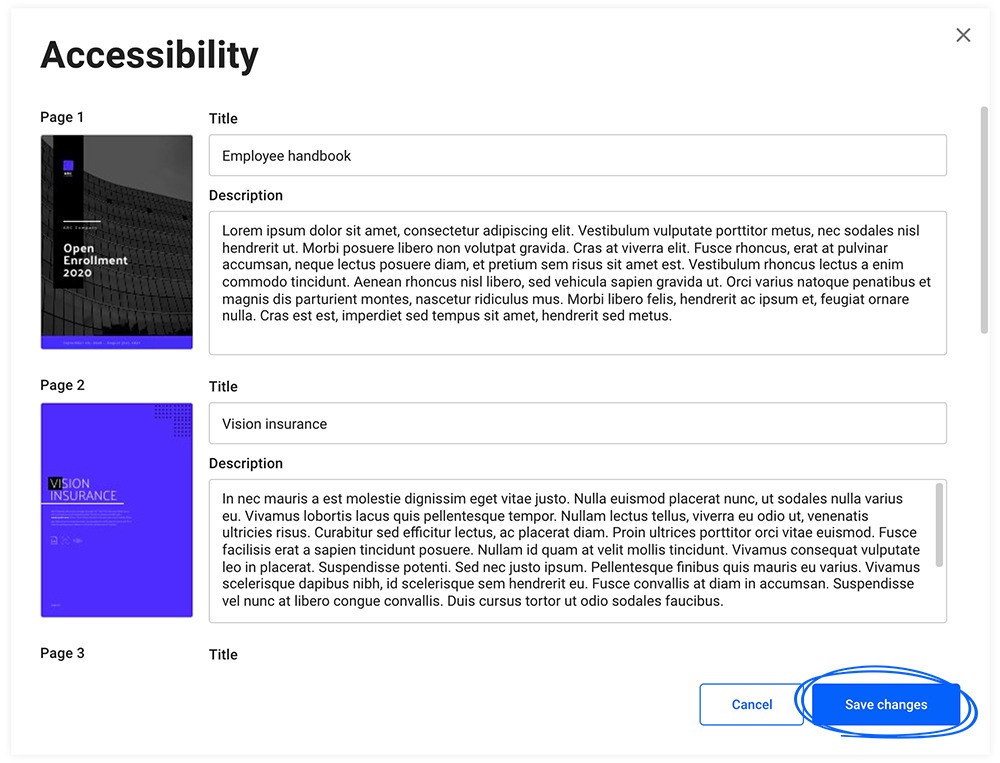 Note: The information contained in these brackets will then be read aloud by the VoiceOver app installed on each computer.
By doing so, your publication is now accessible to visually impaired readers to go through. Once they open your flipbook, they will recognize a new icon located in the top left corner, as highlighted in the picture below: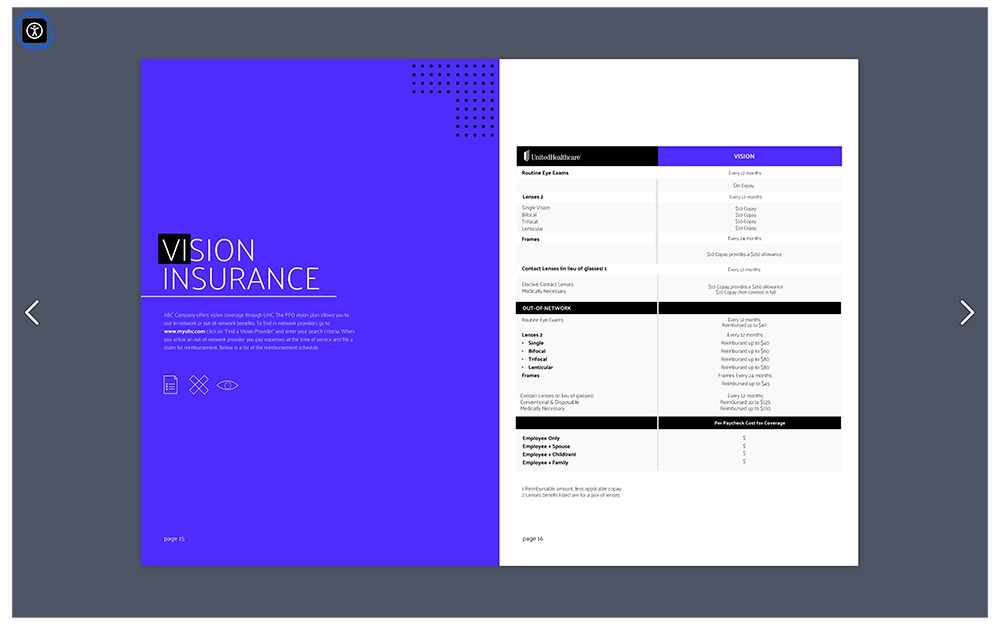 By clicking on the icon, the reader's flipbook will be displayed slightly differently, with the text you added in your page Description being shown separately.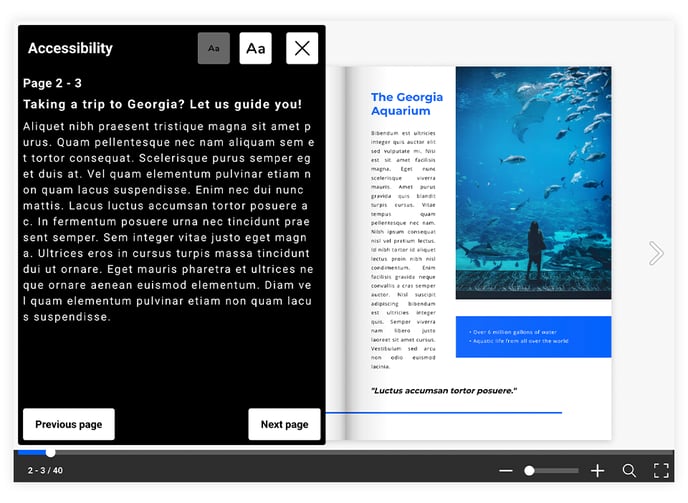 As you can see, the information contained on those pages is now transferred to the left side of your screen. The VoiceOver software will now come into play and read the text in question.
There is also the possibility of increasing the font. Readers who want their text separated from anything else can now go through your flipbook seamlessly. Contact your support team via live chat if there is any additional information you need.