Present your data using tables in the Design Studio
Tables are often used to present data in an organized way in a wide variety of publications. You've certainly worked with them in many other tools, and working with tables in Flipsnack is not much different. The initial version is a basic table tool, but still very helpful when you need it.
Working with tables has many obvious benefits, but we find them particularly useful in the following cases:
To display numbers and other specific data in a small space

To compare and contrast data values with several shared characteristics

To highlight the presence or absence of specific characteristics
More updates will happen in the coming months, so more options will be available.
How to work with tables
This option is located in the Design Studio, on the left sidebar. That's where you will find the new Tables section.
Start by selecting the number of columns and rows you want to use and simply start entering your data. Copy and paste options are only available at the cell level, so you need to double click inside a cell in order to paste a data item in. More options will be available at a later time.
At this point, you can insert a row above or below or insert a column to the right or left. Also, you can delete rows and columns.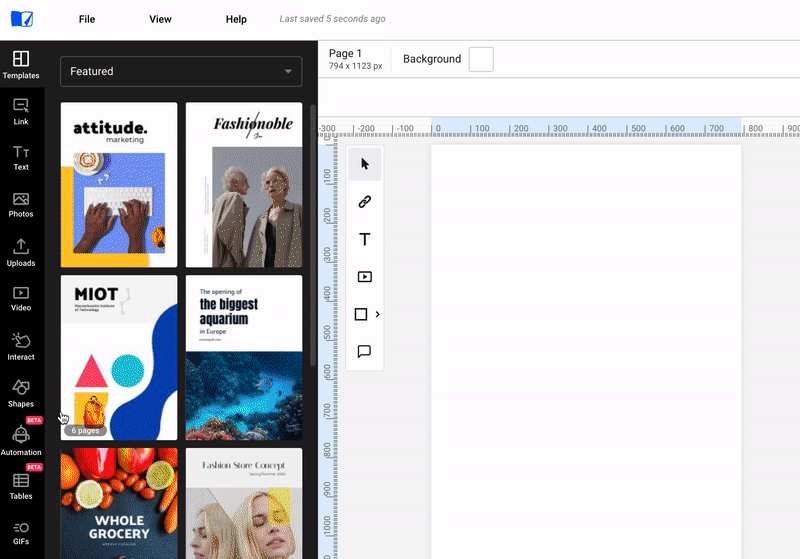 You can always move tables on the page with drag and drop and resize them to fit perfectly in your publication.
Change the background color of cells, rows, or columns
You can update the background color of your cells, rows, or columns as you please. You can either select the whole table and update its color, or you can select each cell individually, and update that, according to your needs.
Change the border-color
Another thing you can now do in Flipsnack to your table is to change its border color. All you have to do is to select the table, go to Border color and choose the color you want.
Upcoming updates will include:
change the font, font size, style, and color of the text inside the cell

select a cell or a whole row

edit multiple cells at the same time

change the thickness of borders

hide / display borders

align the text in the cell vertically and horizontally

merge/unmerge cells

tables will be compatible with the automation tool, and each cell will be able to display dynamic content
Stay tuned!
Until then, you can tell us other features you need for Tables so we can work on them.