Learn how to upload images and videos in Flipsnack's Design Studio.
Table of contents:
Uploading files in Design Studio
Multiple selects and delete uploads
We know how important it is for you to be able to add a personal touch to your flipbooks. Our intuitive and professional Design Studio allows you to upload your personal media: static images (JPG and PNG), GIFs, or even videos (MP4).
You can upload images starting from any plan, but the option to upload videos is only available starting with Business plus.
How to upload files in Design Studio:
Create or open an existing design in Flipsnack's Design Studio.

On the left panel, there's an Uploads tab.

Click on Upload media or simply drag and drop your files.

Flip the images however you want them to appear on a page, either horizontally or vertically.

The media formats we support are JPG, PNG, GIF, or MP4. Upload your files, wait for the upload to be complete, and there you have it. New files that can be used in your designs.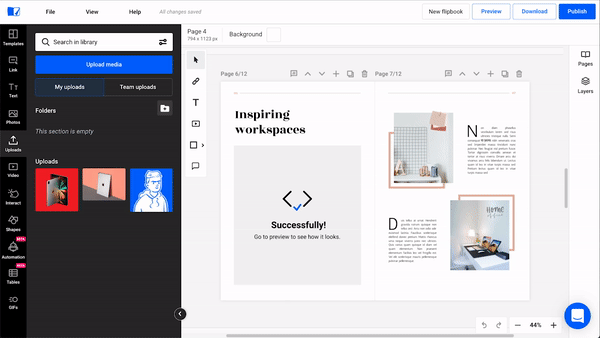 Is there a storage limit for uploads?
Yes, we do have some storage limitations based on the file format.
Upload images (jpg/png/gif): 20MB.

For audio files, the limit is 100MB.

SVG files up to 1MB.

Video files up to 1GB.
Learn more about uploading videos to your flipbooks.
Important: if you have reached any of these limitations, you can delete files whenever you want. Do not panic, though! These items won't be automatically deleted from your flipbooks.
Multiple select and delete uploads
If you need to delete multiple files at once, you can simply select them. Just hover the mouse over an image, and more options will be revealed, as well as the file type.
Select all the images that you want to remove, then click the Trash icon.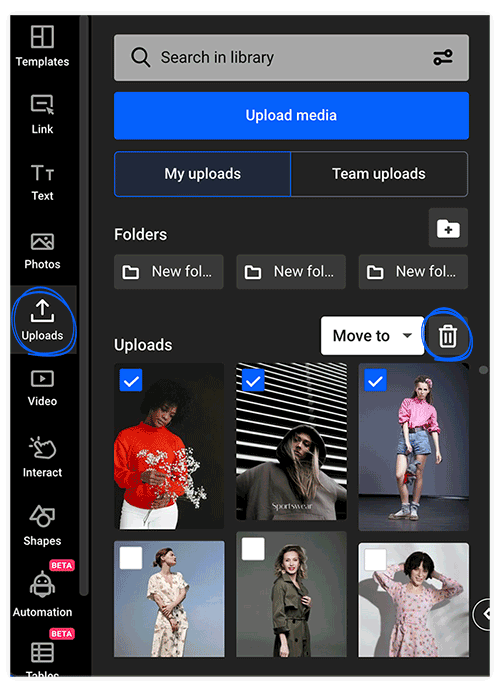 If you're part of a team, you might be interested in more advanced file management options, make sure you read about team uploads.
That's all for today! If you have any questions, don't hesitate to contact our support team, who is always at your disposal.