Find out how to access and update your account settings, billing info, and manage users.
We have redesigned and restructured the Account options area of Flipsnack as a result of our major workspaces update.
You may have gotten used to the previous version, so this article will clear up any confusion you might have about different options and settings, such as login info, billing settings, team management and more.
In order to access any account options or workspace settings, you need to click on your picture on the dashboard, on the lower left. A small menu will open with multiple options as well as information and links.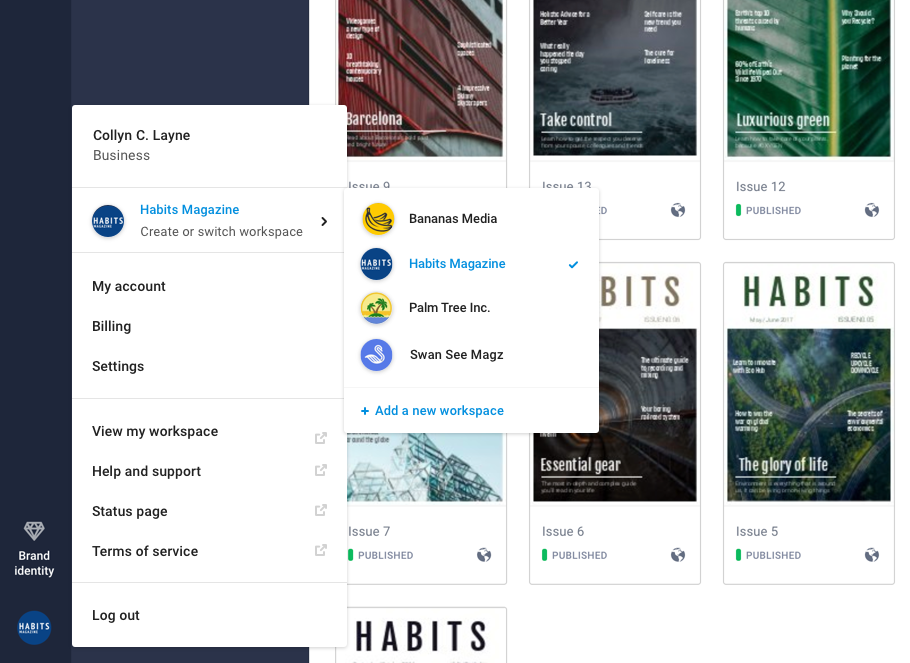 At the top you can find your name, and your subscription plan. Just below it, there's an option to create workspaces or switch workspaces. There are also 4 other links on the menu: your public profile, Help and support, Status page, Terms of service.
And finally, you have 3 other options that have been previously grouped under Account options but they are now split into multiple settings areas now. Here's what each set of options contains:
My account - contains the following info on the side panel:
Account details - this is where you will land after you click on My account. Here you can edit or update your name, email address, password, or delete your account
Email preferences - here you can opt-out of certain type of emails or unsubscribe from all
Billing - contains the following sections on the side panel:
Subscription - Here you can cancel the subscription renewal or get a subscription if you don't have one yet

Invoices - contains billing info and a list of all your invoices
Settings - All the following sets of options are included in Settings on the side panel:
Workspace - here you can rename your workspace or delete it
Teammates - invite new teammates or remove workspace users
Single Sign on - all the SSO settings can be accessed here
API - get API keys and API secret keys
If you have any questions regarding workspaces or account options, don't hesitate to contact us!