Find out how to access and update your account settings, billing info, and manage users.
We have redesigned and restructured the Account options area of Flipsnack as a result of our major workspaces update.
To access your account options or workspace settings, click on your profile picture on the Main dashboard on the upper right. A small menu with multiple options, information, and links will open.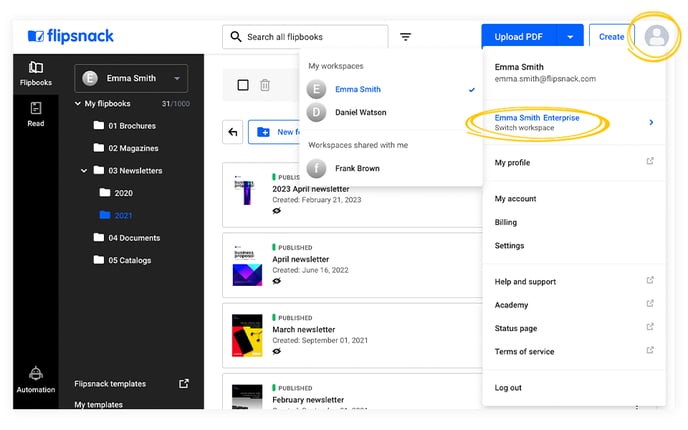 Starting from the top, you can find your name and subscription plan. Then, just below, there's an option to create or switch workspaces. Bellow that, there is the My profile link, which will take you to your public profile.
Following, there are different links, each with different options:
Account details - Here, you can edit or update your account image and name, edit your email address and password, configure two-factor authentication, or delete your account.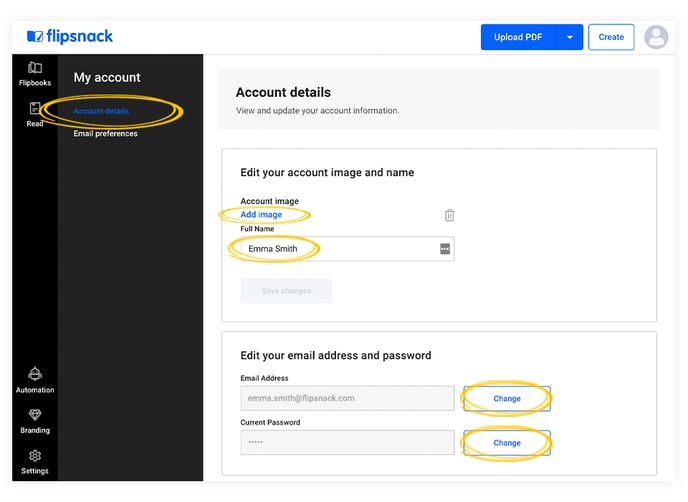 Email preferences - Here, you can manage your notifications; check or uncheck the types of emails you want to receive.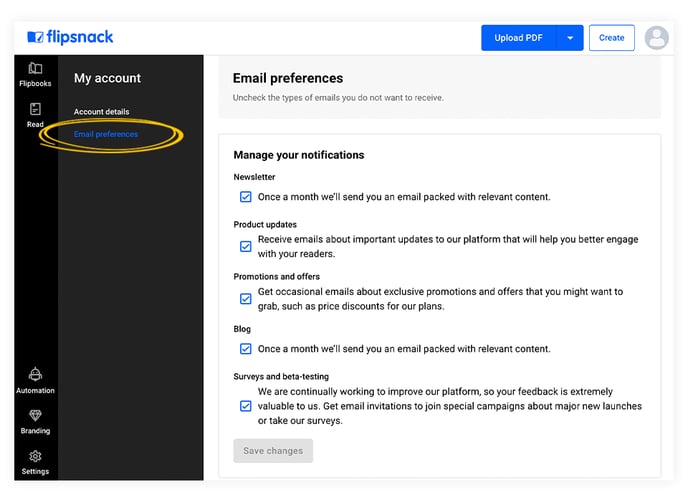 Subscription - Here, you can see your current subscription, upgrade your plan, request a trial, or see the features of standard and enterprise plans.
Invoices - contains your billing details info and a list of all your invoices.
Workspace - rename, brand, or delete your workspace.
General - set the default visibility for your flipbooks (Public, Unlisted, Password locked, Private), and hide the other visibility options
Teammates - add or remove teammates to your workspace, assign roles, and enable or disable two-factor authentication for teammates
Readers - add or remove account readers
Groups - create different groups of readers for different departments and categories
Single Sign-on - enable and manage your SSO
API - manage API keys associated with your Flipsnack account
Workspace access - offer temporary access to your Flipsnack workspace
Teammate activity - see all your teammates' activity in your workspace
Feature management - enable or disable certain features from being used by teammates in your workspace
The menu has four other links: Help and support, Academy, Status page, and Terms of service.
If you have any questions or suggestions, please contact us via live chat.