Add page notes for your teammates or for yourself
As you might already know, we've invested a lot of time in the Design Studio lately, trying to make it as easy and as advanced as possible.
In what follows, I will share some information regarding the Notes feature and the various Page settings you can use when working in our Design Studio.
Adding page notes in Flipsnack
Everyone can write page notes in the Design Studio, even Free users. These are similar to comments in Google Docs because they will not actually appear on the page. They serve a different purpose, and more specifically, for leaving notes about the design or the content of the page. (If you want to make public notes on pages for everyone to see in your published catalog, check out captions and tags.)
Even though anyone can use them, they are most helpful for our Enterprise users, because it allows multiple users to work together in the same account. Commenting and leaving suggestions on your colleague's work can be very helpful. It takes collaboration between designers and marketers to a whole new level.
So, how can you leave page notes and suggestions?
To add a note, simply click on the Notes button located above the page, type in your message then click Save and close.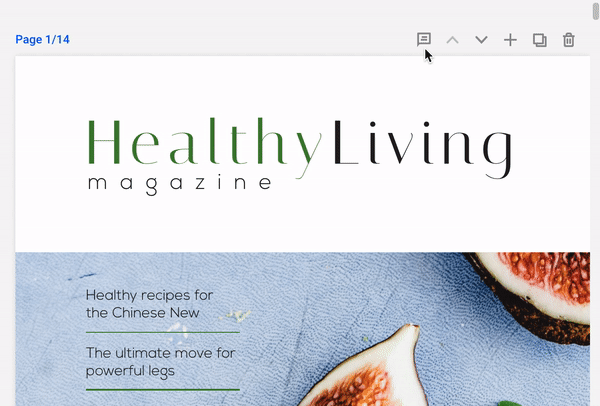 Once the note is saved, the icon will turn blue. Your teammates (or yourself) will just have to click on the blue icon to open the note and read it.
Before we move on to page shortcuts, we want you to know that if you have suggestions or comments about how we could improve this, we'd love to hear them. Contact us via live chat if you have suggestions.
Page settings shortcuts
The different Page settings can be found in the Design Studio at the top of the page you are editing, near the Notes icon. This is what they do: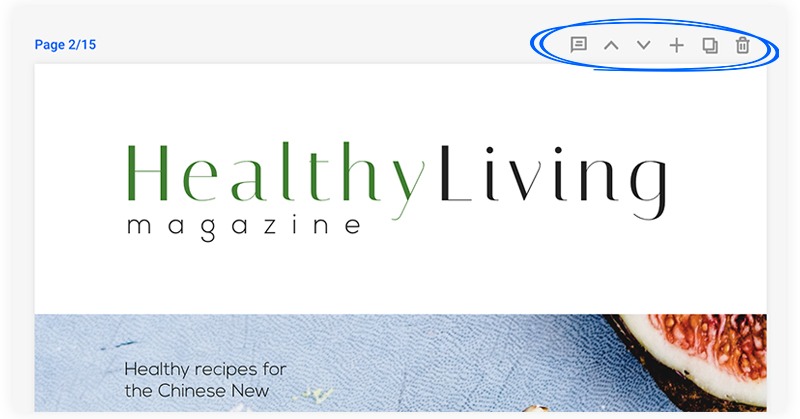 Move page up - moves the page one page lower in the Pages tab (i.e: page number 9 becomes page number 8);

Move page down - moves the page one page higher in the Pages tab (i.e: page number 9 becomes page number 10);

New page - adds a new blank page right after the page you are editing;

Duplicate page - creates a copy of the page you are editing;

Delete page - deletes the current page;
Again, don't forget to let us know what you think about this update.