Discover how to automate the photo slideshow process by connecting your data to Flipsnack.
If you want to include multiple photo slideshows in your publication, either with a simple interaction or in an overlay, you can do so through automation.
1. Create a CSV file with your desired images. The only column headers you should include are the title and images since it's the only information you can include in a photo slideshow interaction. Make sure to add each image in a different column.

2. Go to the Automation tab on the main dashboard, and click on Add new data set. Here is where you have the option to upload your CSV. Alternatively, you can connect your data to Flipsnack using Google Sheets.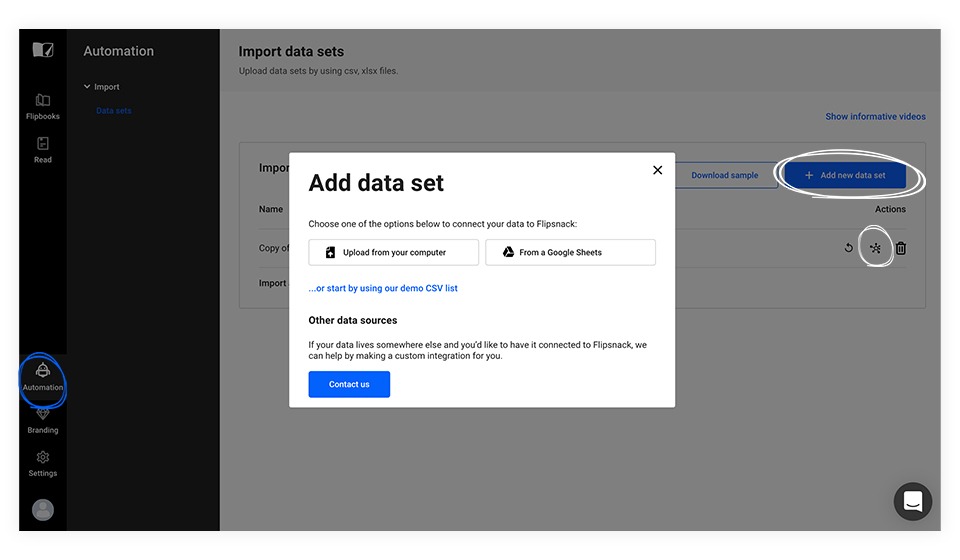 3. Next, identify the only type of information from the spreadsheet: images. Click on the button next to the trash in the right corner of the Automation tab, and only select the second attribute. This step is so you can see a preview of the first picture in your CSV when designing your publication.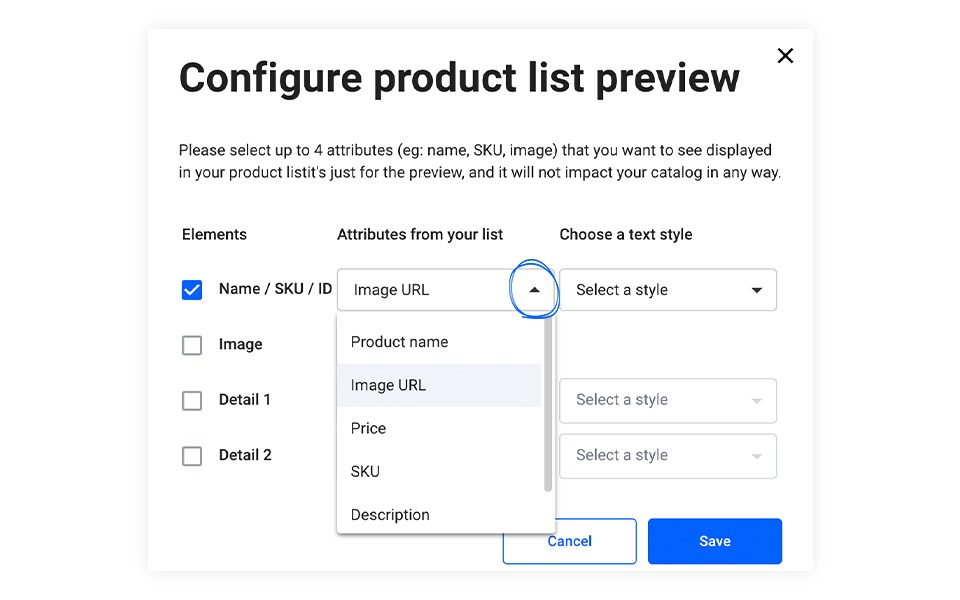 4. Insert a simple photo slideshow interaction or an overlay in your flipbook, depending on your needs.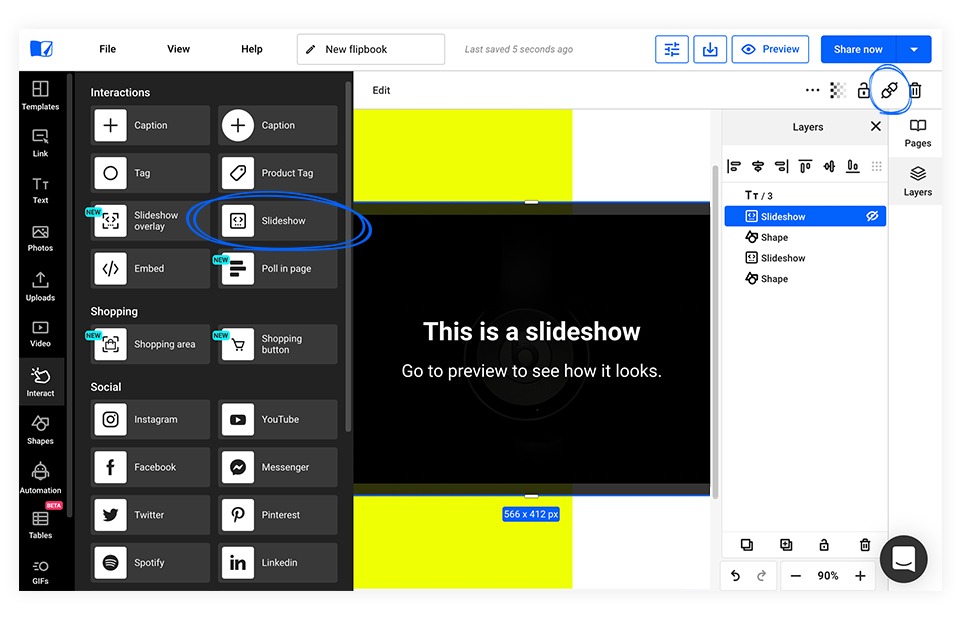 5. Map out each image for the photo slideshow from the Design Studio. In the top right corner is a button connecting your feed. In the pop-up window that will appear, select as many images as you have in your CSV file (up to 10 images/slideshow). Here is where you can change the image order in which they'll appear in the slideshow.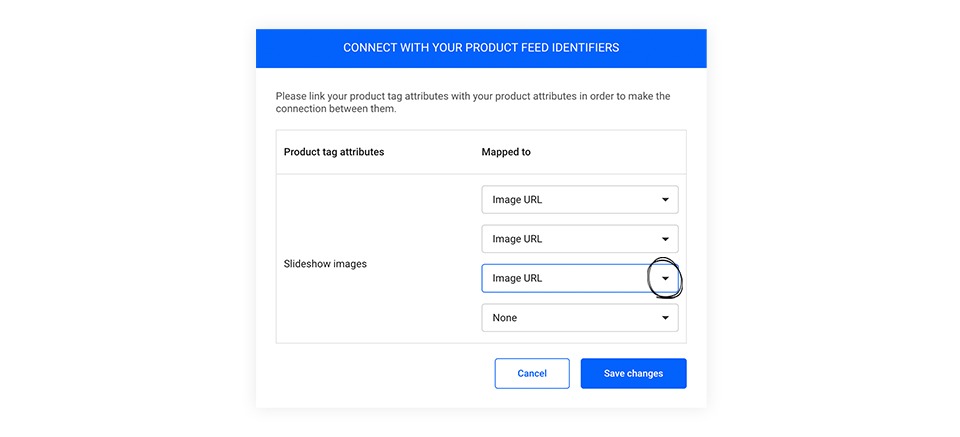 Important: Only after you select the option for the first picture will you unlock the second one automatically.
6. Simply drag and drop an entire batch of pictures from the Automation section over a specific slideshow. Their order will coincide with how you mapped them in the previous step.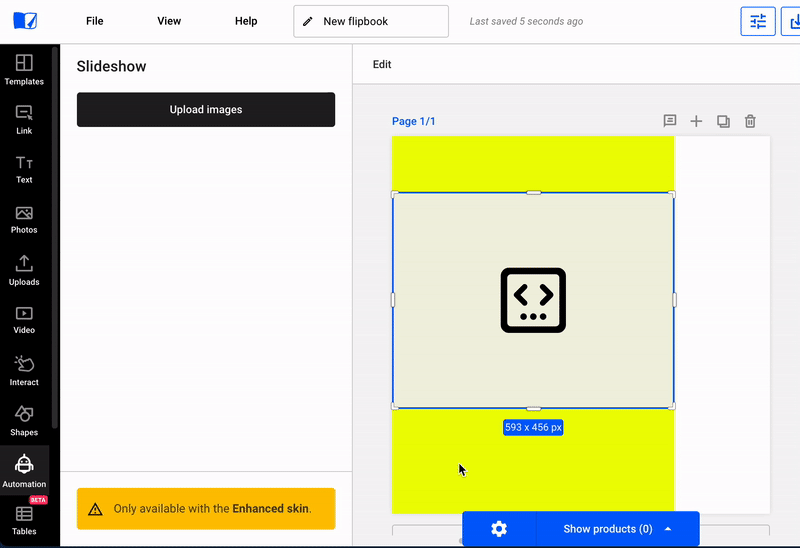 Important: If you create your CSV files for photo slideshows in the same format, you can map only one, duplicate it, and then drag and drop the desired CSV file over the photo slideshows.
The photo slideshow interaction is available starting with the Business plan, but the photo slideshow automation will only be available for our Enterprise users which have this feature enabled.
If you've never used automation before, make sure to request this feature for your workspace from the Automation tab.
If you have any questions or suggestions, please contact us via live chat.