Find out how you can automate your catalog production workflow and how the automation tool works.
The data automation is currently being released. During this time, we'll only be selecting a few key partners to participate. You can apply if you're interested, and we'll let you know if you are accepted.
Table of contents:
Who can benefit from using automation?
Duplicate info boxes and pages
Implementing data automation in a flipbook, firstly, requires a data set. This can be a CSV file, an Excel or a spreadsheet in which all the information for each product is available. If you don't already have that, gather the information and organize it in columns and rows.
Who can benefit from using it?
It can help marketers, graphic designers, or agents working in retail-wholesale, finance, real estate, education, or marketing agencies. It's perfect for whoever is involved in producing a large volume of catalogs by copying data from an external database into presentations or catalogs.
Automation aims to help you and your team save time by automating the more tedious parts of the process, providing you a break from repetitive tasks like copy-pasting all the content.
Let's dive straight in and find out how we'll make your catalog production workflow more productive and efficient.
Connect to a data source
First, you need to connect your data source to your Flipsnack workspace. Go to the main dashboard and click Automation. Now, choose your data source: Excel, CSV, or connect to a Google spreadsheet.
Important: Your CSV files must use UTF-8 encoding. This is the only file format that can be used to import to or export from Flipsnack.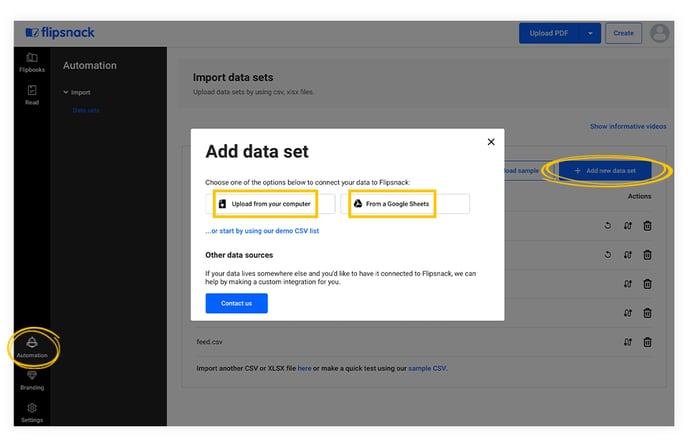 The file can be structured however you want, but if you need to view an example, download our sample CSV file, and use it as a starting point.
Important: Once the spreadsheet was connected with the flipbook, the first row and the column containing product identification markers for the products of the data source should not suffer changes. If you modify those sections, the mapping and design for the flipbook will be affected.

In the next step, our system will upload your file. To continue the process, head over to the configuration icon in order to open the Configure product list preview modal.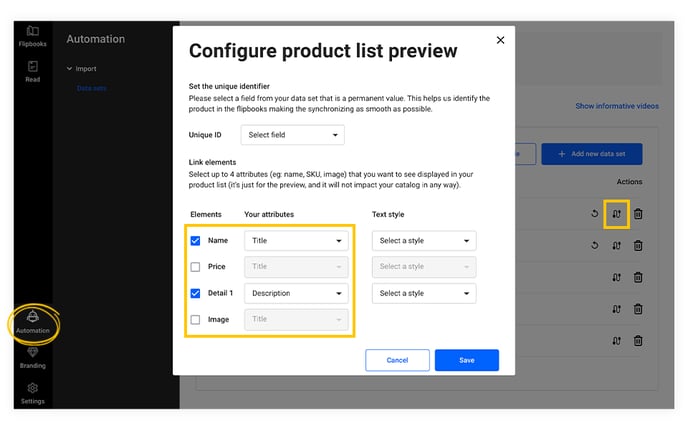 Now it's time to identify which information from the file you'd like to have displayed in your product list in the Design Studio. However, at this point, we are not actually making a smart template or connecting your catalog to your spreadsheet.
When you upload your CSV or connect your Google spreadsheet, you'll see that you can choose some Elements that will determine how your product list will look in the Automation tab in Design Studio. You'll also find Attributes from your list that you need to connect with the information from your CSV file. In the pop-up, you will have the information that is visible in the Automation tab so that you can identify which product is which. Make sure the information you select to appear in the pop-up helps you differentiate between them.
Important: Also, keep in mind if you want to upload your data sets from your Google spreadsheet, simply synchronize your data at any time by clicking on the Synchronize icon on the Import data sets page.
Make a design template for automation
Now you can design your own template or use a ready-made template from our collection. Click edit, then skip to the part where I explain how to "create dynamic fields".
But let's assume that you're starting from scratch (recommended).
Start by designing for a single product. Add individual text boxes for each type of information that you want to display for each product (Product name, Price, Description, Ingredients, Weight, Colour, etc.). You can also add an image if you have images in your product feed or CSV.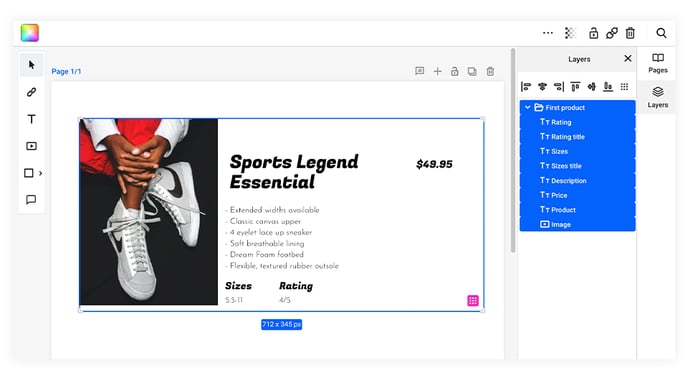 Make the design for one product info box. While designing, make sure your product boxes aren't too small. The price will probably be just 1 line of text, but maybe the ingredients list will take up 5-6 rows of text. You could even fill in all the boxes with real info if you wanted.
In addition to text boxes and images, you can add other elements to your design (shapes or icons). Images and other static multimedia elements can also pe uploaded as links.
Also, in order to avoid confusion later, it would be better to open the Layers panel and rename all layers according to the type of information they contain.
Create Dynamic fields/Smart fields
At this point, your design contains regular text boxes and maybe images as well, and you need to turn them into dynamic fields. This way, our system will know what type of info to display in each text box. In order to do so, select one or more text boxes, then click the Connect icon, which is located right next to the trash icon on the top right. It will open a popup asking you to match text boxes with data from within your file.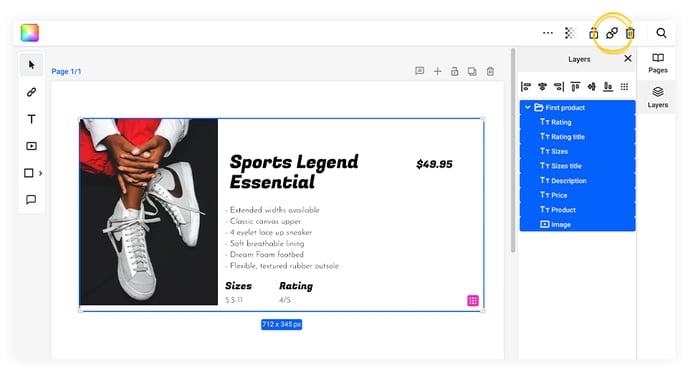 Duplicate info boxes and pages
This is useful if you're building the template from scratch. If you're not, you'll just have to do a lot more manual mapping. Skip to the next step.
First, select all the elements of the design and click Group. Duplicate this first product info design with the Copy option. Arrange the items on the page as you wish.
If you want to have 20 pages all formatted exactly the same way, add 20 blank pages by clicking +. Then select all the elements you have on the first page, go to the Layers panel and click the Add on all pages button, or duplicate pages.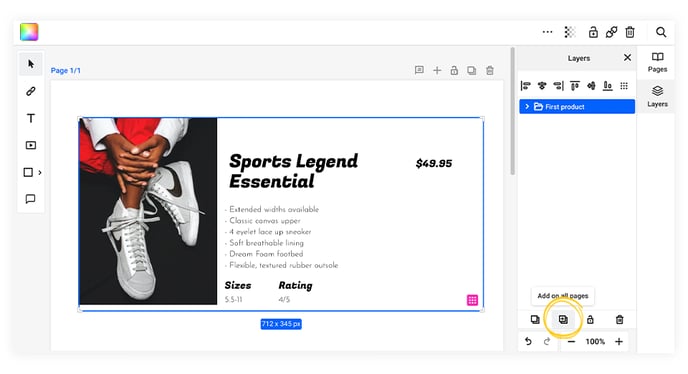 Now you'll just have to make a design for the catalog front cover and back cover, and you're done designing your first flipbook for automation!
Add products with drag and drop
Now, you must drag and drop products from the Automation tab over the smart field groups. Repeat for each product.
Important: You can search with "exact match" if your CSV has a lot of products listed. Use the product's title or description to drag and drop a specific item easily. Remember to type the information between quotation marks.
If you have any questions or suggestions, please contact us via live chat.