Learn about our Details section where you can access all flipbook options in one spot.
We know that your time is important and for that reason we designed a new page where you can see and manage all your flipbook options in one place, thus saving time.
Go to My flipbooks and click on the Details tab from a selected flipbook. Here you can find information such as flipbook preview, download options, sharing options, printing options, and analytics. Also from here you can show, hide or modify your flipbook publication date.

Flipbook preview is the first thing you see when you click on our Details tab. You get the chance to flip through all the pages of your flipbook and double-check them.
Under the flipbook preview, you have the options to see the flipbook Live, to Edit, Embed, or Edit link name. You can customize the Meta title and Meta description from the SEO tab.
In the Sharing section, you can share your flipbook via social media channels, via email, or in fullscreen mode.
If you have a flipbook that is published as Share with specific people only you can import a file CSV file from the Details section with the email addresses of the people that you want to invite, or you can simply add the email of the person you wish to share the flipbook with.

The Share with specific people only feature is available for our Business and Enterprise members and it allows you to share your flipbooks with only a few selected people, and no one else will have access to view them. They will need to be logged in with the email address you shared the publication with in order to view it.

In the Download section, you can download your flipbook as PDF, HTML5, GIF, PNG, JPEG, or MP4.
In the Customize section, you can add Google Analytics tracking to all your flipbooks, to see visitors' data and traffic stats in Google Analytics.
In the Analytics section, you can add Google Analytics tracking to all your flipbooks, to see visitors' data and traffic stats in Google Analytics.
From the Order printed copies section, you can order printed copies of your flipbook from our print partner, Peecho.
Besides the Details tab, at My flipbooks, you have access to more of your flipbooks options, such as:
Embed

Statistics

Send Email

Download GIF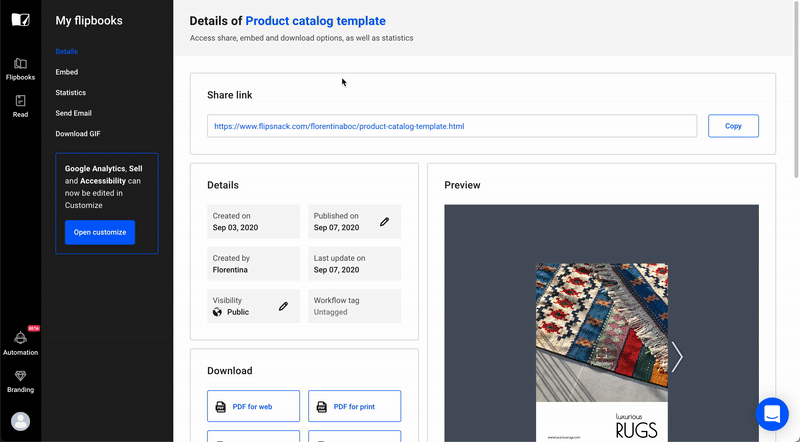 Embed
Embedding a flipbook into your website has never been easier. From this tab, you can easily obtain the HTML embed code that you need to do that.
Statistics
View and analyze your flipbook statistics, for a selected date range, such as impressions, views, average time spent, downloads, likes, page-level statistics, engagements statists, devices, and sources, global view by top location, lead form statistics, and sell statistics.
Send email
Send your flipbook via email using our platform. The subject, title, and description of your message can be adjusted. In case you want to embed the flipbook snippet into your email newsletter, we provide you with a code to do just that.
Download GIF
If you want to download your flipbooks as a GIF, you can do it more easily and quickly from the Download GIF tab. From where you can personalize your GIF: select desired pages, choose the size of the GIF, and its color background.
Download QR code
If you want to create a way for users to quickly and easly access your flipbook, you can also generate a QR code for them to scan and be taken directly to your flipbook. You can also brand your QR code, and download it at a JPG, PNG, or SVG.
Search in pages in Design Studio
Do you usually have a lot of pages in your flipbooks? Find words easily with the "search in pages" feature, available for all the plans. In the Design Studio, with a simple Command+F or CTRL+F, you can search for any text within your publication and make the necessary changes. This feature also makes it so much faster to edit information within a branded template of yours.
It's noteworthy that this search in pages feature only highlights the first mention on a page. So, for example, if a word appears multiple times on a page, you'll only see the highlighted version of the first mention.
Important: This feature only works for created from scratch flipbooks, and not the PDFs you upload in Flipsnack.