Create branded publications using custom colors.
Color is a very important element in your brand identity system. Building cohesive brand matters, so we made it simple for you to access your brand's custom color palette when working on your company's brochures, reports, or other corporate documents.
Now you can save your specific brand colors in your account and you'll always find them in handy when you're designing or customizing your publications!
How can I add my brand colors?
You can directly click on Colors if you're in Branding or, if you're in the app, go to My flipbooks and click on Branding.
Now, click on Add color and enter your custom color.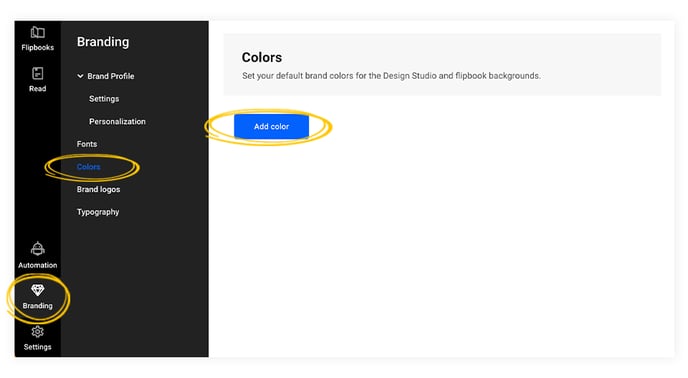 You can set colors using the RGB, HSL, or HEX color systems. Check the GIF below to see how you can switch between the different color systems by clicking on the arrows. The color is automatically saved as soon as you enter the color code.

If you change your mind you can edit or delete a color at any time. Simply hover over it and click on Change color or on the Recycle Bin icon to delete it. It's that easy!
Where are my brand colors saved and how can I use them?
The colors you've selected in your Branding section are automatically saved in the Design Studio. You can now use them on pages, texts, icons, and shapes. Basically, you'll have them at your disposal every time you want to change the standard background color for your flipbook.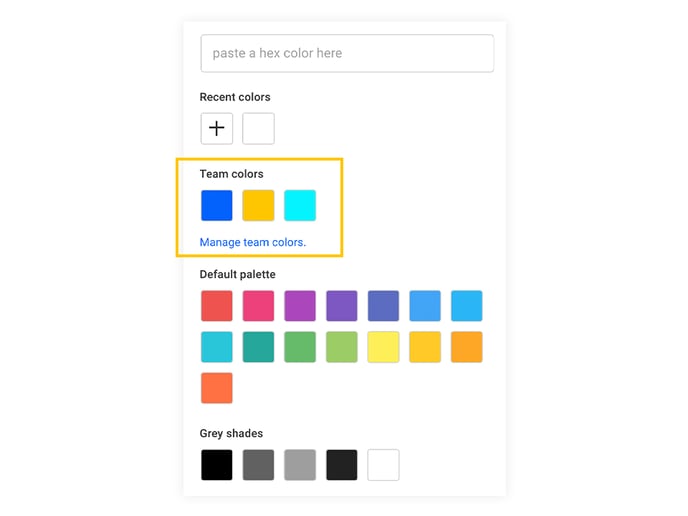 If you want to add another color, you can just click on Manage team colors and you'll be redirected to Brand Identity.

You'll also be able to find them in the Customize section, and you'll have the option to personalize the background color of your publications with one of your brand colors.
Additionally, you can set a player accent color you want for the navigation bar, page overview, and table of contents hover colors in the flipbook player's toolbar.
Important: Using your own custom brand fonts is also a great way to personalize and brand your online corporate documents.
All brand identity features are available with any of our premium subscriptions, and are definitely worth the upgrade!
Important: You can have a maximum of 50 colors at one time in your brand color section. If you want to add more colors you can change the existing ones you have, or you can delete some of the ones you're not using.

If you have any feedback for us, please let us know on the live chat!