Automatically link your unmarked URLs and email addresses with Flipsnack's auto detect URL option.
Do you have a lot of URLs or email addresses in your PDFs? Then you're going to be interested in our autodetect feature.
Many of you told us that you were spending a lot of time manually adding hyperlinks in your PDFs, after uploading them in Flipsnack. That's a boring activity and we know you have better ways to spend your time! So, we decided to automate the process for you.
With our Auto-detect links option, you don't have to manually hyperlink all URLs or email addresses anymore.
How we detect links
If you have URL type texts:

www.flipsnack.com
http://www.flipsnack.com
https://www.flipsnack.com
or email addresses:
contact@flipsnack.com
In your uploaded PDF file, they will be automatically detected. What is important to remember is that URLs and email addresses need to be formatted properly in order for our software to detect them.
Then you will have the option to have them automatically hyperlinked or not.
Table of contents in Flipsnack
If you have a PDF file that contains a properly formatted table of contents, Flipsnack will automatically recognize it and the message "We've detected a table of contents in your document. Enable this option to display them in your flipbook widget" will be prompted.
Otherwise, if your PDF either doesn't contain a table of contents or it does but it's not properly formatted, you'll be prompted with this message instead: "We didn't detect a table of contents in your document, so this option is unavailable."
How to enable Auto-detect links detection
Once you have uploaded your PDF file, go to the Customize tab and check the Auto-detect links option.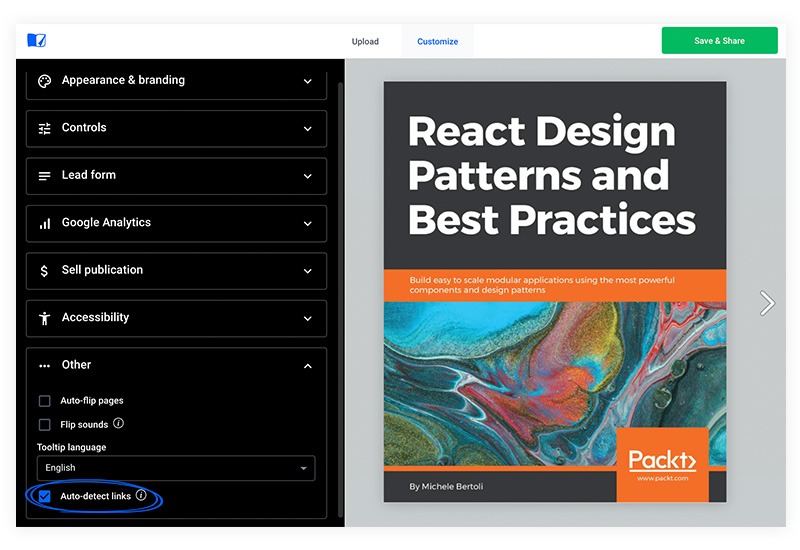 With Flipsnack it is that easy to have all your URLs hyperlinked!
Find how to auto-detect links from PDF in this video: