Find out how to create and how to use popup content in your publications.
We have a great new alternative for embedding content directly on the pages of your flipbooks. With this new option, you can place interactive content in popup windows.
What is the Popup frame and what can you do with it?
You can use the Popup frame to display various types of content in a popup window that opens on top of the publication's pages. You can use it for surveys, contact forms, music players, video players, photo slideshows, virtual tours, interactive maps, custom-built add-to-cart pop-ups, and more.
It works wonders for product catalogs, magazines, travel brochures, menus, photo albums, administrative files, educational materials, real estate property listings presentations, and many other publications.
How does it work for readers?
In order to open a Popup frame, readers simply have to click on a highlighted area on the page: it can be a text box, photo, shape, or button.
It's a great way to integrate interactive content into your publication, without displaying it directly on the page.
Let's find out more about this.
How to add the popup frame in my publication
Go to My flipbooks, choose a publication, and once inside the publication click on the Link section. Click the Popup frame button and it will add a highlighted area that you can move anywhere on the page, over a text box, photo, shape, or button.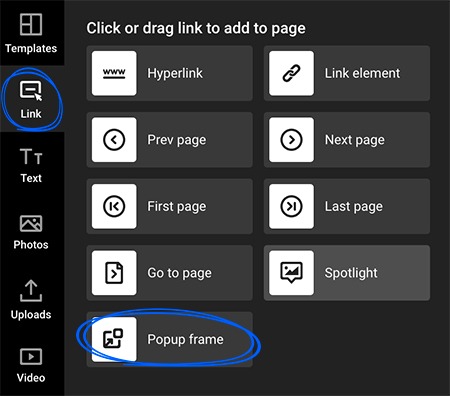 You can adjust its size to fit perfectly over your chosen element and change its color and transparency.
Now you need to adjust the settings for the Popup frame starting with the code you want to insert. You can simply copy/paste the code in the Popup frame code box or place it where we indicate: "Your code here".
It supports both iFrame codes and Div codes.
In the Tooltip box, you can insert a call to action message. When your readers roll the mouse over the highlighted area (or clickable area, if the highlight is set to 100% transparency), this message will be displayed, for example, "Click to view", "Submit", or "Buy".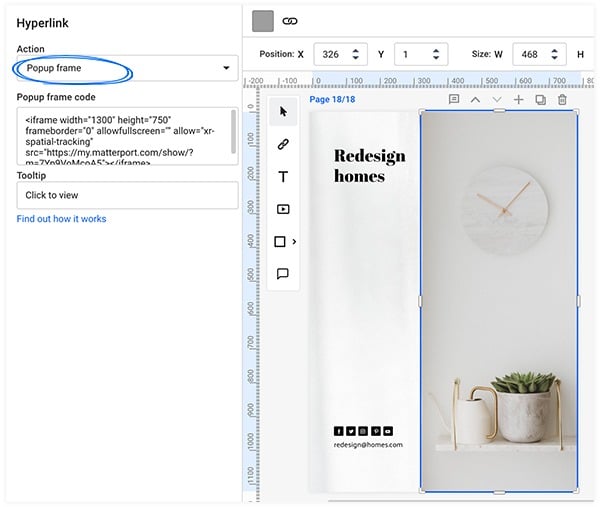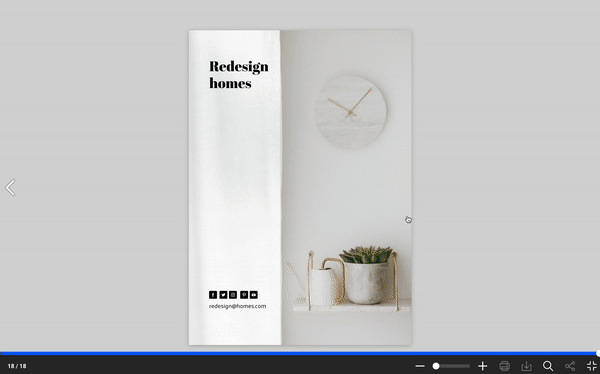 Discover more interactions. Your readers will love them and they will have a more engaging reading experience.