Create custom text styles, and use them in any publication
Flipsnack is no stranger to branding options, and today, those options expand even further.
Now, any of our premium plan holders have the option to set custom text styles to match their brand identity and save it for later use. It's basically a template for all the text styles you prefer to use in the Design Studio.
We decided to create this feature because we know that our default font settings probably don't match your particular style.
It can be quite a hassle to manually set the font type, size, and all text styling options every time you place a text box within a catalog or publication. With this typography feature, you won't have to go through and tediously change the text style every single time you use it.
You can make your brand's identity prominent throughout all of your publications with a few simple clicks. Set up your preferences once, and you'll never have to do it again.
The first thing you want to do is go to your Branding section in My flipbooks and select Text styles.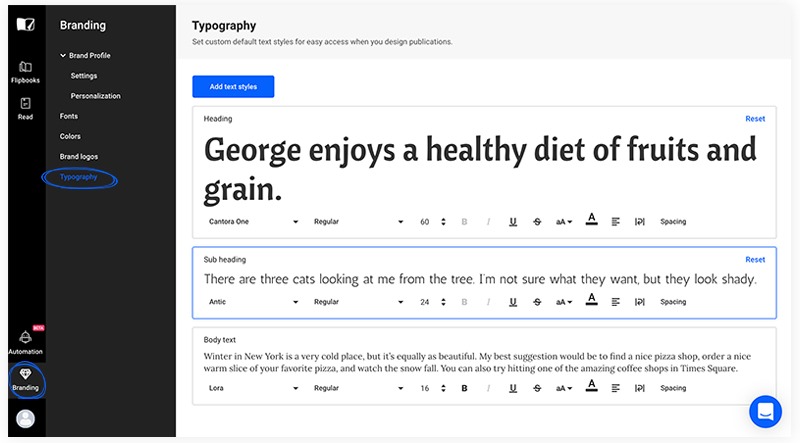 These 3 text options are not new to the Design Studio. What is new, however, is their customization options.
Here, you can set a font (keep in mind that you can upload your own font), chose to have it bold, adjust the text size, and many other things.
Once you've found the perfect combo to match your brand, simply select it from the text options in the Design Studio next time you're creating a flipbook.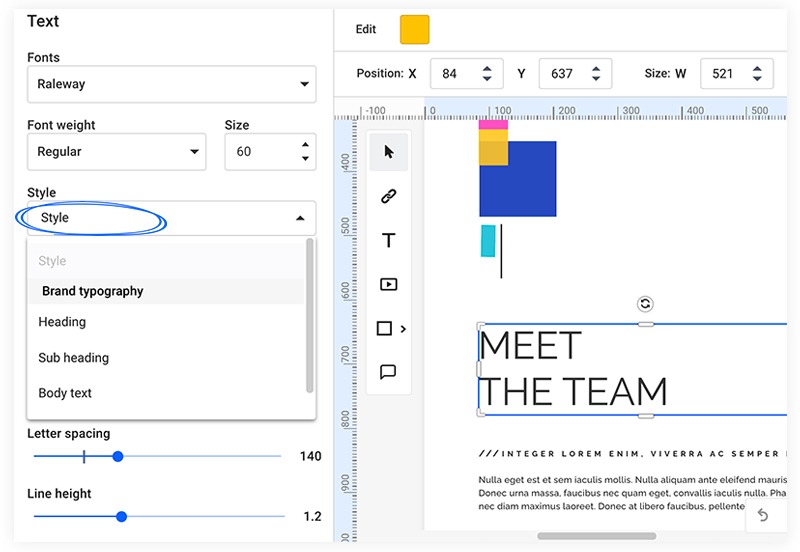 You also have the option to create many new styles to add to your arsenal. Simply create a new section in the typography section, name it appropriately, make all the necessary changes, and you're good to go.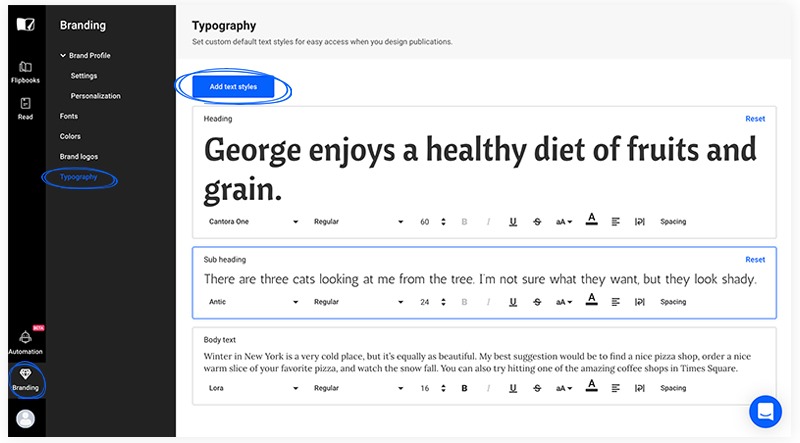 You can add up to 20 different styles at any given time. You can delete and add them as you need them. If you choose to delete a custom style, the displayed text options in the Design Studio (heading, sub-heading, and body text) will go back to Flipsnack's default settings, as they cannot be deleted permanently. But don't worry, it's easy to edit again if needed.
Now, when you're creating a flipbook, simply select the text that you've already applied, go to the top of the Design Studio, click on the style, and select your new style.
We hope that this new feature finds itself useful for all of our premium users out there. If you're not a premium user, this feature can really help you establish a true brand identity. It's more than worth it to upgrade. Check out our pricing options for more information on that.