How to add the Google Ads Remarketing Tag and Google Ads Conversion Tracking Tag using Google Tag Manager.
Since many of our Enterprise users use our platform to promote their products and services we figured it would be useful to make a guide on how to use the Tag Manager integration to send data from your Flipsnack profile or custom domain to your Google Ads account.
The reason this is valuable for your business is that it helps you measure how effective are your Flipsnack materials in converting readers into customers. I'll also show you how to add the Remarketing tag which helps make ads aimed at people that read your catalogs, more on that later.
Table of contents:
Setting up the Conversion Tracking Tag
Installing the Standard Remarketing Tag
Further reading
Getting started
I think the prerequisite for this implementation is pretty self-explanatory. First, you need to install Google Tag Manager on your Flipsnack account and then create a Google Ads account if you don't already have one. Just make sure you activate Expert mode by pressing the Tools menu (top-right side) inside the Ads account.
Before we start though I want to give some context around the two types of tags we have at our disposal so you'll know how they might be useful for you. In case you already know what you want to do and just need the steps on how to do it you can skip to the next section.
The Conversion Tag has the role of watching out for actions that you define as conversions or, more precisely, those actions that would bring the user closer to becoming a happy customer. On the other hand, a Remarketing Tag is used to track your audience for retargeting (showing them your ads after visiting your website) or to look for users that look similar to your current visitors.
Both help to better understand your audience and find new potential customers.
To give you an example of how that would look in the case of your Flipsnack profile let me give the following scenario.
You have an online retail business and you use Flipsnack to make flipbooks out of your catalogs. Keeping all of them on a custom domain the analytics show that you are getting quite a lot of traffic there. But the problem is that you don't know how many visitors end up buying the products that are there and, likely, most of those visitors will never return after the first visit.
And this is how Google Ads Conversion and Remarketing tags can help. By feeding data to your Google Ads account it will let you know if an internet user has visited one of your catalogs and show him ads that refer to a specific product on your site.
Not just that but once a catalog has been visited, the conversion tag will tell Google Analytics and Google Ad Manager that the user has converted. This gives you the capacity to see how useful are the catalogues in your customer's journey.
How to set up the Conversion Tracking Tag
Sign in to your Tag Manager and Google Ads Manager accounts.
In Tag Manager, start a new Google Ads tag. From the home screen select New Tag and then Tag Configuration and then Google Ads Conversion Tracking.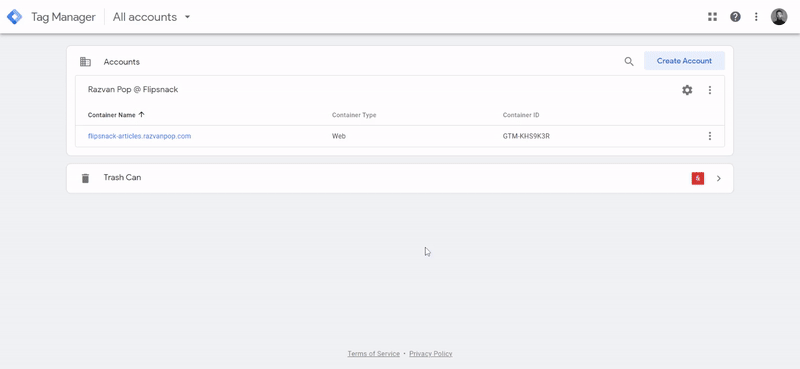 Sign in to your Google Ads account to gather the values that you will use to complete the tag setup:
In your Google Ads account, click the Tools and Settings menu.

Select Conversions, which opens to the Conversion Actions table.

Click on the plus sign in the blue circle (upper left corner) and make a new Conversion Action.

Select Website on the next page and complete the configuration form.

Click Create and continue then select Use Google Tag Manager.

Copy the Conversion ID and Conversion Label.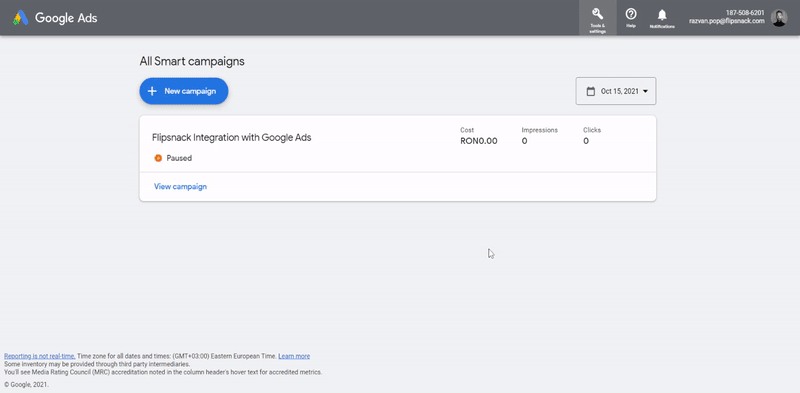 In Tag Manager, add the required Conversion ID and Conversion Label values obtained from step 2 to their respective fields.

Choose one or more triggers in the Triggering section to specify when the tag should fire. Normally you'd want the tag to fire on page view.

Click Save to complete your tag setup.

Important: For optimal web browser compatibility, ensure that the conversion linker is enabled.
Preview your changes, and publish when ready.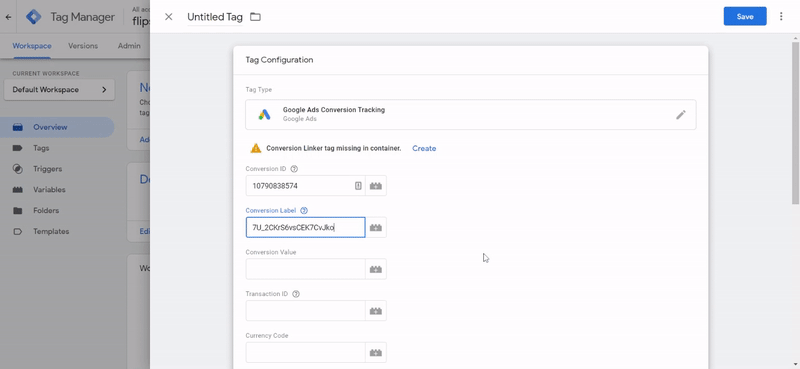 And there we have it. Now we can see in Ads Manager if someone has visited our Flipsnack profile or individual materials letting the algorithm know that a user is further along in the journey towards becoming a customer.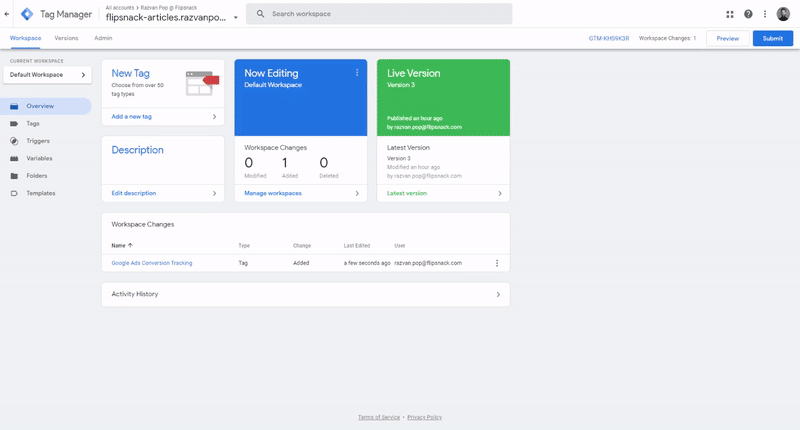 Installing the Standard Remarketing Tag
Independent of the Conversion tag, the Google Ads Remarketing Tag, is used to create an audience from the users that visited your Flipsnack profile or read your magazines. Since it's easy for users nowadays to get distracted by other websites this can help you target ads to remind them of your company.
To install the Tag:
Sign in to your Google Ads account at https://ads.google.com and click on Tools and Settings then Audience Manager.

On the left, you will see Your data sources at the bottom of the menu. Click here and look for Google Ads Tag in the integration menu.

Click Set up Tag and go through the setup process selecting Use Google Tag Manager on the second step.
A detailed guide will appear. Make sure you copy the Conversion ID since we are going to use that in tag manager.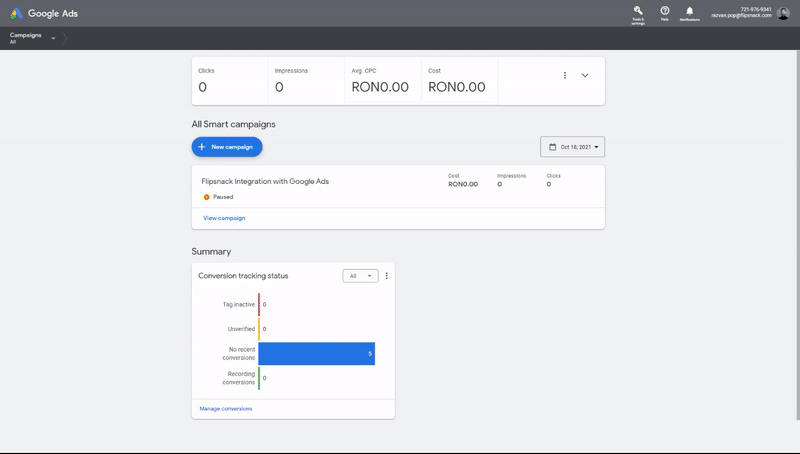 Open your Flipsnack container in Google Tag Manager then create a new tag in Google Tag Manager. Make sure you select the "Google Ads Remarketing" tag type and use the conversion ID you just copied.

Click Triggering and choose one or more triggers to specify when the tag should fire. For example, select a trigger that fires on all pages if you want to add a remarketing tag to every page of your website.

Click Save to complete your tag setup.

Again, for optimal web browser compatibility, ensure that a conversion linker is enabled.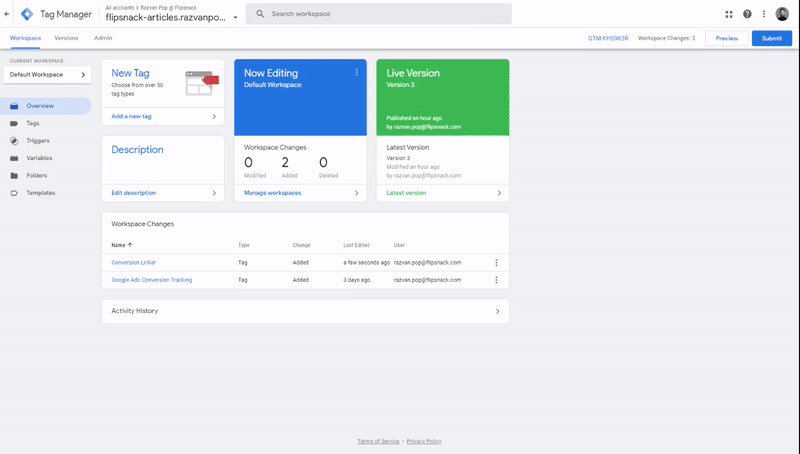 Now you can better target your ads for potential customers by tracking who visited your flipbooks.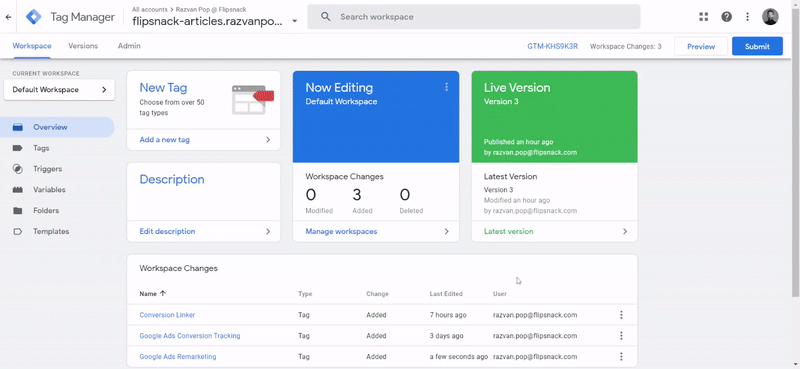 ---
Further reading