Learn how to use the Rolling subscription to sell your publications.
Selling subscriptions is a great way to keep the relationship between publishers and readers ongoing, right? With our Rolling subscription feature, you can easily do that.
The Rolling subscription is a feature that allows our publishers to sell a recurring subscription that gives readers access to all the publications on their profile for as long as they have an active subscription with the publisher. It's kind of a Netflix or Spotify-style subscription that we all love!
However, readers won't be able to access the flipbooks that are unlisted, password-protected, or shared by email. Therefore, flipbooks that don't appear on your profile won't be included in the subscription.
Important: In order to sell your publications through our platform, the publisher will need to create a Stripe account or add an existing one to their Flipsnack account. We use Stripe to allow publishers to charge readers for access to their publications and collect Credit and Debit card payments.
Note: Keep in mind that if you want to sell magazines, books, or courses through Flipsnack, you will have to pay a fee of $100/month in addition to your subscription, to unlock this add-on.
How to activate the Rolling subscription
Before activating the Rolling subscription, you have to set up your Stripe account or simply log in if you already have an account.
Here are the steps you need to follow in the Stripe dashboard
1. You'll have to create a product and price in Stripe's dashboard. You need to go to Products and click on the +Add product.
2. Then you'll have to set up the Product information details by writing the Name and Description. Optionally, you can upload a photo.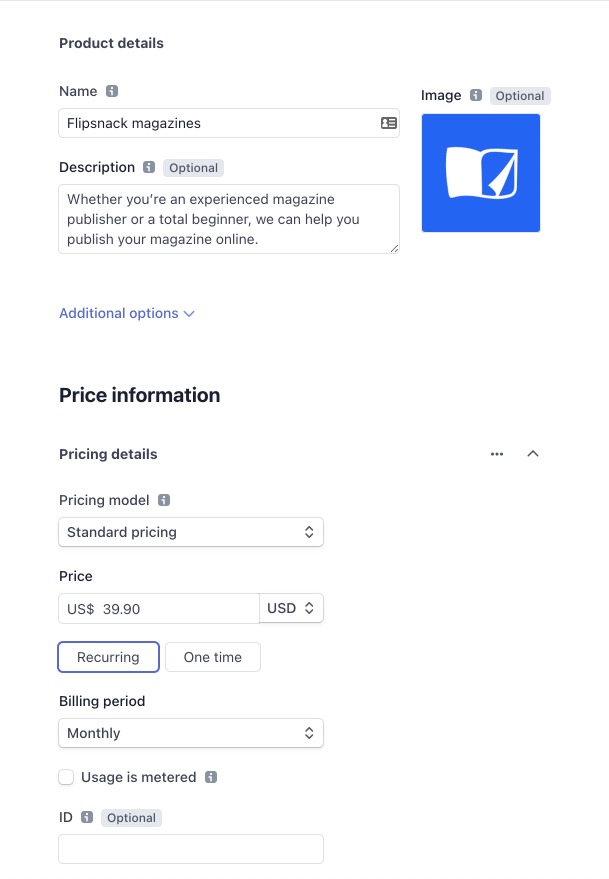 For the price setup, you have to select the Standard pricing model and also choose the Recurring option.
Don't forget to add the Price, currency, and the desired Billing period - Monthly or Yearly.
You can also set a custom ID or have the generated ID by leaving the text box empty. By doing that, Stripe will generate a random, unique ID. Make sure to hit the Save product button.
Important: If you create your own ID, keep in mind that it should be unique because you won't be able to create another price with the same ID.
3. Copy the Price ID and head over to the Sell subscription page in Flipsnack.
4. In order to activate the Rolling subscription, you'll have to paste the Price ID from Stripe into our Price API ID, just like in the GIF below.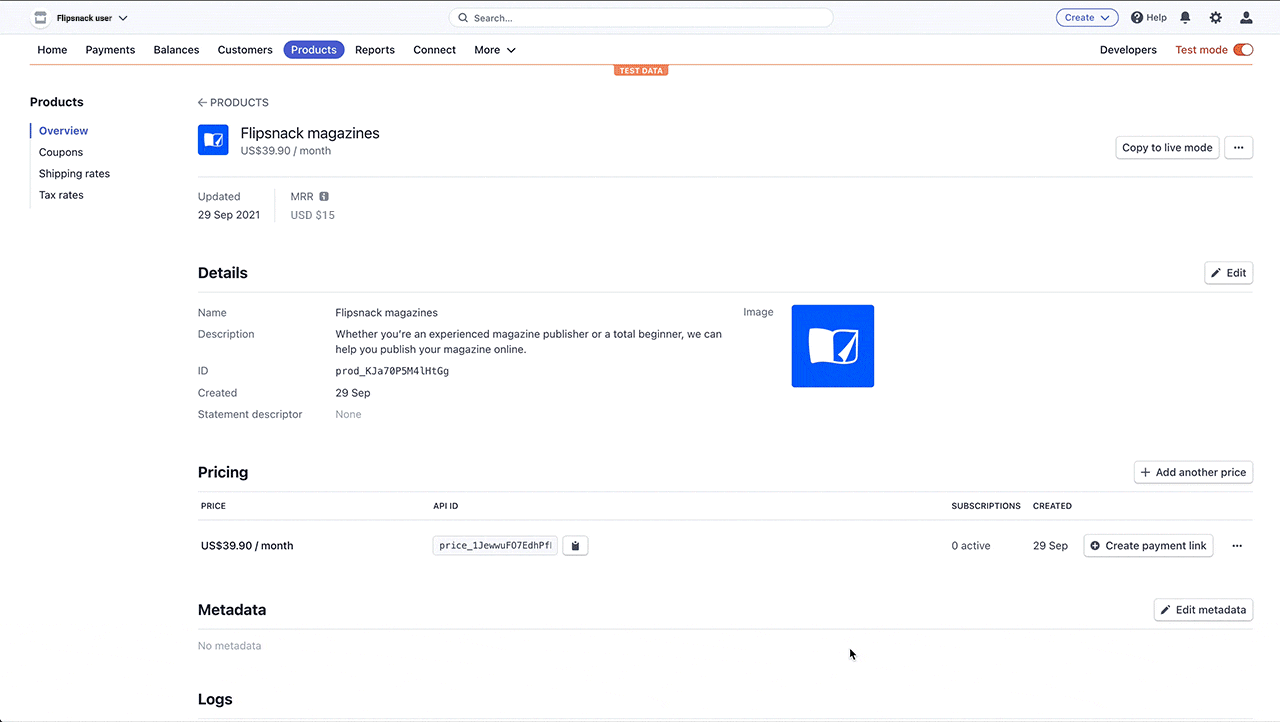 5. The last step is to Enable subscription to activate it and click on Save changes.
To verify if you set up these steps correctly, head over to your Flipsnack profile. If you did it right, then you should see the Buy subscription button, just like in the picture below.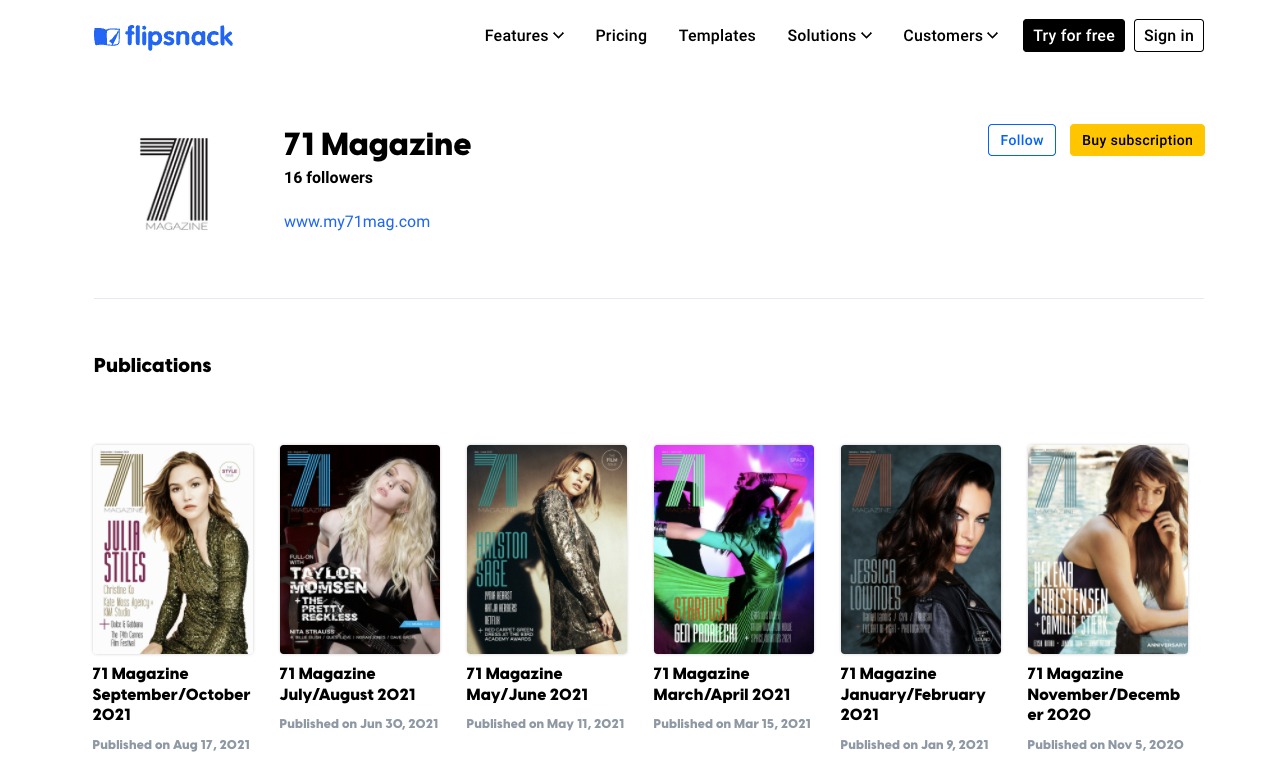 Now you will be able to sell a subscription.
Important: If you want to allow your readers to buy only a publication without buying the whole subscription, you can easily do that. A flipbook that is put up for sale will be able to be sold on its own, but it will also have the Buy subscription button that allows the purchase of the subscription.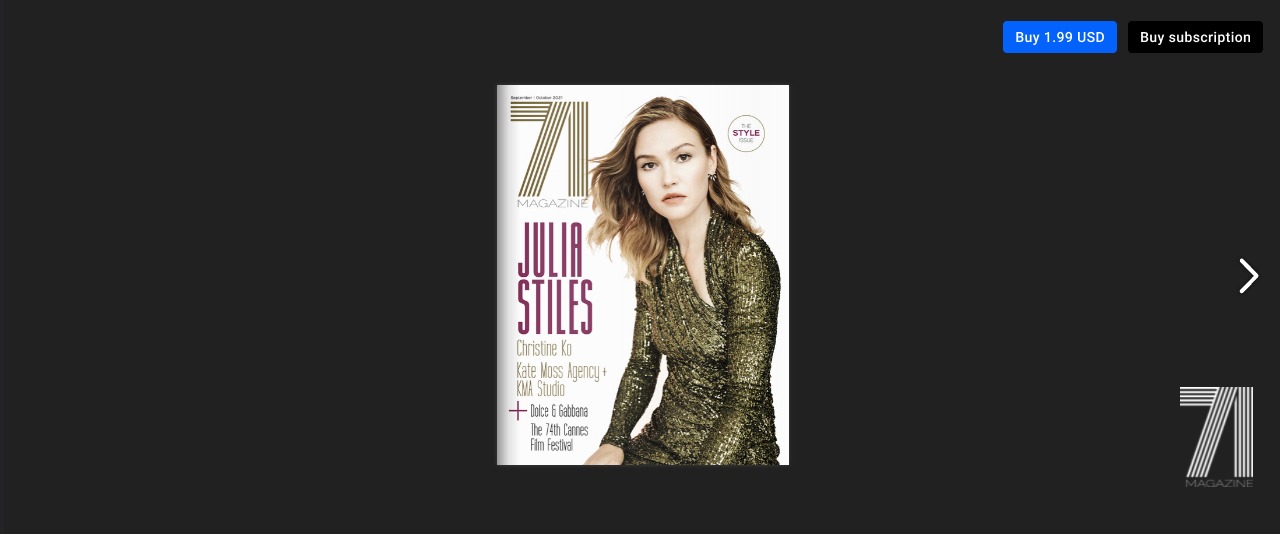 Subscribers will have access to all publications that have set the Public visibility, even if they are not put individually for sale.
How readers will see the checkout page
When someone wants to buy a subscription, they click on the Buy subscription button. The next step for them would be to fill out the checkout form, just like in the image below.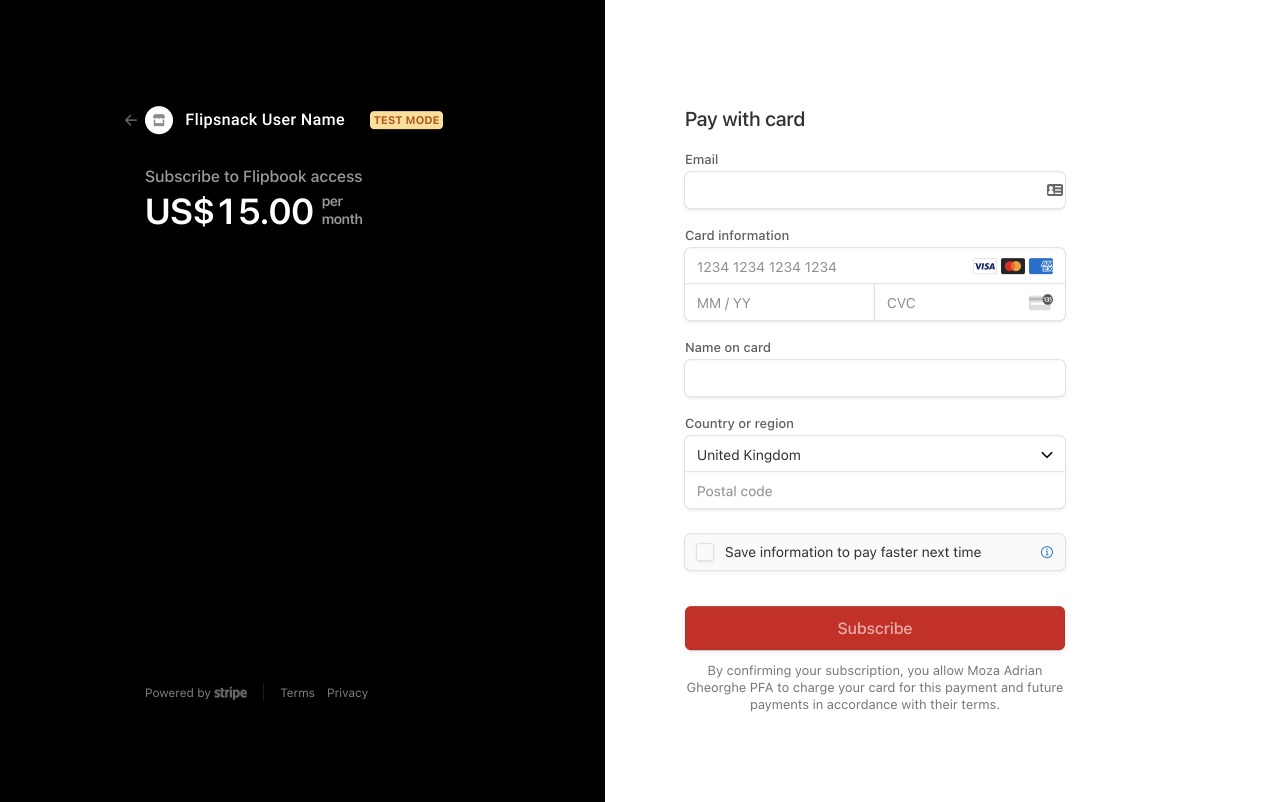 Publishers can use the Stripe dashboard to set some branding options for the checkout page and the portal. And also to make settings related to subscriptions and notifications received by the customer/reader (e.g. when a payment fails, the card expires).
Your readers can access your publications by going to My Subscriptions page in the Read section.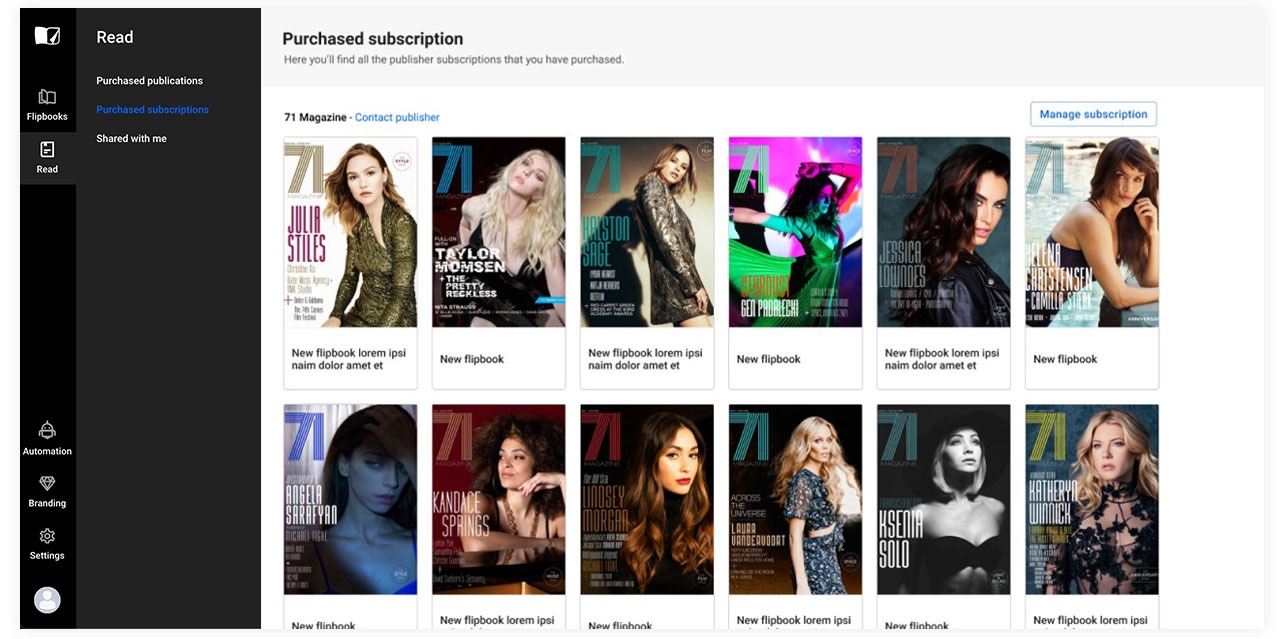 They will also be able to cancel their subscriptions and change the card used to make recurring payments or add new payment methods by going to the Purchased subscriptions page and clicking on Manage subscription.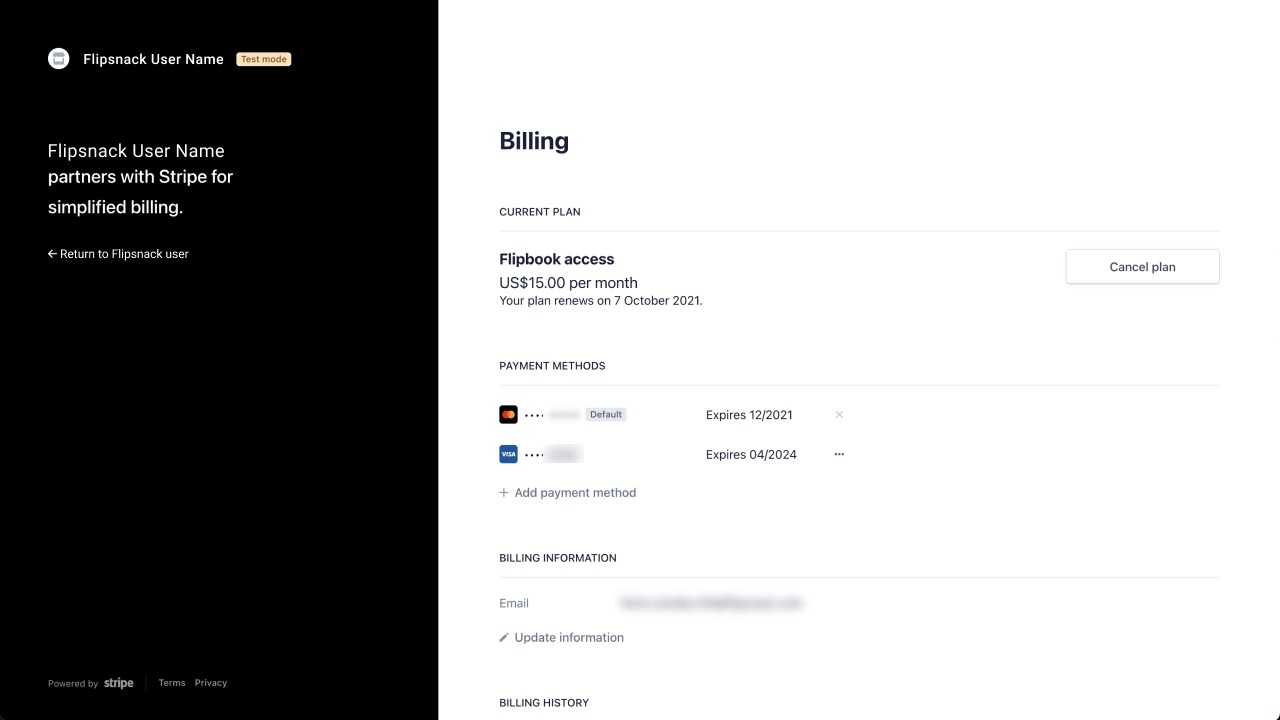 From the Sell page, you have the possibility to deactivate/activate the sale for the subscription created by switching between the 2 options.
When activating or deactivating a subscription on your profile page, the Subscribe button will appear or disappear. This happens instantly when saving.
When activating or deactivating a subscription, a process will be initiated that will update your publications that are put on sale so that the Subscribe button will appear or disappear in the player. This process can take several minutes and is related to the number of publications put up for sale by you.
Note: You can control all the Sell settings for your publications from Customize. And you can view the sales statistics and how your publications perform on the Statistics page.
If you need any help or have any questions, don't hesitate to contact our support team.