Learn how you can easily bulk upload your PDFs (or JPGs) to convert them into single or multiple flipbooks
Table of contents:
Bulk upload to merge files into a single flipbook
Bulk upload to upload flipbooks separately
In Flipsnack, you have two options you can use if you want to bulk upload your PDFs or images. You can merge them and turn them into a single flipbook, or you can just bulk upload them and convert them into multiple flipbooks, depending on your needs. This article is designed to show you how you can use these two features.
Bulk upload PDF files to create a single flipbook
If you want to create a single flipbook out of multiple PDFs, all you need to do is to log in to your Flipsnack account and, while in the Main dashboard, click on Upload PDF button in the upper right corner. Select the files you want to upload, then click on Open.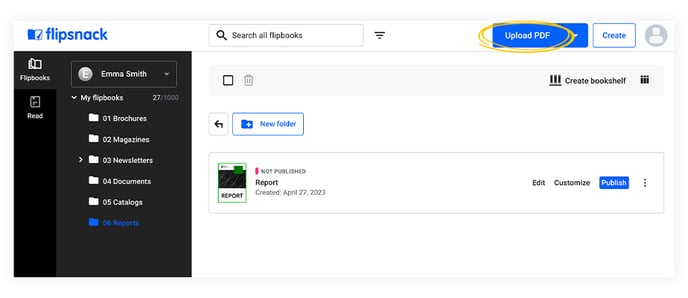 Once you have all your PDF files uploaded, you can rearrange them by clicking and dragging them into place. When you are happy with your uploaded PDF files and their position, simply click Next to generate your flipbook using multiple PDF files.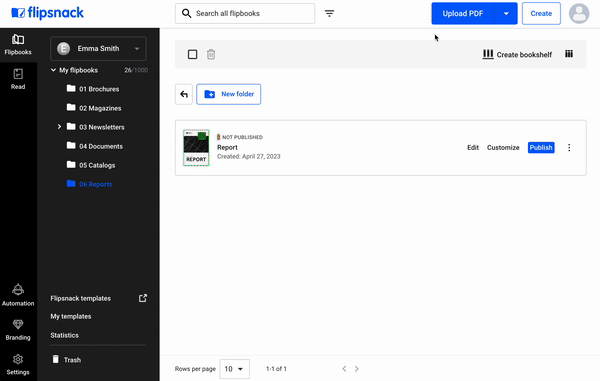 Important: Once you press the Next button, all your files will be merged into one flipbook, and you will not be able to unmerge them after, so make sure you arrange them in the right order.
If you are still in Customize and want to add more PDF files, just click on the Upload button. Now you'll be able to go back, add more files and rearrange the order if you want to.
Note: the previous files you uploaded are already merged into one. So even if you go back, those files will still be merged together. Also, when you upload more files, remember that after the merge, the flipbook will be named after the first file you have uploaded.
You can add links, videos, buttons, images, and more to your flipbook if you click on the Editor button.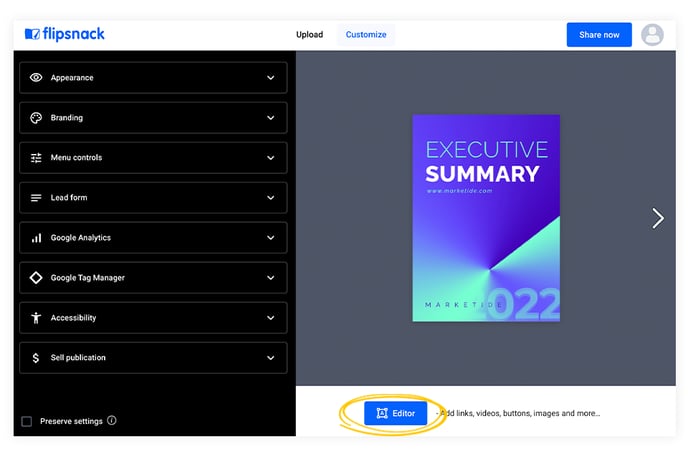 Tip: It's easier to publish your flipbooks directly after uploading your PDFs by just clicking on Publish now. So you won't have to go through the design process anymore.
Bulk upload PDF files to create multiple flipbooks
If you want to create multiple flipbooks at the same time, all you need to do is select the Bulk upload option from the dropdown menu instead of the Upload PDF one.

By doing so, each PDF will be separately turned into a flipbook. In order to edit or publish them, you'll have to do this for each one individually.
If you have any questions or suggestions, please contact us via live chat.