Add texts or logos as page headers or footers, on all pages of your catalog, with a simple click
Headers and footers are useful for including information that you want to appear on every page of your flipbook such as your name, company name, flipbook title, time and date, or page numbers.
Headers and footers can also contain images and graphics, such as company logos. This is one of the easiest ways to quickly and easily reinforce your brand in all your publications.
Now that we've talked about their importance, let's see how we can add them into our flipbooks.
Go to Design Studio, choose the flipbook you want to edit, go to Layers and select the elements you want to use as a header or as a footer.
Simply select them and click on the Add to all pages button.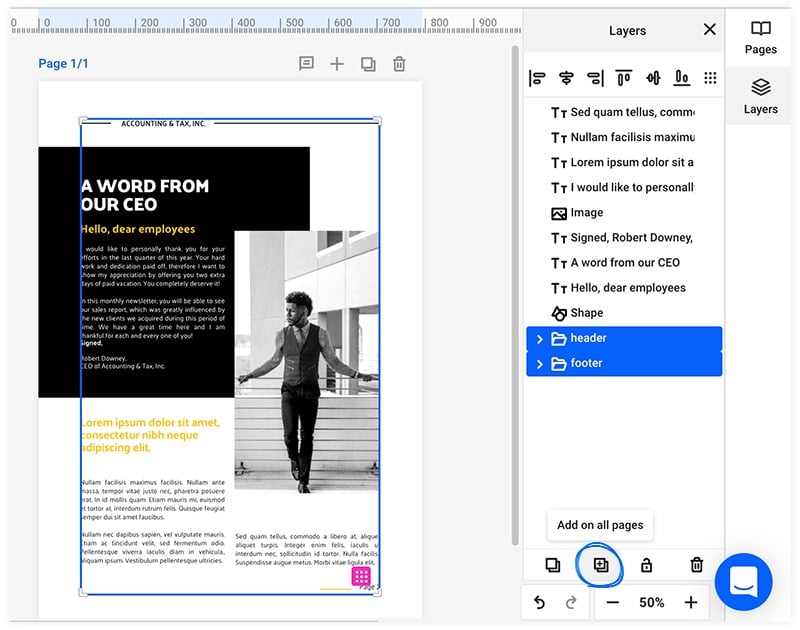 If you want to showcase more with your publications, you can use the Add on all pages button for images, videos, or a group of elements.
After you've added the desired headers and footers to all your pages, you can remove their respective layers from the pages where they aren't suitable, like on the publication's covers.
There's just something about headers and footers that makes your publications look much more polished and professional.
Remember, headers and footers can help improve the overall design, so start using them.