All the layout style options explained: single page view, double page view, and smart view.
This article is all about the way pages are displayed in the flipbook, after you publish it.
In Flipsnack, there are 3 different layout style options available:
Single page view - Displays one page at a time in the flipbook widget, regardless of the device size or browser size. We recommend this option if you want to use the pages as slides in a presentation, and for other landscape-oriented flipbooks. For landscape publications, if you display both pages, they sometimes look a little bit small and hard to read.
Smart view - It's called "smart" because it provides the best display solution, based on the screen size. It displays one page at a time on mobile devices and 2 pages on laptop screens or computers, balancing readability with the elegance of a real-life-looking publication. This is the default setting for most flipbooks.
Two-page view - Displays two-page spreads always, regardless of the screen size. It's also the only option available for publications designed in Flipsnack Design Studio, with the double-page mode enabled.
Changing the layout style can be useful sometimes. You can access it by going to Customize and selecting the desired option for Layout style.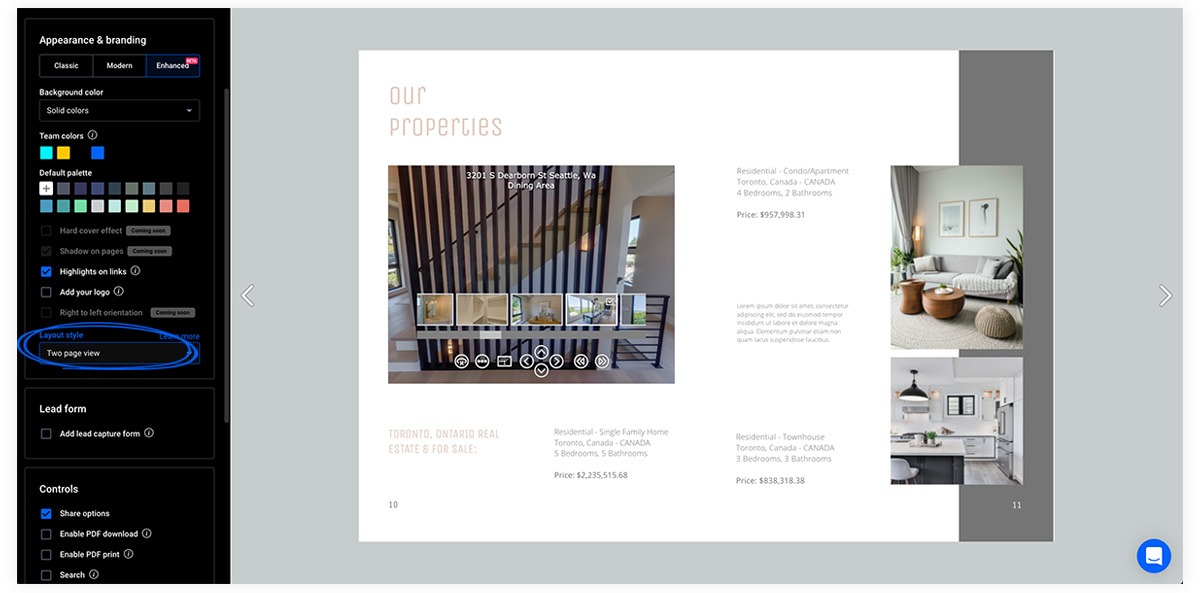 Why can't I change the Layout style?
Like we mentioned above, if you designed your publication in Flipsnack in the double-page mode, the only option possible for you is the Two-page view. This shouldn't be a problem, since you originally planned your design as a two-page spread.
The other two options are greyed out, as they are not available.
Additionally, the single page option is a premium feature and it is available if you have designed your publication in a single page view.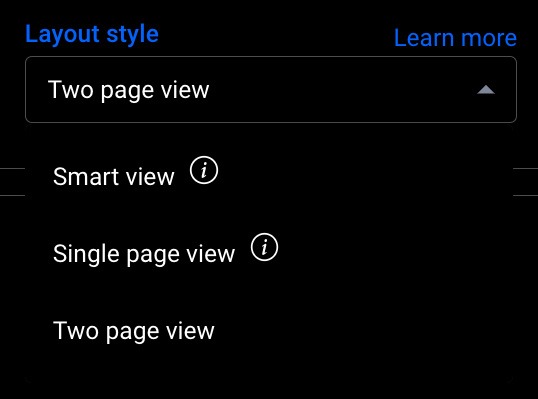 However, if you designed your publication in a single-page mode in Flipsnack and you are a premium user, all 3 options are still available, and you can use whichever you prefer.
Important things regarding the double-page designs
All of the design elements added in Design Studio across 2 pages with the double-page feature turned on will be considered anchored on the left page.
So, if you create your design in a double-page mode in the Design Studio and then you switch to the single-page editing mode, then the design element will only appear on the page on the left. This is because the design elements will not be automatically duplicated or split as you switch the design mode.
This is why we recommend that you decide right from the start what type of design mode you'll be using and stick with it. Also, keep in mind that the design model that you're using will have implications on the Layout style - how your publication appears on mobile and desktop devices.