Everything you need to know about the printing feature, and a look at how to print your own, unique materials
Although we originally launched our platform to be a digital solution for publishers and personal use, we understand that print will not be going away anytime soon. In fact, print is a vital part of the publishing process for many of our users.
In this regard, we've put together a step-by-step guide that will offer you information on how to print your materials professionally.
Table of contents:
Figuring out how to print with us
With that said, we're happy to be discussing our print feature for premium users today.
Partnering with Peecho
As much as we'd like to personally handle your prints, we've partnered with a company called Peecho to ensure that your work is printed in the highest quality. They have plenty of experience in printing, so it was an easy choice for us here at Flipsnack.
With Peecho's printing options, you can print any multiple-page publications like magazines, catalogs, and newspapers in a glossy or matte finish. If you'd like, you can even print something like a hardcover book. There are lots of options, no matter what you need.
Figuring out how to print with us
After you've created a magazine or catalog in our Design Studio and it's over 16 pages, the process to print it is simple. But, for the sake of this help center article, we're going to start from the beginning. But don't worry. It is extremely straightforward.
Design multiple-page publications with our Design Studio, like usual. Or, if you have a PDF to upload, simply upload it and make any changes you need. If you're not feeling creative, don't worry about it. We have templates ready to go. Simply input your data, and you're ready to move on to the next step.
When you're done editing, and you're happy with the quality, make sure to publish your work. You can do this by going into My Flipbooks, finding your flipbook, and clicking on the Publish button.
You're now one step away from seeing your digital publication become a physical one. Just click on Details. This button will be in the same location as the Publish button. Scroll down, and click on the Order printed copies button.
Once you've clicked on that button, you will be directed to a customized interface within Peecho. Here, you will enter your order details. You'll be able to choose what cover you'd like, how many copies, shipping, and payment details.
After you place your order, your delivery should be at your doorstep within just a few business days. As Peecho outlines, these are the rough delivery times:
Western Europe: 2 - 5 working days outside of peak season

Eastern Europe/US: 5 - 7 working days outside of peak season

Everywhere else in the world: Up to 10 days or more
Note: Delivery times do not include production times. Depending on the type and quantity of your flipbook, the time required to print out your order can vary.
Printing requirements
Before we go any further, it's important to mention the printing requirements put into place by Peecho. Keep in mind that if your flipbook doesn't meet these requirements, Peecho will not be able to print it.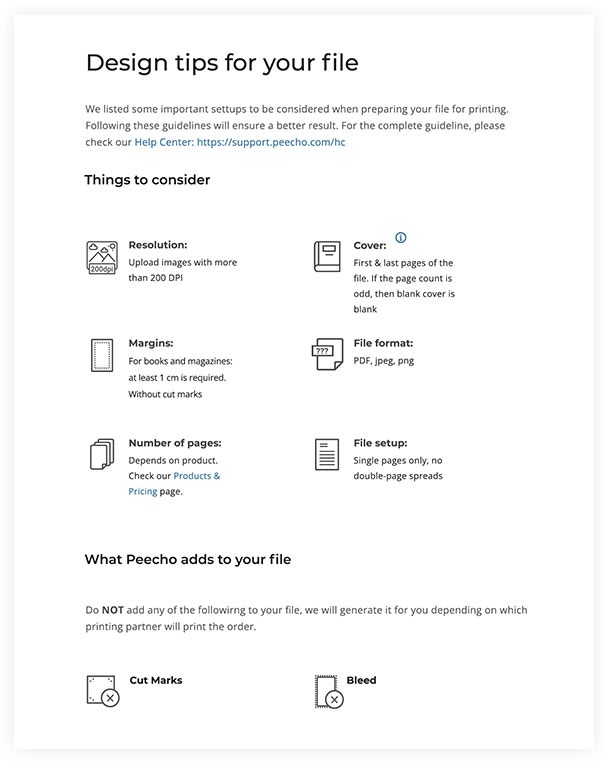 If you want your magazine, catalog, or book to be printed via Peecho, they must meet the following prerequisites:
Number of pages for matte magazines: between 16 and 500;

Number of pages for glossy magazines (previously called softcover books): between 22 and 500;

Number of pages for hardcover books: between 24 and 800.
The aspect ratio is defined as width divided by height.
Aspect ratio < 1.54. – Aspect ratio > 0.34.
As long as your aspect ratio fits within those defined boundaries, it will work just fine. The reason they can do this is that some of their products can be cut to any aspect ratio.
Important: We advise leaving at least 1 cm of free space alongside the borders of your page so to avoid important content being cut.
Image resolution
Depending on the image, Peecho has slightly different requirements. Here they are as they presented them:
A photo should be 150 DPI or higher;

A logo or text should be 225 DPI or higher.

Take photos, for example. To determine the size of your photo, multiply the number of inches on the largest side of your product by 150. The result will be the required minimum resolution for your photo. Keep in mind that 1 inch is 25.4mm.
Note: If your publication does not meet the requirements, there will be an error at checkout.
Copyrights
By using this service, you are only giving them the right to print your publication. You will still own full copyrights to your work.
In addition, all of your content is kept exactly the same. They will not tamper with anything you've created. You will receive a printed copy of your publication in the same quality and ratios as the digital copy.
After you receive your copies, you are free to do whatever you wish with them. If that means selling, you have full copyrights.
Prices, taxes, and shipping
Because this feature is being offered through a third party, we at Flipsnack will not be in control of any additional costs outside of your subscription.
Depending on your location, the costs for taxes and shipping will be different. In order to better calculate how much that will cost, check out their online calculator.
Because Peecho is controlling the shipping, they will be assigning your order a shipping number. For more information on that, check Peecho's Delivery FAQ section.
If you have any questions regarding your order or the process on Peecho, please contact them via email: support@peecho.com.
Also, in order to make the support process easier, please have your 6-digit Peecho order number ready. This number can be found on the order confirmation that you received when you placed the order.
Note: For now, we are only offering this feature for premium users that want multiple-page prints. This includes magazines, catalogs, newspapers, reports, presentations, portfolios, and books.
Important: Each option you choose will affect the price. Pay close attention to the prices displayed as you're going through your options.
If you have any questions about this Flipsnack feature, please let us know via live chat. We're always happy to help. And now, we're happy that we can be your one-stop shop for all your publication needs. Create, design, and print - all with Flipsnack.