Learn more about the undo and redo commands in this article. Both functions are available in the Design Studio.
If you started editing your publication in Flipsnack and you made a mistake, you can use our Undo-Redo commands. Both functions are available in our Design Studio, the place where you create the publication page by page or where you can customize a template.
Be aware that you won't be able to undo or redo any page editing actions outside of our Design Studio. Also, if you keep messing up your text or color scheme, do not worry. We allow you to undo and redo up to 30 actions.
Below you can see a screenshot of the Undo-Redo buttons. They are located in the bottom right corner, together with the Zoom in and Zoom out functionalities.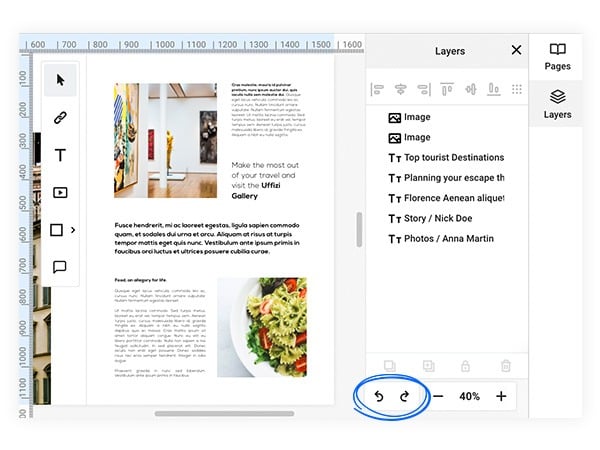 To activate or deactivate these buttons all you have to do is go to the View section. If you want to activate them, select the Show Zoom Bar and if these buttons get in your way while you are editing, make them disappear by unselecting the Show Zoom Bar.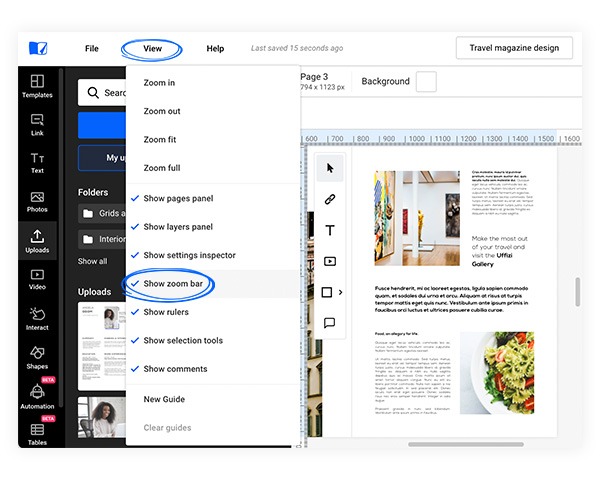 Also, here are some keyboard shortcuts you can use to undo or redo actions in our Design Studio:
For Windows, use CTRL+Z for Undo and CTRL+Y for Redo

For Mac, use ⌘+Z for Undo and ⌘+Shift+Z for Redo
If you have any additional questions about this Flipsnack feature, please let us know via live chat.